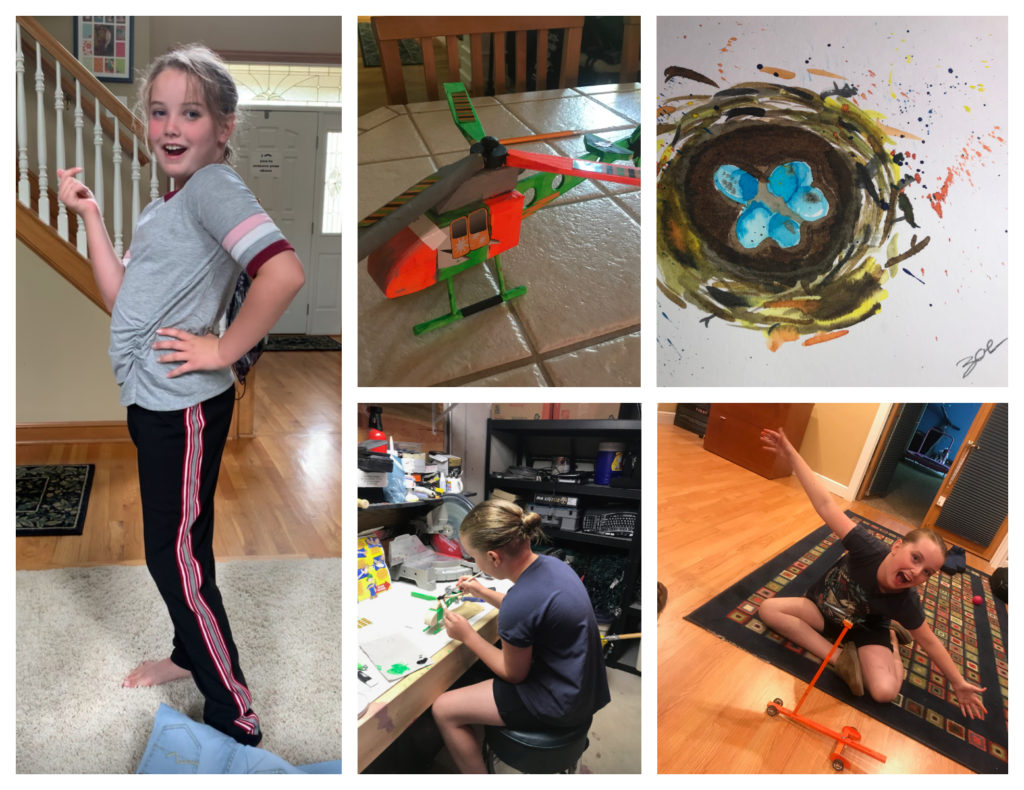 Since I've already shared that I jumped whole-heartedly onto the undies subscription box bandwagon, it's now time to admit that I've also gotten my beloved daughter hooked on goodie boxes by mail.
This year, we experimented with subscriptions to three separate kid-focused subscription boxes: two for activities and one for clothes. All three were a huge hit, and not just because it's fun to get presents in the mail.
First, Annie's Young Woodworkers Club was something we signed Z up for this past Christmas. She loves to work on various DIY kits, and I thought this was something fun she could do with her dad. It was a big success! We signed up for three months and they did all the projects together happily. Together, they built a wooden helicopter, a drag racer and coolest of all, a working marshmallow launcher which she re-purposed into a dog treat launcher and the dogs LOVE it.
The Young Woodworkers boxes come with all the tools, fasteners and wood pieces you'll need to create each project, plus paints and stickers for decorating. The kits are aimed at ages 7-12 and Z absolutely loved them. For the most part, she only needed a bit of supervision to complete each project. At $26 per box, I felt these kits were a good value and each provided several hours of fun, device-free creative time. This definitely made me want to sign her up for the monthly kids workshops at Home Depot – I've heard great things about those, too!
Second, the Let's Make Art watercolor subscription box was an idea I had for a birthday gift that Z's Cali grandparents could send to our little artist. These kits are not specifically intended for kids, but the subscription has been perfect for Z. Each month, you receive a box with four watercolor projects inside, including plenty of high quality paper, liquid watercolor paints in little bottles, and multiple ways to follow a tutorial on how to paint each of the pieces.
Depending upon how your child likes to learn, there are written instructions with step-by-step photos, a link to a how-to video AND a link to a live how-to paint class on each project so you can hear instruction given to other painters, which always ends up including little extra tips that weren't in the main instructional video.
Zoe has loved this subscription and the amount of gorgeous artwork she has generated is incredible. Each monthly box also comes with a postcard project that you can paint and then send to a member of the Let's Make Art community who is grieving, facing hardship or just needs a pick me up. Zoe has really enjoyed sending thoughtful art gifts to strangers in need of some kindness.
The Let's Make Art boxes are $35 per month which isn't cheap, but for the quality of the materials and quantity of projects and guidance provided, I do feel it's a good value. We started with a three-month subscription and we still have multiple projects she can work on anytime we have a rainy day or slow weekend. Once she runs out of projects, I would definitely sign her up again – but honestly, we have so many paints now that I could also just turn her loose on the Let's Make Art tutorials site and she could create just about anything she likes!
Third and most recently, we just signed Z up for a KidBox back to school clothes box. We've been pretty busy this summer and back to school shopping somehow fell off our list – so it was so great to have a box of outfits just shop up on our doorstep like a gift from the fashion gods! KidBox hand-curates boxes of clothes and accessories for kids from infant to size 14, so hopefully we can get a few more fun boxes before Z sizes out of them.
To start, KidBox has you and your child take a fashion quiz to help the stylists determine what to send. We felt like the quiz was a great way for them to really nail Z's preferred urban/edgy style, because she ended up loving absolutely everything that came in her Back to School box! We actually made an unboxing video where you can see Z model her KidBox outfits.
She received two 7 for all Mankind outfits (stylish jeans and two tops) plus a cute pair of joggers and coordinating tunic. Our favorite piece was a black Tractr denim jacket with distressed/frayed hem that will look great with the KidBox outfits plus just about everything else in her closet. They also tucked in several pairs of socks, including a pair from Bombas, and a backpack.
With Kidbox, you can keep and pay a la carte for just the items you like, or you can keep the entire box for the best savings. We kept everything and it came to $98, which I felt was a pretty fair value for the quantity, quality and brand names we received. One of my favorite things about KidBox is that for every box you keep, they send a box to the charity of your choice. We chose an organization that supports immigrant children. If you're interested in trying KidBox for your kiddo, use this link to save $25 on your first box (and I'll save too, on my next order).
So, there you have it – three great subscription boxes for kids that could make fun and thoughtful gifts for kids in your life. Have you tried other kids' mail-order kits or boxes, and if so, which were your favorites? I'd love to hear in the comments below or over on Facebook!