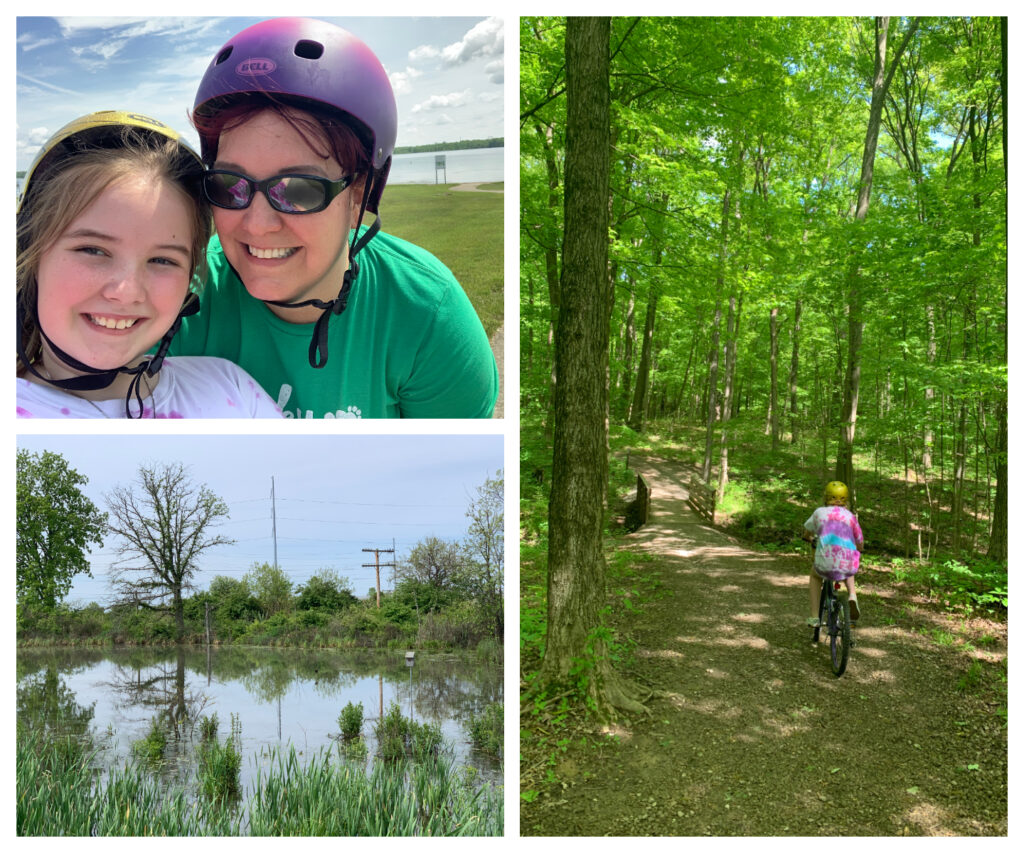 There are three things I've done a lot more of since the world shut down in March: eat, watch Netflix and ride my bike.

Before Coronavirus, riding our bikes meant a short spin around the neighborhood. Riding to the pond on the other side of the Shores – about a 7 minute ride – was as fancy as we got. This is partly because when Z was younger, she wasn't up for longer rides.
Today, she's a hale and hearty 10 year old who can not only keep up with us on bike rides – she can whip our butts.
When I started a bike club for our neighborhood back in March, I saw it as a great way for Zoe and I to get some exercise, see neighbors in a safe and socially distanced way, and spend more time outside going on longer rides.
An added, unexpected benefit of the Shores bike gang is that we've learned a bunch of the nearby bike paths and trails. We are fortunate to have so many incredible places nearby to ride!
Without further ado, here are our five favorite bike rides starting out from the Shores neighborhood in Lewis Center:
1. White Tail Run forest trail. Leaving the Shores on Shoreline Drive, we carefully cross Lewis Center Road and end up at the maintenance/service road entrance to Alum Creek state park (bike and pedestrian entrance only).
A short pedal up the driveway reveals a wooded trail entrance on the left – this is the start/end of the lovely White Tail Run trail. The wooded, scenic trail winds into the forest, up and down hills, over bridges and around to the Alum Creek Lake visitor center operated by the Army Corps of Engineers.
This trail is not for the faint of heart. It includes many hills, loads of gravel, tree roots and other obstacles, sharp turns, blind bends and steep curves. It can also have some very muddy sections after a rain. I would rate this trail intermediate to advanced – but boy, is it fun and absolutely gorgeous to ride. You really feel like you're deep in the woods, even though it's mere minutes from Lewis Center Road.
2. Alum Creek Dam. The White Tail Run trail (#1 above) is beautiful in and of itself, but if you keep going, you can ride right to the top of the dam. Turn left when White Tail Run comes out near the visitor's center, and then continue following a gravel trail through the valley and back up a hill into another wooded area.
At the top of a hill, you'll exit the woods and see the Alum Creek Dam stretching out to your left. It's super fun to ride along the top of the dam – there are beautiful views in every direction and it's always a good 10 degrees cooler up there with the breeze off the water. It's the perfect summer ride! If you want to take a break from riding, you can walk or run up and down the stairs or grassy slopes – or simply enjoy people-watching!
3. Alum Creek Lake beach. Start out on the White Tail Run trail (#1 above), then when you come out near the visitor's center, turn left and head down the hill. Make your first (sharp) left to continue following a gravel trail parallel with the water. This will let you out in the grassy area adjacent to the beach parking lot.
Cruise along in the grassy field to your right, or cross over to the parking lot and head down to the water, and you'll end up on the paved bike/walking path that leads down and along to Alum Creek Lake beach.
We love to turn left and follow the paved path all the way along to the end, where there's a secret picnic table in a remote wooded area along the water's edge. Here you'll see all types of waterfowl as well as swooping swallows. Park the bikes, walk along the beach and skim some rocks or hunt for freshwater shells. It's a beautiful spot – and right now, this is the only way you can get to the beach since the car entrances are currently closed.
4. Ro Park / Glen Oak Park / Orange Township Hall Park. We have three great parks within riding distance of our home (four if you count the Below Dam Recreation Area at the Alum Creek dam). These three are all in the same direction, sort of lined up in a row.
For the parks route, we leave the Shores neighborhood at Alum Crossing Drive. We carefully cross South Old State Road (this takes a while, and was a lot easier before the stay at home order ended – now traffic is picking back up again!) and head into the neighborhood. Cruise along on Alum Crossing, turn left on Snapdragon and soon you'll see Ro Park on your right.
Although playground equipment is still closed and cordoned off, there's a cute little nature trail adjacent to Ro Park that is worth a ride or walk through. Exit Ro Park at the back and you'll find yourself on Blue Holly Drive. Head right to follow that around, and you'll find yourself at Glen Oak Park, a much larger recreational area with a sledding hill (also fun for running up and rolling down, or even riding bikes up and down), fish ponds and tons of bike trails.
Glen Oak Park also has a nice sized wooded nature preserve with walking paths, a bog, benches and tons of wild birds and indigenous plant life. Ride to the back of Glen Oak Park on the bike trails and you'll end up at the fish pond, where you can fish or just throw crumbs to the fish (they will eat almost anything!)
Exit Glen Oak Park on the far left side and the bike trails will follow along the train tracks, then ultimately end up at a safety crossing at Orange Road. (For a shortcut, you can cruise past Glen Oak Park's entrance, turn left on Marigold and then right on Trellium. Then hop up onto the sidewalk on your right and follow that bike trail, forking to the left at one point. This will leave you off directly across from Orange Township Park's entrance.) Cross safely and easily here to head into Orange Township Hall Park, where there are more fun trails, lots of hills and two lovely big ponds.
5. "Downtown Lewis Center." If you've had enough of nature trails, parks and ponds, here's something completely different. From the back of Glen Oak Park (#4 above), this time take the trails heading to the right. Follow along a lovely bike trail that includes several boardwalk areas with water alongside, then continues alongside several fields and the train tracks.
Keep following the bike path and you'll eventually turn left to cross over the train tracks and head down into the original Lewis Center village that some call "downtown Lewis Center." We love cruising up and down these quaint streets; be sure to watch for the black squirrels that make their home in the tall, old trees here.
This little Lewis Center village is far older and more authentic than the typical Lewis Center developments. I find it utterly charming. There are multiple adorable churches and older homes with glorious gardens; the whole village is redolent with the charms of yesteryear. It's quite a counterpoint to the Evans Farm development across Lewis Center Rd., with its million-dollar homes and faux-downtown feel!
To cruise back to the Shores a shorter way, without going all the way back to Glen Oak, simply take the same return bike path but when you get to a sharp left turn in the path, take that instead of continuing straight. That left-side path brings you right into the Villages of Alum Creek neighborhood, where you can GPS or intuit your way over to Parklawn and back across South Old State to the Shores.
So, there you have it! Five or more spectacular bike rides all throughout the Lewis Center area near South Old State and Lewis Center Road. Have you ridden any of these, and do you know of other bike paths and trails in our area? Feel free to drop me a note in the comments below or over on Facebook – I'd love more ideas and inspiration to continue getting out on our bikes this summer!