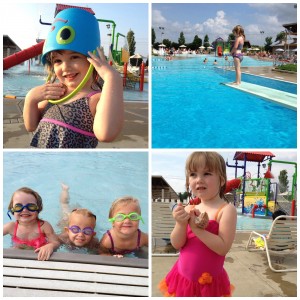 For us, 2013 will always be the summer of the pool. The first summer that Zoe had unfettered access to a fabulous pool on pretty much all our days off together. The summer that she taught herself to swim at the age of three by watching older kids, and worked so hard at it that by the end of the summer, on the very last day the pool was open, she earned the right to climb the ladder to the diving board, walk out along its high platform, and jump off into the VERY deep end of the pool.
But this wasn't just the summer of the pool for Zoe. It was for me, too. 
Ever since I was a kid, I've wanted a pool of my own – if not at my house, then at least to "belong" to a pool. I grew up with the ocean as my back yard and believe me, I know now how lucky I was. But back then? All I wanted was a pool. The water is always clearer on the other side, I guess? Even as an adult, I've never had a pool. We had a hot tub at our last home and we loved it – we turned the temp down in the summer and used it as a mini pool of sorts – but it still wasn't a pool. I've never even lived in an apartment complex that had a pool. In my 43 years, I've never had regular access to my very own awesome pool until this summer… and what a summer it's been.
We became members as soon as the pool opened, Memorial Day weekend. On Saturday, June 1 , Zoe and I went to our pool for the first time on a gorgeous sunny day. I can still remember her excitement! She hooted and clapped her hands and danced for joy, and wanted to race straight into that crystal blue water! I had to instill in her the little pre-swim ritual of first choosing chairs for ourselves, putting our stuff down, and then hitting the water.
Early on in the summer, sometimes I would dress her in a swimsuit in the morning, put clothes over it, do errands until she forgot she was wearing her suit, and then surprise her by heading to the pool. I did it just to hear her screams of joy when she realized where we were! But I soon realized that I got to hear those screams of joy every time we went to the pool – even if she knew we were heading there. And she gave those same little shrieks of happiness every time the lifeguards' blew their whistles to signal the end of mandatory swim break every hour. "It's time to get back in!" she'd bellow happily, running headlong for the water. It gave her SO much joy to be there, be in the water, see the lifeguards (whom she worships and wants to be herself someday), learn new things, splash and play with her toys. What a summer it's been.
Early on, Zoe wanted to simply play with her toys in the water or dance at the edge of the shallow end in the fountain area. It took her probably a full month before she would dare to go down the red slide, what she calls the "big" slide (it's not the truly big slide, which adults and big kids go down, but my hope is she'll be tall enough to meet the 42″ height requirement for that one next summer! We shall see). In the first few weeks, she didn't want to put her head in the water much – she would "dunk" for a moment but then wanted to dry her face off right away. She mostly walked and danced around in the water, played with her toys, and asked us to hold her. She would jump off the side of the pool but only holding our hands, and while doing her best to keep her face above water.
Over time, she came to recognize the sight of the slide towering above the pool, even from the main road (23). Even if we were just driving by on a non-pool day, she would point and shout "the pool, the pool!" She loved it that much.
By month two, she was plunging her face underwater constantly, and jumping off the side of the pool into our waiting arms, happy even if she submerged for a moment before we pulled her back up. I still remember the day she decided to jump on her own, without holding my hands – it felt like such a big step for her! Not long after that, she began doing some serious underwater work with some diving toys we'd gotten her. She also started "swimming" by jumping into the water and kicking her legs before standing back up again. She watched the older kids around her and began to mimic what they did. She asked for a pair of swim goggles because many of the other kids had them. I also got her a Puddle Jumper because a lot of the kids her age had those, but she only wore it once – she liked swimming on her own better (anyone want to buy a brand new, only used once, green crab Puddle Jumper? Let me know!)
By August, month three, Zoe was astounding both E and I with her swimming ability. She still doesn't breathe while swimming – she takes a deep breath, swims as far as she can, then puts her head up to breathe – but I know that will come with lessons this winter. She loves to jump in at the deep end, sink all the way to the bottom, push off with her feet and shoot back up out of the water. She can swim a good little distance – about six to ten feet, I'd say! She has blown the socks off both E and I in how hard she wants to work in the water. Every day, Zoe would ask "can I go off the diving board today?" and every time she asked, I would tell her she has to be able to swim a little farther, swim and take a breath, kick her legs AND use her arms, etc. She worked herself like a drill sergeant, until she was panting and gasping for breath in the water. I was always so thankful each hour when the lifeguards blew their whistles to announce it was mandatory swim break time! That was the only way to get her to take a break. She wouldn't listen to me, but she would listen to those lifeguards.
"I like them," Zoe would say of those tanned, red-suited lifeguards. "They're bossy." 
But September had to come eventually, and here it is – all too soon. We spent our last wonderful weekend at the pool. She got to play with friends there, see her neighbors and classmates there, and even meet new friends there. What's even better than the already-awesome pool? The pool with friends! And what's the best way to celebrate a summer of swimming and learning and growing like the little mermaid she is? A whole new adventure: finally getting to climb that ladder, walk that plank and jump off the diving board like a big, big girl. It felt good to finally say yes. She worked so hard for it – worked herself absolutely breathless, weekend after weekend. And she absolutely loved getting to go off the diving board and swim for a bit in the very, very deep water. I am SO glad we have a video of that moment! I've never felt so proud, excited or happy for her. She was so excited she was jabbering and singing to herself about it on line for the diving board, and then all the way home at the end of the day. And boy, did she sleep well on those pool days!
I definitely plan to keep her in the pool as much as possible over the winter via swimming lessons at a different, indoor pool nearby. She's a natural born fish – or better yet, a mermaid! I feel her early swim lessons (we did "mommy and me" swim lessons at 12 months and again at 20 months) helped set the stage for her current successes, but best of all was just spending every free moment in the pool all summer. I honestly can't wait for Memorial Day weekend 2014 when my then 4 year old (gasp! How is that even possible!) and I will once again start on another fabulous summer of the pool.
Not long to wait, right? What about you – are you sad summer's over and the pool's closed? What's your favorite thing about the pool? I'd love to hear in the comments below.