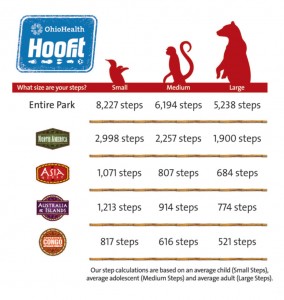 Who's up for a walk around the zoo?!
As I've shared before, I'm trying to walk more and keep track of my steps this year, and one of our favorite places to walk and explore is the Columbus Zoo. Zoe and I would go there every day if we could!
So imagine my delight when I learned Ohio Health has partnered with the zoo on the HOOFit walking program to encourage people to get more activity by exploring the zoo.
As part of the Hoofit program, you can attend hosted walks at the Columbus Zoo with Ohio Health physicians, getting the chance to ask questions and learn more about improving your health. These walks also usually include an opportunity to meet some of the zoo's animals and characters, too.
The HOOFit zoo walks are free with your paid admission or membership to the zoo. You should plan to arrive 10-15 minutes early to check in with the HOOFit team. Once you are inside the zoo, look for the HOOFit volunteers wearing the neon green HOOFit t-shirts. They will direct you to the Activity Pavilion where the walks start.
All HOOFit walks begin at 9:30 am unless otherwise noted. Upcoming walks and topics include:
April 25 – stroke awareness
May 23 – cancer prevention
June 20 – sports medicine
July 25 – spine health
August 29 – women's heart health
September 26 – cold weather wellness (this walk starts at 10:30 am)
If you're interested in attending one of the HOOFit walks for free, you're in luck. The good folks at Ohio Health have provided me with two sets of free Columbus Zoo tickets (four per family) to give away to my readers. If you'd like to enter, simply comment on this post and let me know your favorite "zoo walk" at the Columbus Zoo or your local zoo.
My favorite treks at Columbus are either walking up through North America to the polar bears (steep hills = good workout, especially pushing a stroller!) or up through the other side of the zoo to the gorillas.
The best part about our zoo is that all the uphill walking is in the beginning when you're fresh. At the end of your visit, when you may be starting to get tired, it's all downhill back to your car!
Another cool aspect of the HOOFit partnership is the step "calculator" – they have counted out the steps so that you know how much you're walking even if you don't wear a pedometer or Fitbit. If you cover the entire Columbus Zoo, you've walked either 8,277, 6,194 or 5,238 steps depending upon your size and step length! No wonder Zoe still likes to ride in her stroller on zoo days. That's a lot of hoofing for a little one.
I can't wait to spend more wonderful mornings and afternoons walking around the zoo now that the weather's getting warmer. How about you? What's your favorite thing to do at the Columbus Zoo, and have you visited any of Ohio's other zoos? I am hearing great things about some of the other zoos and hope to hit at least a couple this summer!