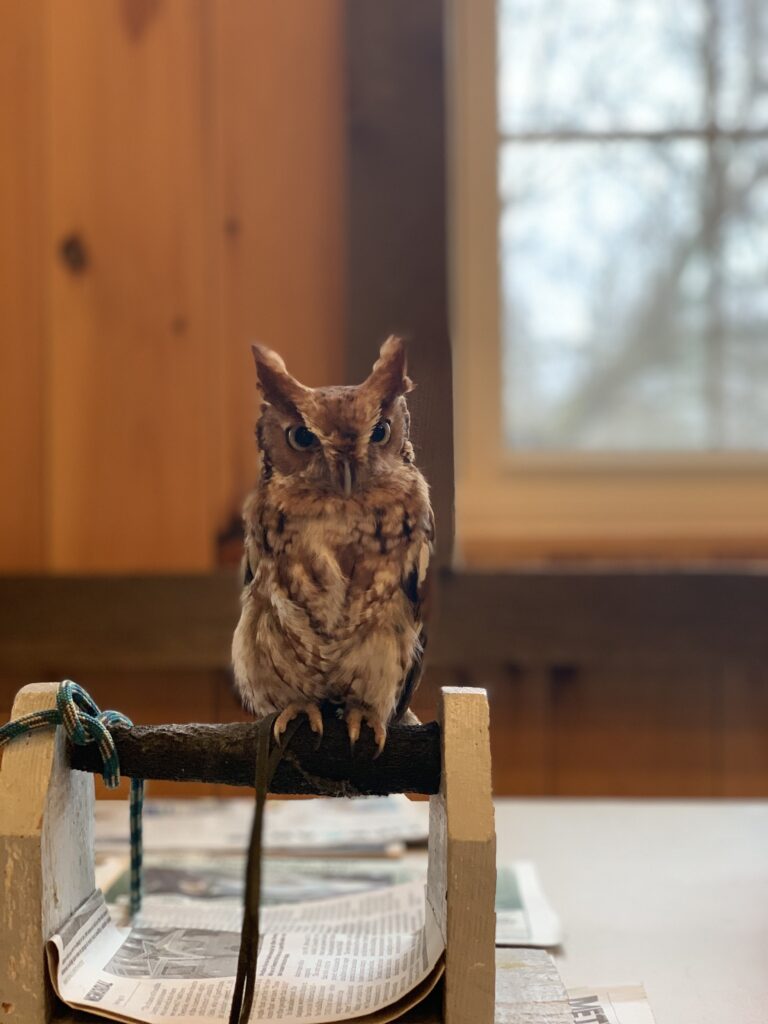 This weekend, we visited the Ohio Wildlife Center in Powell for their family-friendly Second Sunday open house event.
Central Ohio and our wildlife neighbors are lucky to have this wonderful organization. You can support the center through donations, using their SCRAM! humane wildlife control services, and even renting out their gorgeous barn for parties, meetings or small weddings.
We enjoyed our time at Ohio Wilflife Center and learned a lot about wildlife – even getting up close and personal with a whole host of critters who are native to Ohio.
Ohio Wildlife Center is perhaps best known for its wildlife rehabilitation hospital, the only place where central Ohioans can take orphaned or injured wildlife for free care and release back into the wild. E and I brought an injured Great Blue Heron there many years ago, before Zoe was born.
In the 30 years since it was founded, Ohio Wildlife Center has expanded to include not just the wildlife hospital, but also the wildlife rehabilitation and conservation education center. They provide many opportunities for children and families to learn more about Ohio wildlife and how to help.
At the Second Sunday open house, we were welcomed by staff, volunteers and many wild animal and bird ambassadors, who for various reasons are not able to be rehabilitated and released back into nature. I consider myself a life-long animal lover, but I still learned so much during our visit.
From Edgar, the adorable and cuddly possum, I learned that possums are very unlikely to harm people or pets as they are actually very shy – and that they do a great job of eating ticks and other nuisance insects
From Burton, the bald eagle, I learned how resilient animals can be (he survived devastating burns yet has quite the spunky personality!), as well as the fact that every "bald eagle screech" you've ever heard in a movie or TV show was in fact false. Bald eagles actually make sounds closer to peeping chicks than a frightening scream!
From a tiny, precious flying squirrel (sorry I can't remember his name!), I learned that these are the most common species of squirrel in Ohio – yet most of us don't know that because they are nocturnal and we can't see them soaring around in the dark.
From Chase, the turkey buzzard, I learned that vultures or buzzards are intelligent and incredibly clean animals – and that nature gave them bald heads so they don't get dirty feathers while cleaning up roadkill carcasses.
The staff and volunteers we met were knowledgeable and very welcoming. The cost was a $5 donation per person, and free for kids under 5. After visiting in the barn for a while with the staff and ambassador animals, we were given a group tour outside around the grounds and got to see more animals and birds. Upon leaving, my daughter was given a children's book on butterflies to take home.
I shared more of our Ohio Wildlife Center photos over on Yelp, so be sure to check them out. We will definitely be back for another Second Sunday visit in the spring time – and OWC is going on our next installment of our favorite animal encounters in Ohio.
Also, please note that although the center's address is on Cook Road, the actual entrance is around the corner on Dublin Road (this was confusing for us on our first visit, so I figured I'd share).
Have you been to the Ohio Wildlife Center? I'd love to hear about your experience in the comments below or over on Facebook.