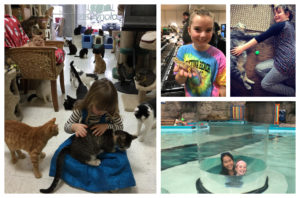 We love animals in our family, and fortunately there are many ways to have fun, animal-friendly adventures in Ohio. In fact, my blog post from 2014 about the top 10 animal adventures in Ohio remains one of my most loved and visited posts! But that was a long time ago, and although most of those are still valid options (that post originally included Rolling Ridge Ranch, but unfortunately, the ranch closed in 2014 after a tragic accident), there are even more places to visit now.
Read on for some new ideas for furry, fishy or scaly family fun that you can enjoy right meow – and into the new year. 
Newport Aquarium – okay, so technically this is over the river in Northern Kentucky, but we go there enough that it feels like part of Ohio to us. I've blogged about the aquarium's awesome mermaid exhibit and interactions that happen each fall, but there's far more to do and explore here. We especially love the Stingray Hideaway, Frog Bog play area, walk-through Coral Reef and of course, the ever popular Shark Bridge – a rope bridge that suspends you above a giant shark tank with curious and stealthy sharks swimming beneath you.
Preservation Parks of Delaware County – Does a bird walk, owl prowl or animal story-time sound interesting to you? If so, you'll want to follow Preservation Parks on Facebook and check out their year-round nature programs and events. The Preservation Parks are perhaps a little less well known than the Metro Parks, but you'll love their gorgeous parks and nature preserves to explore as well as their many great programs and activities. Critter-spotting hikes in gorgeous locations are the best family fun activity we know of, year round.
Colony Cats & Dogs – if you love cats, then a visit to the Colony Cats Adoption Center (right off Sawmill Rd. in Dublin – close to Chuck E Cheese) is a must. Many, many cats are housed here and you can literally sit down and be swarmed by multiple friendly, furry felines (aka my daughter's idea of heaven). We've spent many hours here over the years, and it's a terrific place to get your kitty fix. I'll forewarn you that despite the hard work of many loving volunteers, it can be a little stinky here so be prepared. And be sure to leave a donation to help their efforts to rescue, rehabilitate, foster and adopt all the needy cats in central Ohio!
Ohio All Reptile Show – we've always been reptile fans – the Columbus Zoo reptile house is one of our fave spots anytime we visit – and this year we discovered this awesome monthly reptile show at the Franklin County Fairgrounds. There, you can hold snakes, lizards, geckos, turtles and frogs to your heart's content. If that doesn't sound like your jam, then you probably don't want to meet our pet ball python, Nagini. Carry on!
Eat Purr Love Cat Cafe – here's another one for the cat lovers. Did you know there's a cat lounge in Clintonville where you can grab a beverage and snack, then sit and relax as kitties stroll by or come perch on your lap? Z and I went for a visit this spring and loved it, although she was hoping for more cat love than she got. Remember that the friendliest gatos are likely adopted out pretty quickly – but shy kitties need love, too! I just love this cafe concept and I'm so happy Columbus has our very own cat cafe for those of us who adore felines but, for various reasons, cannot have one at home.
What other animal adventures have you enjoyed in central Ohio – and what did you think of our original list from five years ago? We'd love to hear from you in the comments below or over on Facebook.