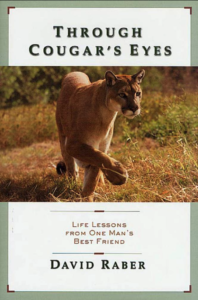 A long, long time ago, I used to work with a cougar. No, not the Urban Dictionary definition – I'm talking about a real, live mountain lion!
His name was Cougar (I know, not very creative) and I spent enough time with he and his human companions, the Rabers, to consider them friends.
The relationship between Cougar and his people is memorialized in the book "Through Cougar's Eyes" by David Raber. And yes, I even have a cameo in it.
At the time, I was manager of communications for The Iams Company. David reached out to the company to let us know that he was exclusively feeding premium Eukanuba Cat Food to his 8-foot long, 200-lb baby named Cougar. Naturally, we were intrigued.
After a period of getting to know one another, the Eukanuba Cat Food brand and the Rabers teamed up on a book tour of cat shows and pet expos nationwide. We traveled with Cougar around the country to educate people about the nutritional and behavioral similarities between their house cats at home and big cats like Cougar.
Cougar ate a diet of ground up, moistened Eukanuba Cat Food plus steamed shrimp for treats. The first time I met Cougar, I got to hand-feed him a few shrimp. I also got to walk alongside him as he prowled along a Florida lawn. What an amazing encounter!
Over time, I grew fairly used to working with Cougar but I never lost sight of his size and abilities. Our role as Iams/Eukanuba reps was mainly crowd control at Cougar's appearances – asking people to stay back a reasonable distance, keep their kids quiet and still, etc.
Nothing could get Cougar's attention during a performance like a crying baby or wriggling toddler – it was a little nerve-wracking. I would typically step in front of any distracting kids to help Cougar keep his attention focused on the stage and his person, where it belonged.
I got to travel to some amazing places with that big cat – not just to cities all around the country, but even to San Juan, Puerto Rico. Cougar typically traveled by car in his Eukanuba-branded "Cougar-mobile" but for the national sales meeting in San Juan, he got to take a private jet and really live like a VIP.
As a lifelong cat lover, getting to spend time with Cougar up was incredible. It also really drove home the similarities between my own little house tigers and big cats like him.
Around that same time in my career, I also got to take part in a unique zoo feeding program that resulted in me getting to visit and go behind the scenes at multiple zoos around the country as we sought to feed their big cats Eukanuba, as well. It all added up to the experience of a lifetime for an animal lover like me!
I definitely have to rank working with Cougar, holding and bottle-feeding baby tigers at the Columbus Zoo, and going "backstage" and behind the scenes at various zoos to see adult lions, tigers and other big cats up close as some of my favorite animal encounters of my entire life.
Have you ever been up close with a big cat, and did you find it thrilling too? I'd love to hear your stories in the comments below or over on Facebook.