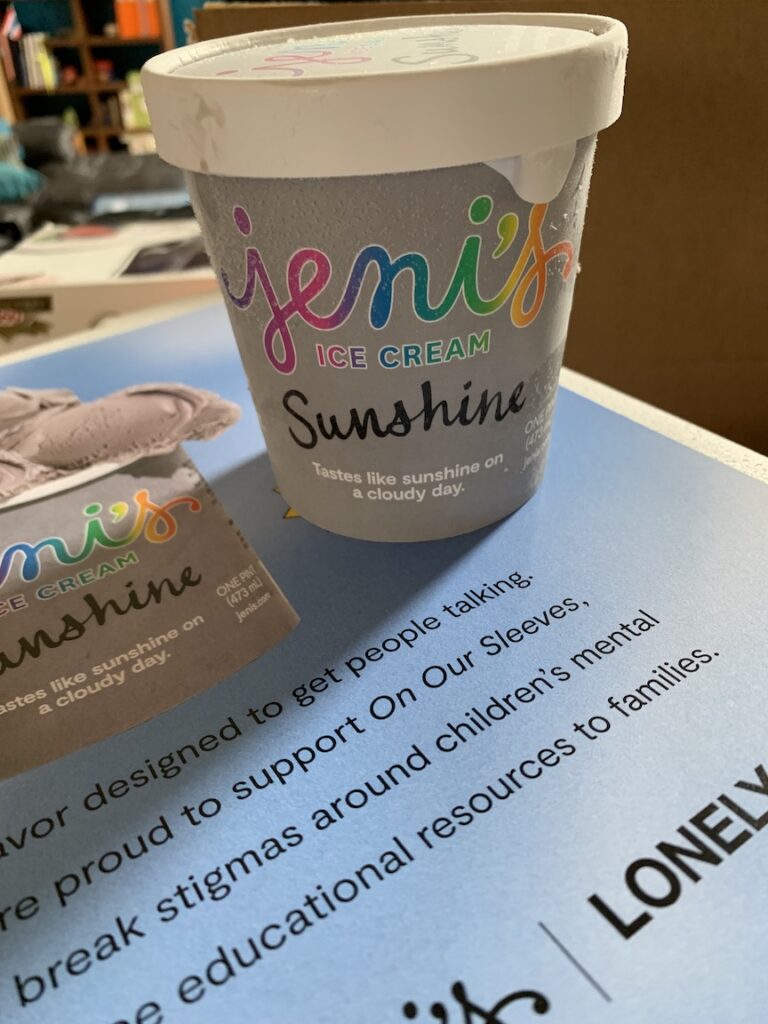 It's not my birthday until next week, but today I received a surprise that put a HUGE smile on my face.
I'm a longtime fan of both Jeni's Splendid Ice Creams and On Our Sleeves, the national movement for children's mental health created by Nationwide Children's Hospital.
These are two fantastic Columbus brands that, I now know, also taste great together.
Jeni's and On Our Sleeves have partnered on an initiative to raise awareness and break stigmas around children's mental health. As my longtime readers know, this is a cause that is near and dear to my heart!
Jeni's created a flavor of ice cream called Sunshine to get people talking about mental health.
The color of the ice cream itself is a muted grey, like a raincloud – but then the flavor on your tongue is like a burst of sunshine, citrus and passionfruit. It's meant to represent mental health struggles and the better, brighter days that are sure to come.
Jeni's created Sunshine ice cream as a tribute to Depressed Cake Shop and in honor of Mental Health Awareness Month, which is May. I love the idea of a unique, delicious ice cream flavor to help bring attention to children's mental health. I especially love the symbolism of grey, cloudy ice cream that unexpectedly tastes like sunshine on a cloudy day. And I love the rainbows on the packaging!
It's definitely not easy being someone who struggles with their mental health – or being a wife and mom caring for beloved family members with mental health struggles. I'm so thankful to On Our Sleeves for the amazing work they do in this arena – and for lining up incredible partners like Jeni's.
If anyone can help educate people that individuals with mental health struggles are people, too – and that even when things seem darkest, sunshine and rainbows are bound to come your way – it's these two organizations.
I'm so grateful for the ice cream, happiness and awareness you've both shared with me and that you are both sharing with the world. There is no day so dark that it can't be brightened by a little Jeni's ice cream.
It's always worth it to hold on, talk to someone and believe there are sunnier days ahead.