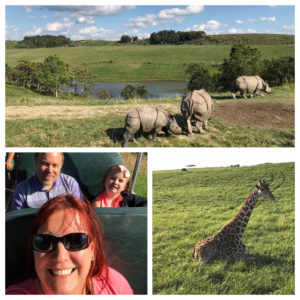 A version of this blog post originally appeared on my former agency's blog as part of an Ohio travel series. 
Looking for an exotic getaway that will make you feel as though you left Ohio miles away and have been transported to the sunny savannahs of Africa? 
About an hour and a half from Columbus in Zanesville is one of Ohio's top animal attractions – The Wilds. An exotic animal preserve situated on nearly 10,000 acres of reclaimed coal-mine land, The Wilds is North America's largest wildlife conservation center for endangered species. While visiting, it is possible to completely forget one is in Ohio – the place is that, well, wild.
The Wilds is home to dozens of non-native and hundreds of native species that live naturally, as if wild and free. What makes it somewhat unpredictable is that your experience may totally vary from one visit to the next. What you'll see there depends on the day and time; sometimes you'll see animals quite close-up, while other times you'll only see them in the distance.
I'd tell you to go close to sunset, as we had an unforgettable tour at that time last September – but we barely made the last bus tour and would have been devastated if they had turned us away. So, I'm reluctant to recommend that path to you, as magical as it was! Instead, perhaps aim for one of the early morning safari bus tours. It's likely the animals may be more active then, as they were closer to sundown for us.
We've had memorable animal encounters at the Wilds with giraffes, takins, rhinos, ostriches and many, many other animals. In addition to the safari bus tour, the cheetah and wild dog areas are also very cool to explore. And, we always love feeding the parakeets and the big fish that swim in the lake!
Open-air safari bus tours start at $30 per person and operate rain or shine from May through October, so dress appropriately. The Wilds is a beautiful place to visit and makes for a fun safari-style adventure as long as you don't go in with pre-set expectations for close encounters with critters. It's important to remember that The Wilds is more about conservation and education than providing an up-close animal encounter for human visitors.
While there are food options at The Wilds, it's also a lovely place to take a picnic lunch and make it a fun day out as a family.
Have you visited The Wilds, and if so what did you think? I look forward to your feedback in the comments below or over on Facebook.