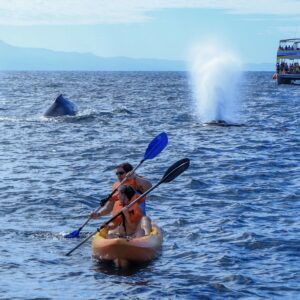 We absolutely love animal encounters in our family, but would you believe we had never been whale-watching until this past December? I am not sure why – maybe part of me feared it might be a bit boring, the way bird-watching can be.
And it was a bit boring at first, especially for our 9 year old, until we started spotting humpback whales and the giant, gentle creatures began to swim and splash closer to our boat. Then it became one of the most exciting experience any of us had ever had!
We whale watched during our Puerto Vallarta shore excursion on our family's wonderful 2019 Christmas cruise to the Mexican Riviera on the Norwegian Joy. We had many options for shore excursions, but ultimately chose the Marietas Island Eco Adventure. I'm so glad we did!
Not only did we see whales up close and personal during our excursion, we also saw wild dolphins right by our boat, snorkeled with a sea turtle and a multitude of rainbow colored fish, and got to see many rare bird species nesting on the Marietas Island as well. The tour truly lived up to its name as an "eco adventure."
We've done tours with Vallarta Adventures during past Norwegian cruises, and they always do a great job. This time we were with Pablo and his crew on boat #1, and they were fabulous! We learned a lot, had fun and were highly entertained by the crew's costumed antics during their "Rolling Stones" show on the way back to port. We couldn't have asked for more.
Where are the whales?
We went in with reasonable hopes and expectations, so when we didn't see whales right away we weren't disappointed. Pablo told us his tours usually see an average of 5 to 15 whales at this time of year, but that there are no guarantees. And that's when we began to see a ton of whale activity!
At first, the spouts and sightings of actual whales were small and far away. Then, much closer to our boat, we began to see fins flapping, giant whale heads popping up out of the water, tails flying up when the whales dove down and, best of all, the elusive breaches when the entire enormous creatures power themselves up out of the water only to fall back down again with a mighty splash. It was jaw-dropping!
During the course of our tour, we saw multiple whales exhibiting active behaviors at least 10 to 15 times (granted, they could have been the same group of whales just moving about the bay). The reason for all the activity is that humpback whales come to Banderas Bay for courtship, mating and having babies. The whale groups we were ogling were typically one female with several males vying for her attention as suitors. The males tried repeatedly to show they were the biggest and most powerful – and we watched their displays in awe.
Photos and even video of our experience truly don't do it justice – when it comes to whales, you really do have to be there. And after the whale-watching portion of our tour was over, the three of us got to snorkel in that same crystal clear water the whales call home. After snorkeling the reefs right off Marietas Island, Z and I decided to try our hand at sea kayaking. That's when things got real!
As you can see in the photo above, the whales decided to show up and do their thing again – RIGHT behind our kayak. We were pretty focused on paddling so it took a moment before Z and I noticed everyone on the boat waving at us and yelling, laughing and pointing for us to turn around. At that point, we looked behind us and nearly jumped out of our skin when we realized several 30-ton mammals were frolicking directly behind our kayak, not more than 20 feet away.
The whales soon dived down, swam under our kayak and showed up again on the other side of our boat. It was a little bit scary and absolutely amazing to be that close to them. What an incredible and unforgettable memory Z and I shared that day. E was having lunch at the time so he missed it – but he said he was really glad he didn't see the whales so close to our kayak, or it would have totally freaked him out!
Whale-watching was only one of our fun adventures during our Christmas cruise. If you ever have the opportunity to visit the west side of Mexico from December through March, be sure to make time for a whale-watching expedition because it's a truly magnificent experience!
Have you ever seen whales or dolphins in the wild, and did you love it as much as we did? I'd love to hear about your adventures with cetaceans in the comments below or over on Facebook.