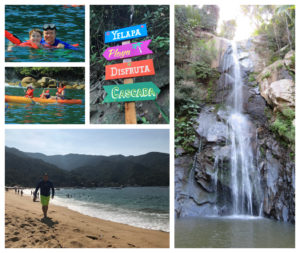 This past Christmas day, as we relaxed at home and wished for snow, I found myself daydreaming about a not-too-distant Christmas past, when we all spent the day in very different surroundings: on a fabulous Mexican cruise.
On Christmas morning in 2017, our little family awoke in our cabin aboard the Norwegian Star to find that Santa had somehow managed to visit us in the night! After some celebratory Christmas festivities aboard the ship, we all went ashore to the port of Puerto Vallarta.
Our entire extended family had a very fun Christmas day excursion planned: snorkeling, sea kayaking, beach bumming and waterfall chasing in Majahuitas and Yelapa, Mexico.
As one of our shore excursions during our NCL cruise along the Mexican Riviera, we opted to spend our Puerto Vallarta port day on a Vallarta Adventures boat ride to Majahuitas for snorkeling/ kayaking and then on to Yelapa for a jungle hike to the waterfall followed by some relaxing time on the beach.
We loved it all and the crew on boat #4 led by "Sexy Alan" were very fun, entertaining and helpful. I definitely recommend this shore excursion/ fun outing for families, couples or just about anyone!
The catamaran was the motoring type and not a sailboat, but it fit plenty of people and had space to sit in either sun or shade. The cruise from the main PV port to our snorkeling spot in Majahuitas was about 15 minutes, and we had absolutely gorgeous, Mexico-perfect weather.
Majahuitas
First, our group snorkeled offshore at a lovely spot near what appeared to be a deserted island full of gorgeous rainforest-esque greenery;  we could hear parrots and wild birds shrieking and calling from the trees. The water was a lovely crystal green – a bit cloudy but still good enough visibility to see tons of marine life. My daughter complained a bit about the cloudiness of the water (#SnorkelingSnob) but I've seen far worse and always felt safe here. The crew fed the fish some bread so tons of colorful fellas came right around the boat – this may be "cheating" but it worked!
After snorkeling for some time, we got out of the water and decided to try our hand at sea kayaking. The crew were very helpful in getting us settled in the kayak but didn't offer much instruction, so we found our own way (sorry to any snorkelers we may have mowed down in the water, haha!)  This was a blast and I highly recommend sea kayaking – my daughter, SIL, nieces and I had so much fun!
Yelapa
Then it was time to pile back onto the boat for lunch, which was plentiful and delicious with lots of variety for even the picky 7 year old. While we ate, the boat took us to our next destination – Yelapa, a small off-the-beaten-path fishing village that literally just got power in the mid 2000s. Yelapa is fairly primitive, has amazing street art and is not too touristy. The cobblestone/dirt track up through the village was well lined with dung (horse/donkey/dog poop and at one point some possible human feces… gross) but otherwise rustic and even scenic at times. There was a sharp contrast between the somewhat ramshackle, rundown dwellings and the surrounding, gorgeous greenery of the jungle.
During the whole 15 minute walk up to the waterfall, you could hear the water rushing and when we finally got there, wow – it was stunning. Some swam but our group chose to simply admire the falls and surrounding lush greenery. We heard many parrots and wild birds, saw a gigantic spider which will haunt my nightmares and said "hola" to the locals we saw peddling their wares. Everyone was friendly and took "no gracias" for an answer quite amenably.
We walked back down to the beach via a different route and were treated to gorgeous ocean views through vibrant trees and flowering bushes – then had to wade through quite a deep (mid-thigh) river flecked with gold sparkles on our way to the ocean. We were quite hot, damp and sticky by the time we got back to the beach, so we swam for a while. The waves were perfect, although the sand was gravel and a bit tough on the feet and extremities (but great for exfoliation!)
There were restaurants along the beach where we could have gone for shade, chairs or refreshments, but we opted to just hang out on the pier and wait for the boat. Waiting on the pier with no shade was very hot and felt like it took forever, but finally the boat came (late, which is typical in Mexico – but hey, we're on vacation so who's counting). The pier itself had great art painted on benches/stone tables and I enjoyed taking pics while E and the kids counted a whopping 64 colorful crabs clambering on the nearby rocks!
The boat ride back to our NCL ship was highly entertaining as the crew lip synced, danced and changed costumes, tunes and themes enough times to have something that would please every person on the boat. They kept it family friendly yet hilarious – we all loved the show from Sexy Alan and gang! They of course asked for tips at the end (which seems to be fairly common in Mexico) but we were happy to cough up as they more than earned it.
All in all, our day in Yelapa and Majahuitas was a great day out and our photos are fantastic. I'd happily do it again – and we just might, since we happen to be doing that same NCL cruise to western Mexico again this Christmas.
Have you visited Mexico – and do you enjoy traveling over Christmas? I'd love to hear your stories in the comments below or over on Facebook.