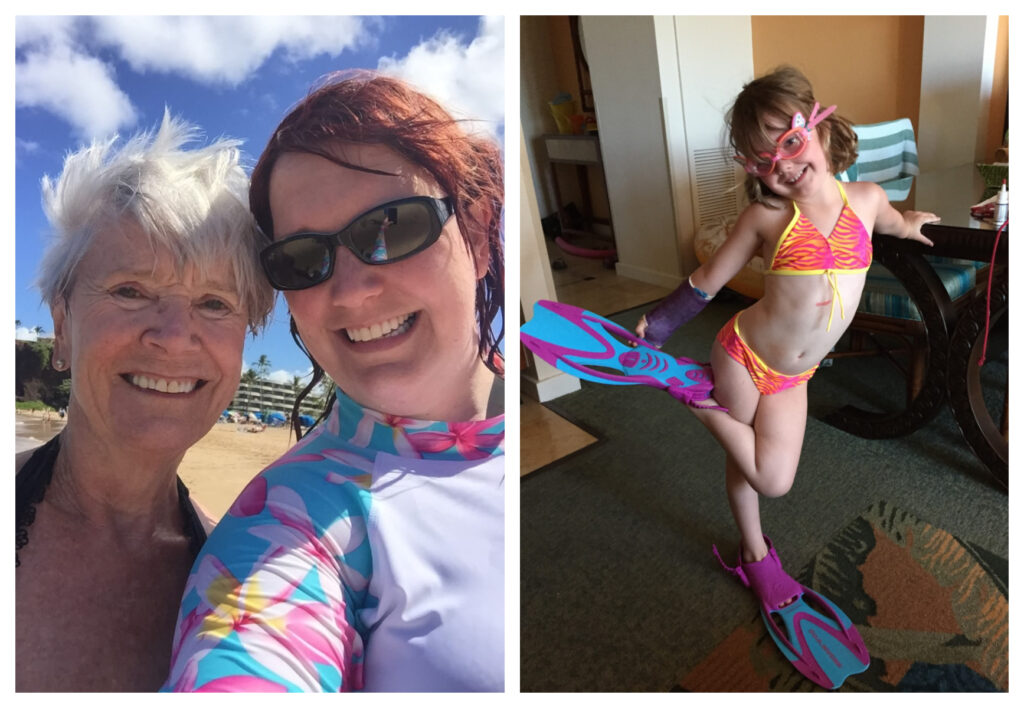 We've missed out on three scheduled vacation trips this year due to the Coronavirus pandemic.
To say that we're bummed would be an understatement – yet I also feel terribly guilty kvetching about missed travel opportunities when so many are struggling with far greater challenges under the weight of Covid-19 and all its related cancellations, changes and stressors.
So, to keep me from fixating on the sadness of missed travel with beloved family and friends, I like to daydream with gratitude instead about past vacations. In particular, I find it unbelievably relaxing to remember and visualize some of our past snorkeling trips.
Each treasured snorkeling adventure truly is a magical journey to an underwater world!
We are fortunate to have done a fair amount of snorkeling both pre-Z and with our darling daughter. Our most recent snorkeling adventure as a family was in Puerto Vallarta, Mexico last Christmas. Another unforgettable spot was the Coral Gardens reef off Grace Bay Beach in Providenciales, Turks and Caicos, where we were married and later went back with Zoe.
Some of our most frequent and memorable snorkeling adventures took place over several visits – spanning about 20 years – to Kaanapali Beach in Maui, Hawaii. Our last time there was in 2015, when Zoe was five years old, but I can still remember every detail like it was yesterday.
Each time we have visited Maui, it's always been with my parents since they have a timeshare condo on Kaanapali and are always gracious about hosting us. When we took Z to Maui at 18 months, we left her with my folks once or twice while E and I went on snorkeling treks to Black Rock. On our last trip to Maui, Z was age five and a good swimmer, so she got to go out snorkeling, too.
The waves off Kaanapali beach are usually gentle enough that kids who are good swimmers do well, and Z loved getting to swim and snorkel there. I have such fond memories of the three of us snorkeling together on that last Maui trip, dreamily drifting together in that warm, crystal clear ocean.
When she was younger, E and I typically each held one of Z's hands while snorkeling, so we could both enjoy hearing her squeal excitedly through her snorkel anytime she saw a particularly colorful fish or, best of all, a sea turtle.
Mommy & Daughter Snorkeling – part 1
On that last Maui trip, Z and I wanted to go out snorkeling a second time while E opted to stay back at the hotel. She and I walked down the beach toward Black Rock with our snorkel gear as I watched the waves anxiously. There was a south swell on Kaanapali that year, which meant the waves were a lot bigger than they usually are. I felt a bit nervous about taking her into the water by myself in those conditions.
As we walked toward Black Rock, she grew more excited about snorkeling while I watched the waves and grew more anxious about taking her in on my own. I really wished I had E with us or my Mom; I wondered what on earth I was thinking to take a five year old out snorkeling in the ocean on my own!
I was starting to despair as we got to Black Rock and found a spot to put our towels and gear down. Z was as fearless as a five year old can be – oh, and did I mention she had a cast on one of her little arms at that time? That was all the more reason for me to be nervous about taking her snorkeling solo, even though we had brought a pool noodle along to help support her arm in the water.
As I fretted, fearing the worst and thinking myself a terrible mom for even considering taking her snorkeling in those waves, Zoe took my hand and looked me in the eyes. Ever sensitive to my moods, she intuited that I was frightened. "Don't worry, Mama," she piped in her sweet little voice. "Be brave! I'll be right there with you to hold your hand."
My heart melted, her pep talk worked wonders and we two geared up and headed in. Getting into the ocean past the surf was the most challenging part, and involved a lot of laughter as we held hands, wobbled and fumbled with our flippers in the playful waves.
Once past the surf, the water calmed. I kept hold of her hand as we drifted and relaxed in the amazingly clear water. I knew we had made the right decision. I am so glad Z and I had that amazing afternoon together swimming, watching colorful fish dart around us and even following a big sea turtle around for a time. She was right – facing my fears head on was the right move for sure!
Mom & Daughter Snorkeling – part 2
Later that same vacation, we were getting close to our departure date and I was feeling sad about leaving Maui. That island truly leaves its mark on your heart, and I am so blessed to have been there multiple times. I had a feeling it would be our last visit to Maui for a while, so I was even more reluctant to leave.
I longed to go snorkel at Black Rock one last time, but E and Z were happy playing in the resort pool. Thankfully, my Mommers was up for joining me so we walked down to Black Rock together, soaking up the sunshine, Aloha vibes and each other's company and conversation.
When we got to Black Rock, the waves were even more active than the prior day. Mommers came out and swam alongside me without a snorkel, just to keep me company and see my enjoyment over all the fish I was ogling down below. That's just how my little Mommers rolls.
I'll never forget either of those two mother/daughter snorkeling adventures in Maui – one with me as the mom, the other with me as the daughter. You can see why these two particular outings were so memorable for me! I guess it's fitting that I'm blogging about these warm, happy memories just in time for Mother's Day.
Do you have wonderful snorkeling memories or other travel adventures to look back on with your own mom and family? I'd love to hear about them in the comments below or over on Facebook. Happy Mother's Day to every one of you who is, was, has or had a mother – and that's everyone!