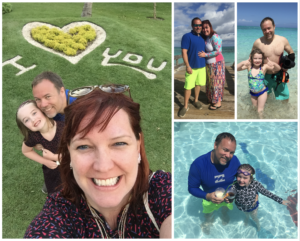 It was tough not traveling for spring break this year, but I was warmed by memories of last March.
After literally years of wishing and planning, our family had THE dream spring break trip last year: a week at the incomparable, all-inclusive Beaches Resort in the beautiful Turks and Caicos islands.
It was the trip of a lifetime and we're all still talking about it – especially our 8 year old. And it was special for so many reasons!
E and I were married on Grace Bay Beach on Providenciales in the Turks and Caicos back in 2005; it's always been a dream to return as a family. 2017 was the year our dream came true.
If you're not familiar with Turks and Caicos, they are an exquisite group of coral islands just east of Cuba, north of Haiti and southeast of the Bahamas. Think crystal clear waters, soft white sugar sand and amazing snorkeling and diving.
There's not a ton to do on these islands so if nightlife and shopping are your thing, then TCI may not be for you. But they sure are an amazing place to take in nature's beauty, soak up the sun and enjoy some of the world's best beaches.
And speaking of beaches – the Beaches Resort was AMAZING. This was my first time ever at an all-inclusive resort and I wasn't sure if the food would be up to my "foodie" standards, but we were pleasantly surprised.
Alas, we soon found our groove and ended up frequenting the same lovely restaurants instead of seeking out new culinary adventures – which seems to be our family's way. But it was nice to know those other restaurants were there, and I'm glad we found a couple that the whole family loved enough to keep going back.
In addition to a bunch of restaurants we never tried, we also didn't put Zoe in the kids club very much. It was great and looked super fun, and she tried it once, but decided to spend the rest of the week with us. That was fine with us – it's our one big family vacation of the year, after all. One of my favorite things about the week was all the together time!
The other thing we didn't take advantage of on this trip was the plentiful Beaches nightlife – they had family-friendly shows and activities every single evening, but we were always so tired after a long day of fun in the sun and surf that we didn't make it to a single show! That's my one regret about the trip – other than a couple of bad falls when paths got slippery after it rained, as I blogged about last year.
How we spent our time
So, what did we do during our relaxed and leisurely days at Beaches? That's easy and can be summed up in three words: beach and pools! Or, to be more accurate, pools and beach.
Beaches TCI has four main resort villages or neighborhoods, and each one has its own fabulous pools. We never made it to the pools in the Key West village farthest from us, but we were regulars at the seaside Caribbean pools and hopping Italian village pools – and also visited the swanky French village pools a couple of times.
In addition, they have an on-site water park known as Pirate's Island, which we also frequented daily for lots of fun in and around the pools, grottos, slides and water rides.
My preference is always the beach, and we did make it to the glorious Grace Bay beach on multiple occasions as well. We snorkeled as a family three or four times – once for hours on end – and those are my absolute favorite memories.
Holding hands with my sweethearts as we glide through crystal water and watch a rainbow city of sea-life below us is absolutely my favorite vacation activity! We're lucky to have snorkeled together like that in Maui, Mexico and TCI – but the snorkeling off Grace Bay Beach in the Turks and Caicos is by far the best I've experienced. Zoe got to swim with sea turtles, countless varieties of rainbow fish and so much more.
Down at the beach, there other fun activities including big pedal boats and kayaks (we never tried those – it was a bit too windy during our stay) and sailboats you can take out with or without a Beaches sailing pro. Zoe and I went out on a sailboat with one of the Beaches sailors and had a wonderful morning out on the water! We felt like Moana riding the waves – we even sang "We Know The Way" at the top of our lungs. Lionel, our sailing pro, didn't seem to mind one bit.
There are other activities you can pay for – parasailing, giant floating ocean trampolines and banana boat rides – but with so many included activities, we never felt the need.
We did get Z's hair braided island-style, bought a few souvenirs in a little on-premises market and splurged on a catamaran snorkel cruise to nearby iguana island (which ultimately ended up getting comped by the manager after our nasty falls – a nice move on his part). But otherwise, we didn't spend a cent other than the all-inclusive Beaches vacation itself.
A few of our favorite things
After every vacation, we always list our favorite things and experiences. For Beaches, those were the beach (snorkeling, swimming and sailing); the pools and swim-up bars; the Kitty Katt catamaran adventure; Bobby Dee's (amazing 50s style diner with ultimate kid foods, including ice cream bar and unlimited cotton candy!); fresh pastries and island fruits every morning with breakfast; the iguanas on iguana island, the pot-kitties (beautiful stray cats who make their home on the resort property) and the sea creatures we saw while snorkeling – especially the sea turtles.
Other restaurants that made our top 10 list were Arizona's (TexMex with a cool poolside grotto we reserved one night) and Mario's (Italian with yummy bread, pastas and desserts and a pooltastic view of the Italian village).
Was it all worth the price tag? Z and I say an enthusiastic YES – E still feels it was overpriced. But for a week in paradise without having to take out your wallet even once, maybe that's just the price you pay?
And now I'd love to know, in the comments below or over on Facebook, what was your favorite vacation and what destination do you consider "paradise"?