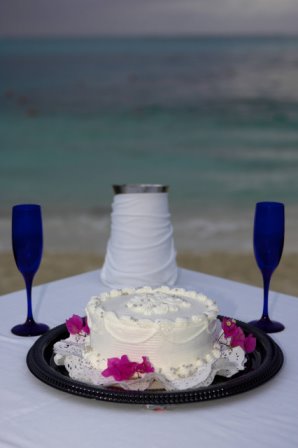 My beloved hubby and I celebrated our 15th wedding anniversary this month, which got me thinking fondly back to our idyllic I do's on the white sands of Grace Bay beach on the island of Providenciales in the Turks & Caicos.
Yes, we had a destination wedding – or, as I preferred to call it at the time, a weddingmoon (a lovely portmanteau combining wedding and honeymoon).
We had a beach wedding for many reasons. It's certainly a lot less expensive than a big, traditional wedding and reception! I highly recommend destination weddings for other couples planning nuptials.
The first time around, I got married the traditional way (church, big white dress, reception afterward with friends and family). Since I did a nontraditional wedding the second time, I can tell you there are pros and cons of each.
The kind of wedding you choose will depend a lot on your dreams, goals and values as a person.
The first time around, I knew I wanted to get married in a big white dress in a church with tons of perfect details and our friends and family around us. I had dreamed of a fairytale wedding my entire life, and I planned out each detail to perfection. I was honestly a bit of a bridezilla. Also, I got one important detail wrong – the groom. Doh!
Ten years later, and with the right groom, I knew we wanted to swap pews for views. E and I wanted something small and informal with the focus on us two as a couple – and we knew we wanted to do it somewhere far-off and fabulous. The rest of the details didn't seem as important – except for finding an amazing on-site photographer, of course.
We didn't set out to purposely exclude our families and we would have loved to share our big day with them. However, we knew we wanted an international destination wedding. Since E's entire family simply would not want, or be able to, travel that far, we made the decision that we would not invite anyone at all.
My family would have really liked to be there – and actually threatened to show up on the island uninvited and crash our wedding – but there was no way we could have just my family there without E's family too. And, it would seem unfair to invite friends without inviting family! So, we decided to keep it to just us two.
We celebrated with E's family in FL right before our weddingmoon trip, and with my family in CA not long afterward. We also had a big celebration with friends at home in Ohio just before our trip. It worked out well and we have no regrets about keeping our wedding/honeymoon just for the two of us. We befriended many hotel staffers and guests who ended up coming to our wedding on the beach that day.
I preferred our private weddingmoon story to those I've heard from other couples who had destination weddings. In some cases, it can end up feeling like the newlyweds have their families on their honeymoon with them – which could be a bit of an awkward or undesirable outcome and something to keep in mind.
An island wedding
The most obvious reasons to have your wedding on a beautiful beach are the vibe, the views and taking that amazing destination with you throughout the rest of your life through your photos. For these reasons and more, I am so happy we decided on an island wedding.
Grace Bay beach, where we stayed for a week and shared our vows, is one of the most beautiful beaches on earth. Being able to look at those photos and videos, and remember that trip, is a gift that keeps on giving! Years later, we even took our daughter back to that beach so she could experience its beauty for herself.
The thing about island weddings, though, is that they take place on island time and with island resources.
For example, we literally didn't know what day we would end up getting married until THAT day. You have to be flexible and patient if you decide on a destination wedding. Some of the details might not be precisely what you envision ahead of time – and that's okay!
When we arrived in the Turks & Caicos, our wedding coordinator helped connect us with a pastor who shepherded us through the government paperwork and processes. But island governments can take their time, so each day we woke up and wondered "is this the day we'll have our wedding?!" It seemed to take forever.
Our wedding coordinator assured us he would take care of the details and make our day perfect. He asked me what color flowers I wanted, and I asked for red to match my wedding attire and accessories. He enthusiastically agreed – but when our day came, I got hot pink flowers instead. Turns out our coordinator was color blind and thought they were red. Actually, there are no red flowers grown on the island – only hot pink.
My former bridezilla self might have had an issue with this but relaxed, island bride me found it funny. In fact, ever since our wedding, the colors red and hot pink together have been known as "our wedding colors" and it has actually become one of my favorite color combinations.
Another funny detail is that on the day of our wedding, we were swimming and snorkeling in the ocean, salty and sandy, when our coordinator came running out to the beach to tell us "today's the day! Go get showered and cleaned up!" Again, we found it fun and thrilling in the moment, but some brides might be a little freaked out at so little notice to get ready.
Everything came together – hot pink flowers and all. We both got the salt and sand showered off, I got my hair done and put on some natural looking makeup to complement my weddingmoon tan, and away we went. It was the best and most beautiful barefoot beach wedding EVER. Okay, maybe a little sweaty; it was sweltering hot that day!
During our vows, I remember gazing out past our pastor to the gorgeous ocean and seeing our friend the sea turtle, with whom we had snorkeled and swum every day of our trip, popping his head up to take a gander at the ceremony on the shore. It was magical.
After our nuptuals, we took more photos, of course. And then we had a toast with delicious mocktails and wedding cake at the edge of the ocean – and we were able to offer slices to our photographer, pastor, coordinator and all the staff who had basically become like family by that point.
Our entire week together in TCI was paradise, and our beach wedding was perfectly imperfect, utterly unforgettable and made for absolutely beautiful memories and stories.
Have you had or attended a destination wedding, and how do you think they compare to traditional church weddings? I'd love to hear your wedding stories in the comments below or over on Faceboook.