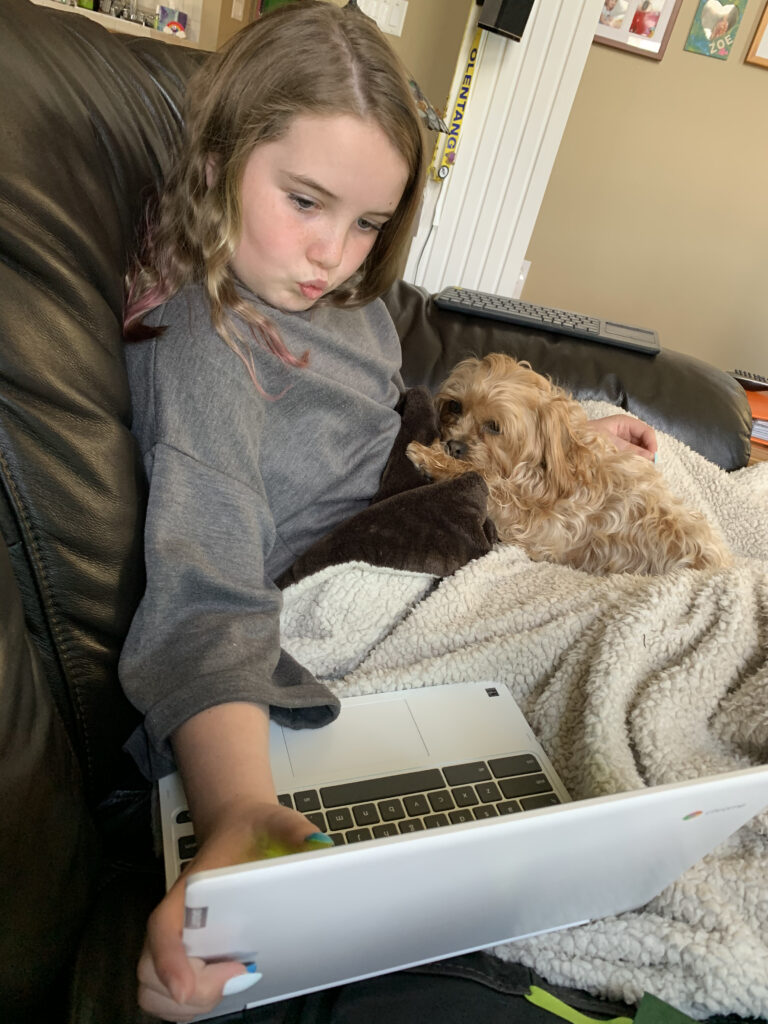 Each year, Olentangy Schools holds the Inklings Writing Competition for grades 3 through 8. Students are invited to submit original works of fiction, argument or poetry. Xage submitted a 2019 short story that received an award of merit at the school level.
This year, as a fifth grader doing hybrid learning at home due to Covid, Xage wrote the following short story, The Flames. It was submitted into the 2021 Inklings competition, received a Superior rating at the school level and was chosen as the sole entry from our school to be forwarded to the district level for additional judging. There, Xage was awarded second place among the entire fifth grade at Olentangy Schools! We are so very proud of our young writer.
THE FLAMES
My clammy hands gripped my pillowcase overflowing with important items as I ran into the forest away from my burning house. My burning home. Tears streamed down my face covered in smoke as I watched the orange flames devour the place I had spent my whole life. 12 whole years of memories being swallowed up by flames. And where was dad? Somewhere in the burning house was dad. Sirens filled my ears.
20 minutes earlier…
I woke up to the smell of smoke. Confused, I looked at my glowing alarm clock. The blocky green numbers read 3:45. I slipped on my slippers and got out of bed. I walked over to my closed door and touched the handle. It burned my skin. Startled, I pulled away.
My mind raced. I knew one thing. Somehow the house was on fire. "Dad" I yelled. My voice shook. "I'm right here" I heard him say. I heard coughing. I felt tears on my cheeks.
"What do I do?" I sobbed. "I'm in the hallway" dad said. "Don't panic but your door has caught fire. Go to your bathroom. Get your towel wet. Wrap it around you. Now listen, your room is on the second story so it's dangerous to jump. Throw as many pillows and blankets outside as you can." I followed his directions though it was hard because my hands were shaking.
"What about you?" I said, trying not to panic. That's funny. My house is on fire. Of course I'm gonna panic, I thought.
"Don't worry," he said. "I'm going out my window. I'm going to try to save some things. I'll meet you around the back of the house." I just cried, uselessly. I wiped away my tears and stood up wobbly. I stripped the sheets off my bed along with my comforter, and tossed them out my window. They landed in a heap on the moonlit grass. I turned around and took one last glance at my beautiful room. We had redid it last spring.
Dad had taken me to the paint store to pick out a new paint color. My room had been bright pink and purple. Instead, this time I picked out an elegant pale yellow. It was the color of the sun after a storm. I had gotten a new desk and bed, this time an off-white.
Once more, I looked at my shelves covered in basketball trophies and medals. At my desk covered in art supplies. My pictures hanging on my walls. One was me and my mom. My mom was diagnosed with leukemia when I was 4. She got sicker, and sicker. The doctor told us there was nothing we could do. A couple months later, she passed away.
Smoke flooded in from underneath my door pulling me out of my trance. I knew I had to move quickly. I stepped out of my window, onto the roof and looked down at the small heap of blankets and pillows that looked so far away. I looked back into my room. My desk and carpet had caught on fire. I bent my knees, and jumped.
*thud* I landed on a pillow. I got the wind knocked out of me. I leaned on my pillow and gasped for air. Slowly my breath returned. I grasped the grass. Deep breaths…I thought. It will only get worse if I panic. I followed Dad's directions and walked around our house. I winced when I stepped on a stick with bare feet. Just then I heard coughing.
"Dad!" I yelled. I ran toward the sound. There was dad. Standing there. His flannel pjs splotched with smoke. He was holding a pillowcase. It too was covered in black clouds. It had picture albums along with mom's wedding ring, a chest of jewelry and a couple of granola bars. I ran to him. He dropped the pillowcase. He hugged me as I sobbed into him.
"It's okay," he said though I heard worry in his voice. I knew it wouldn't be okay.
Just then I heard distant barking. My mind raced.
"LUNA!" I screamed. My voice broke. "DAD, LUNA'S IN THERE!" He ran up the cement front steps while I sobbed. He flung open the door, took off his shirt and covered his mouth as he sprinted in.
I got Luna a month after mom died. It was my birthday and dad surprised me with her. She's a Pomeranian. She must have hid under a bed when she saw the fire.
I picked up the pillowcase dad had. Then I was running into the woods away from the flames. I didn't know if Luna and Dad would be okay. But somewhere deep inside me, I knew they were safe.
Safe from the flames.
The end