Each year, Olentangy Schools holds the Inklings Writing Competition for grades 3 through 8. Students are invited to submit original works of fiction, argument or poetry. While in third grade, Xage wrote and illustrated the following short story, The Lion Girl, for the 2019 Inklings competition. It received a Superior rating at the school level judging and was then forwarded to the district level for additional judging. We are very proud of our young writer!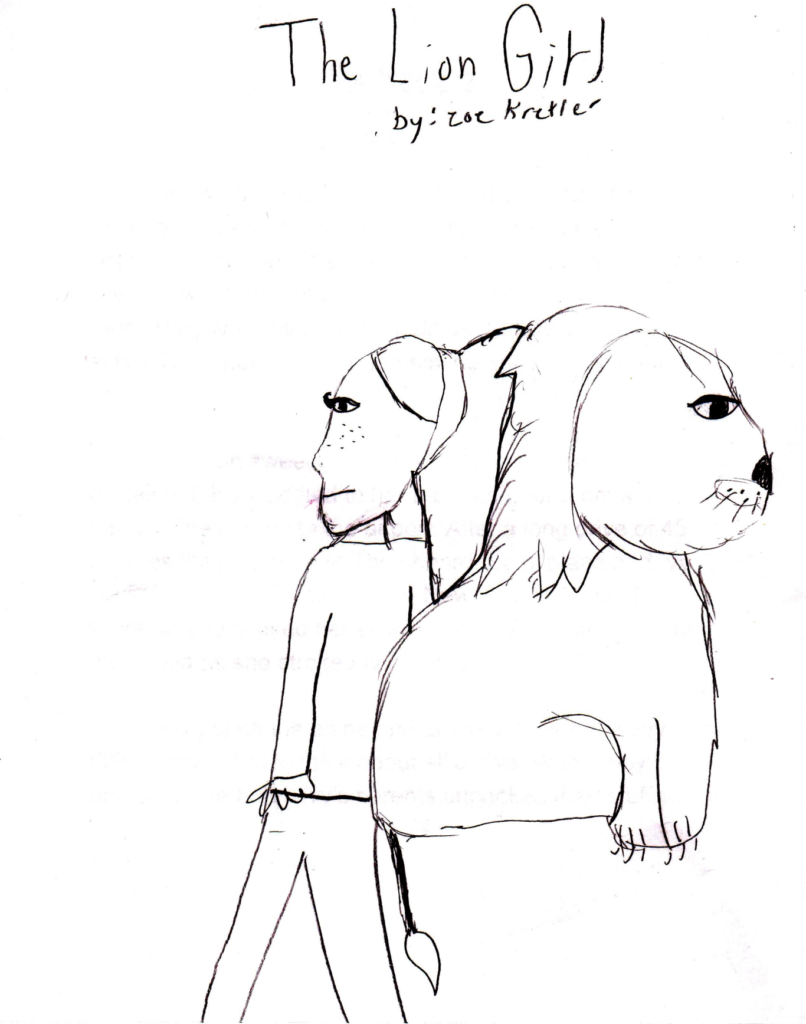 The Lion Girl
One day a normal two year old little girl named Ivy peeped her head out from underneath the hem of her covers on her bed. She crawled out of her crib and tried to take a few stumbly steps into her mom and dad's room. They were packing for their trip to Africa to go on safari. Ivy's parents had been saving up for this trip for years.
"Come on sweetie, it's time to go" her mom exclaimed. Ivy waddled to her mom and her mom scooped her up. They drove to the airport. After a long drive of 45 minutes they were there. They boarded the plane and Ivy fell asleep. After 14 hours from New York to Africa, Ivy woke up and blinked her sleepy eyes. "We're landing" her mom said as she stroked Ivy's cheek. They got off the plane and drove to their hotel. Ivy didn't know what to think about all of this. When they arrived at the hotel, Ivy's parents unpacked their stuff.
Ivy's mom finished unpacking. "Ivy, we're…" her mom started to say as she turned around only to find the door wide open. "Ivy?" her mom called out again…No answer.
"Brian!" Ivy's mom screamed at her husband. "Ivy – she's gone!" The couple ran out of the room, out of the hotel and into the parking lot. Standing there was Ivy. She was standing in front of a large cage of lions. She stammered her first words, "Set them free." Her hand was gripping the lock on the cage door. Just then, a drunk driver came zipping around the corner. "IVY!" her mom screeched. The biggest male lion jumped out of the cage in front of Ivy to save her.
The driver hit the lion and Ivy got a scar for life on her cheek. No one knows for sure what happened that day but now Ivy's in middle school and she often has flashbacks of that day…
It was the last day of middle school. Ivy had another flashback of that horrible day. Suddenly her scar lit up and started to burn like crazy. She let out a scream. Everyone in the hallway stepped back. The male lion that had saved her when she was little was back…
There was a flash of light. Ivy closed her eyes. The burning on her cheek stopped. She opened her eyes. Everyone around her gasped and whispered "did she just turn into a lion?!" Ivy blinked. The male lion said "Ivy, your heart is a normal girl, but your soul is a​ Lion."
To read more from this fresh young writer, be sure to check out their award-winning 2021 Inklings entry! You can also check out all of Z's guest posts here on the blog!