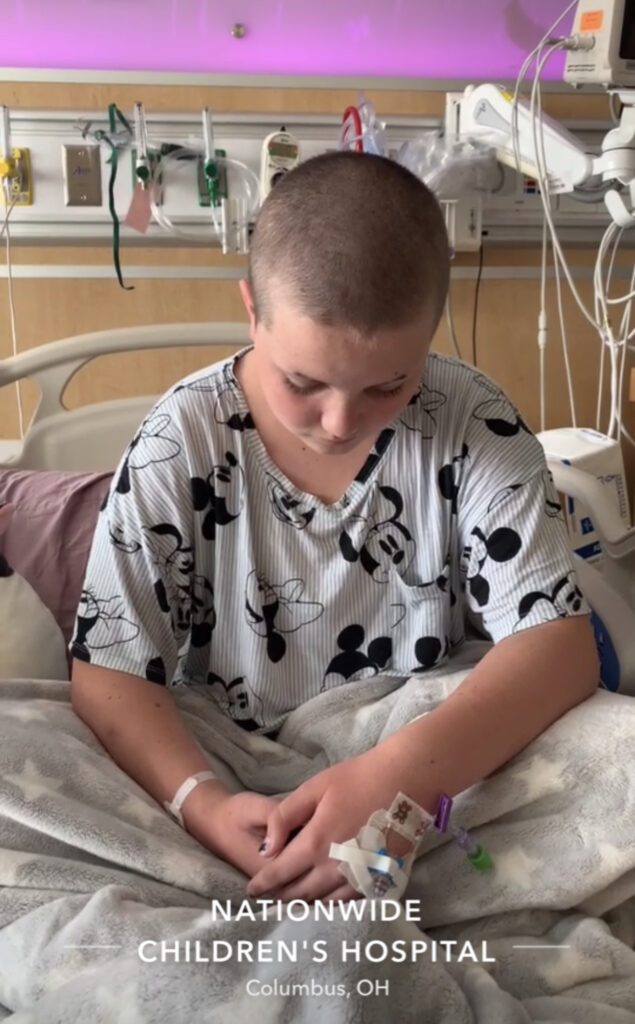 If you read my recent post about our kiddo's vision troubles and a suspected case of cat scratch fever, hold onto your hats.
The story didn't end there. That was merely chapter one. It gets even wilder from here.
Chapter two found us at the Ohio State Havener Eye Insitute for a visit with a retina specialist. There, Xage went through many of the same tests we had done at our local eye doctor – including dilation of their eyes and more retinal imaging.
That's when the neuro-ophthalmologist calmly turned to me and said that we needed to head over to the Nationwide Children's Hospital.
She told us to have lunch first, maybe even get some ice cream – and then go straight to the ER where we would likely be admitted for testing for a few days.
My jaw just about hit the floor. Xage seemed fine! We had gone to dive team practice that morning. They had some blurry spots in their vision, but no pain and otherwise appeared to be in perfect health. How could this strange eye problem require hospitalization?
But the doctor explained that Xage's vision problems were being caused by swelling or high pressure on their brain.
She said it was very serious and we should make our way over to the hospital immediately after lunch – without even going home first. The doc said Xage would need an MRI of their brain and likely a lumbar puncture to rule out serious infections that could be causing the brain swelling. Xage and I tried to have lunch, but we were both anxious. It felt so surreal, like we were watching this happen to characters in a movie.
I am so thankful for the great care we got at the OSU eye center that day – and for the phenomenal care we then received at Nationwide Children's Hospital. How lucky are we to have two stellar, world-class research institutions here in Columbus!
I toured Nationwide Children's Hospital nine years ago at a blogger event that preceded their community grand opening. I was blown away by the hospital at that time and wrote that I hoped I'd never have to use it, but I was thankful to have such a terrific place should the need ever arise.
Now, having been a parent of a child at that hospital, I'm even more amazed by the place – and most of all, by the fantastic team of pediatric nurses, doctors, specialists and staffers who work there. I literally lost count of the number of friendly, caring, passionate healthcare professionals who helped Xage – and our entire family – through this difficult time.
The uncertainty was the worst. We didn't know what was causing the swelling in Xage's brain – or if it would get worse before it got better. We had a coordinated team of hospital pediatricians, neurologists and ophthalmologists working together on this medical mystery.
All we knew was that Xage had a rare condition called Idiopathic Intracranial Hypertension – and we had to find out how or why this had happened.
Before and after going to the Children's ER, Xage underwent multiple eye tests and checks. It's amazing to me that the eyes truly are the window to the soul – err, brain. One of the only ways the docs can tell what's going on with Xage's brain is to look in through the back of their eyes. I have never appreciated our eyes as much as I do after this experience!
Right away, we were told that Xage needed a CT scan, lumbar puncture, MRI, MRV, bloodwork and likely several other tests. We were advised that because of the extensive nature of all the testing and how serious the condition is, we would be admitted for at least one night – and possibly two or three.
E met us in the ER and he and I kept Xage's morale up during all the waiting in between tests and doctor visits. None of us could believe this was happening, but at least we were all together. I was so terrified of how Xage would react to being told about the spinal tap, but they rose to the occasion like an absolute champ.
The doctors had to do a lumbar puncture on Xage for three reasons: to measure the pressure of their cerebrospinal fluid (believed to be extremely high due to the vision changes and the way Xage's optical nerves looked); to release some of the fluid and see if they could bring down the pressure a bit that way; and to test the fluid for possible infectious causes of Xage's condition.
Just before the doctor in charge told us we'd have to leave for the spinal tap, Xage said they were fine and that we could step out. That's because Xage had bonded immediately with Courtney, a Patient Life specialist who came in specifically to help Xage through the procedure.
Courtney was phenomenal. She kept our sweet, anxious kiddo as calm as possible during what would be a scary ordeal even for an adult. I am so proud of Xage for bonding instantly with Courtney, for being so brave and for telling E and I to leave even before the doctor said we had to. What an incredible kiddo!
After the lumbar puncture, Xage was a little teary-eyed but otherwise fine. I wish we'd had a chance to thank Courtney for being such a strong support for Xage, but she had vanished. Then, an hour or so later when we were in our hospital room, Courtney showed up with art supplies for Xage!
Turns out, Courtney had gone out on her break to pick up art supplies for Xage. When she gave Xage the sketch book and colored pencils, she thanked Xage for being so brave – not just during the lumbar puncture, but also just by living out loud and being their true self even at such a young age. Courtney said she was so inspired by Xage. I was blown away and so touched. What an amazing thing to say to a young person in hospital – I'm forever grateful for her kind words and seeing our baby so clearly.
Not long after the LP, E headed home for our list of necessary items. Both Xage and I had multiple demands and E was a trooper tying to gather them all and bring them back for us! By the time he got back, Xage and I had our own hospital room with a view.
Xage was in high spirits overall. Because they were feeling fine the entire time, this hospital stay seemed like a grand adventure, other than being woken up in the night for vitals checks and also getting frequent needle pokes. They started counting and I believe they're up to 11 needle pokes all together – including three for the spinal tap (two lidocaine shots, one for the lumbar puncture itself).
The food at Nationwide Children's is surprisingly good. The main floor is gorgeous and every floor has whimsical sculptures, colorful decor and children's artwork. The patient rooms are spacious and come with fun color-changing lights to match your mood. The pull-out bed and reclining chair for parents are appreciated touches.
Families are the focus here and it shows – the nurses, doctors and staff go out of their way to make parents comfortable, as well as the patients themselves.
We had incredible teams of specialists from multiple disciplines working to solve the mystery of Xage's brain. Ultimately, they ruled out the truly scary possible diagnoses through all the tests. We're left with a diagnosis of IIH, which means the cause is unknown – or it could be changed to secondary intracranial hypertension if the physicians' hypothesis about its cause is correct. More on that in another blog post.
For now, I'll just wrap this up by saying we are happy to be home again after our weekend in the hospital. Xage spent two nights and the better part of three days at NCH. The doctors prescribed a medication to bring down the swelling in Xage's brain, and now we just wait and hope for that to work. We were sent home on Sunday with orders to come back for frequent eye checks so they can make sure the medicine is working.
Our miracle is that Xage stayed happy and healthy (other than the brain swelling) throughout all of this – and that we got home Sunday in time for E to go pick up our new puppy, Lamborghini, from the breeder. By 9 pm Sunday night, we were all back at home resting with our precious new pup – how about that for a miracle after everything we had been through since Friday?!
Be sure to check back for the final installment in this crazy tale. You won't BELIEVE what the doctors think caused all this to happen in poor Xage's brain. In the meantime… got any guesses?