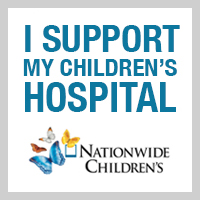 This Sunday, June 10, from 11 am to 4 pm, you and all our central Ohio neighbors have the opportunity to visit and tour the new Nationwide Children's Hospital in Columbus – one of the top pediatric healthcare institutions in the country. I highly recommend that you pack up the kids and make a morning or afternoon of it. I got to tour as part of a special preview for bloggers last Saturday, and I can't rave about it enough. This place is THAT amazing.
Here are my top ten reasons why you and your family should visit and get to know the new Nationwide Children's Hospital during this weekend's community grand opening:
10. It makes sense to learn your way around the ER and the rest of the hospital now, before you ever need it. I feel comfortable knowing that I'm familiar with NCH and could find my way around if I needed to. Hope I never have to, but you just never know! The ER has an incredible over-sized, circular aquarium full of brightly colored fish to captivate little ones.
9. The new Magical Friends are so fun and adorable and playful, you won't ever want to leave. These are giant wooden animals carved by the brilliant artisans at Carousel Works in Mansfield, Ohio (I've blogged about these folks before – Zoe and I love their carousels!). The animal friends are located all throughout the hospital from the lobby to patient floors, and they are amazing. My favorites were the frog, bunny and squirrel.
8. It will give you so much reassurance as a parent to know the stellar quality of care, experts and resources available to our kids just in case, God forbid, the worst ever happened. While touring the facility, many of us bloggers said "This is the most amazing place I hope to never visit again!" and it's so true. Glad we have it in our community – hope never to need it.
7. The play rooms/family space areas on each patient floor are incredible. Full of great Melissa and Doug toys and other amenities, plus they have floor to ceiling windows with mind-blowing views of the city. Great, right? I don't know if Zoe would even play with the toys – she would be plastered to that window!
6. The patient rooms, aside from being filled with medical marvels and the absolute latest in pediatric technology and patient care, are also filled with the little magical touches that define this place. At the head of each patient bed, instead of the usual boring hospital artwork, hangs a super cool LED light display that patients can control. They can set it to one color, change the color each day according to their mood, or even set it to change colors like a rainbow constantly above the bed. I know Zoe would flip over this – and what kid wouldn't? Even better, the lights can be seen by outside the hospital so kids can join in turning the entire building a certain color to celebrate holidays, etc. There's a gorgeous pic of the multi-colored room lights from the outside at night on NCH's Facebook page. Awesome, right?
5. The art all over the walls, floors and little kid-height alcoves is nature-inspired, brightly colored and enchanting. Butterflies, birds and friendly little critters are everywhere – in the gorgeous Italian glass mosaics worked into the floors, on the walls, in moving, projected art and especially all through the exquisite atrium. There are hidden, seek and find animals and birds in almost all of the wall art, so kids can delight in spotting frogs and other friends hidden throughout. The colors are bold yet serene, with every design element meant to enchant, uplift and overjoy. The Nationwide Children's Hospital team hired the designers responsible for several children's museums and theme parks, and it shows. I commented more than once during the tour that I felt like I was at Disney – and I meant it in the best way possible. I was even wearing my "Disney face" during the tour. See?
4. The $800 million hospital expansion project came in under budget even though they were able to work in amazing extras like six acres of green space designed to capture the healing power of nature. The gardens include a storyteller garden, a fragrance maze, walking paths and trees, all without any toxic leaves or berries that could tempt little ones.
3. The pediatric trauma and critical care rooms, though terrifying to see as a mom (I never want those tiny beds to be filled!), are incredible. I especially love that there's a place for parents and family in those rooms. At Nationwide Children's, they know that no parent is going to be okay with being cast out into a waiting room while their child is being treated. Here at NCH, parents and family belong right there in that room with the child patient as part of the critical care team. That warmed my heart.
2.Our tour ended with our entry into the beautiful Atrium and Magical Forest. Photos do not do this justice, folks – you really have to visit! It's one of the coolest things I've ever seen and you can't believe you're in a hospital. Just outside the Magical Forest is a giant cuckoo clock with bird houses that open and play songs at certain hours throughout the day. Once entering the Magical Forest, you are overwhelmed by giant trees, the calls of birds and other nature sounds, and more inspiring, whimsical artwork and friends. I don't want to say too much and ruin some of the surprises – just go and you'll be transported. I am just so happy knowing the Magical Forest exists – it's a true gift to the patients and families spending time at this amazing hospital.
1. After touring the new Nationwide Children's Hospital, I feel even luckier to live here in Columbus, Ohio. I love knowing that we will never have to leave our town to receive world-class medical care – and nor will any child,  regardless of ability to pay. That's a promise the folks at NCH made ten years ago and have delivered with this new building. It's truly awe-inspiring and worth your time to tour it this Sunday. I  hope you'll check it out.
When the Nationwide Children's Hospital folks say "Everything Matters" here, they really mean it. It shows.
If you have visited NCH already, what did you think? Fantastic, right?
Big thanks to Nationwide Children's Hospital for inviting me to experience their blogger preview tour and Q&A with pediatricians. They also gave me a nice lunch and great blogger swag bag full of NCH branded goodies, including a fold-up, snap-open frisbee which is Zoe's new favorite thing on earth.