Once upon a time, I had a little weekly blog series called Friday Favorites, which then morphed into my "5 thankful things" this past November. Now, it's back to being Friday Favorites again. Enjoy!
This week I'm all about fun stuff for kids that is also fun for adults. Ready, set, go: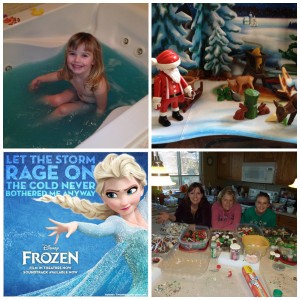 1. KidzBop. If you're not familiar with the pop cultural phenomenon known as KidzBop, then you probably don't have a kid between the ages of 5 – 12. Basically, this is a group of kids singing "clean" versions of all the top dance and party tunes you know and love. Before I had Zoe, hearing a KidzBop song would have made me simultaneously shudder in horror and break out in hives of revulsion. Now that I have an almost-four year old who loves dance music, I am all about the KidzBop! It's just nice being able to listen to rockin' tunes or feisty dance numbers without having to explain inappropriate lyrics – or worse, to hear your little one singing along and using words you'd rather she didn't. KidzBop rocks – we have at least five of their CDs. I highly recommend my favorite KidzBop album, KidzBop Ultimate Hits, as a great starting point. Trust me, you'll find yourself listening to this CD even when your kids aren't in the car with you.
2. Lush fresh, handmade cosmetics and bath products. This is actually way more of a mommy treat than a kid thing – but kids love Lush, too! Zoe has gotten completely hooked on Lush bath bombs and I have, too. These products have transformed what used to be a somewhat stressful evening routine into a really amazing treat and ritual. I love sharing the Lush experience with her by sitting on the edge of her tub with my feet in so we can both enjoy the colors and fragrance of a fizzing, foaming bath bomb. If you think they're pricey, you're not alone – but cut them in half to save a little (they're still very effective that way!) And if you're new to the wonderful world of Lush, here's a great blog post about some fan favorite scents to entice you. So far Zoe and I love every one we've tried. These are great stocking stuffers! And, as a special added bonus, the Lush store at Polaris Fashion Place is immediately adjacent to the kids' play area. Coincidence? Nope – it's fate. You're meant to browse, treat yourself and get a surprise for the little ones while they play.
3. Disney's Frozen. What can I say about this wonderful film – it's the #1 movie in America right now for good reason. The visuals are stunning, the music is unforgettable, the characters are fabulous, the costumes are gorgeous – and oh, did I mention the totally awesome grrl power theme in which sisters, not misters, are the heroes of the day? I love this movie. I never thought I could adore another Disney movie as much as Tangled – and I love that Rapunzel and Flynn Rider make a super-quick cameo in Frozen! I've taken Zoe to see this twice already and if she asks, we'll go again. It's magic. See it. Frozen is making a winter-lover out of this warm weather girl, and it could do the same for you.
4. Playmobil Advent Calendars. I bought our first Playmobil advent calendar last year on a whim while gift shopping at Barnes and Noble. I decided not to give it to Zoe last year when I realized how little some of the pieces were – they are not just small, they are TINY. But this year, it's been absolutely tremendous so I highly recommend these for the 3+ crowd. She has been having so much opening one little door each day, getting a new toy or two to pull out and place on the play stand/background scene. We got the Christmas in the Forest themed one this year, and I've already got my eye on either the Princess Wedding, Pirates Treasure Cove or somewhat pricier Unicorn Birthday in Fairyland version for next December. Sometimes I wonder who loves this stuff more – Zoe or me. I grew up playing with Playmobil but I certainly never had any of these super cute modern sets. They're amazing! The quality is great, the delayed gratification aspect of an advent toy is really good training, and the end result is a super fun play set she'll use year after year. Give these a shot if you're looking for a nice, peaceful alternative (or addition!) to the "Elf on the Shelf" madness.
5. Chocolate-dipped pretzel rods. I used to be a cake ball gal – I brought them to every work function for years, after getting very good at the laborious creation process during a marathon 2010 weekend with my BFF and a neighbor in which we balled about 500 of the little suckers. Yep, it was fun – but crazy! Anyway, Zoe always wants to help in the kitchen and the cake balling process is not what I'd call preschooler-friendly. But you know what is? Dipping and decorating pretzel rods! After Zoe's Gran bought a couple of chocolate-dipped pretzel rods for Zoe at a recent holiday event, I quickly realized this would be a super easy and fun thing for us to make together this Christmas season. I stocked up on pretzel rods, baking melts and a myriad of different holiday sprinkles – and we pulled it off. Zoe and I had a blast making them and best of all it was super easy, including clean-up, once I realized that we needed to do the "sprinkling" part over a baking dish. The end result looked nice enough to give away, plus they were delicious – and a bit healthier than sugary cake balls.
So, those are my favorite things right now. What about you – got any kid-friendly favorites to share? I'd love to hear in the comments below!