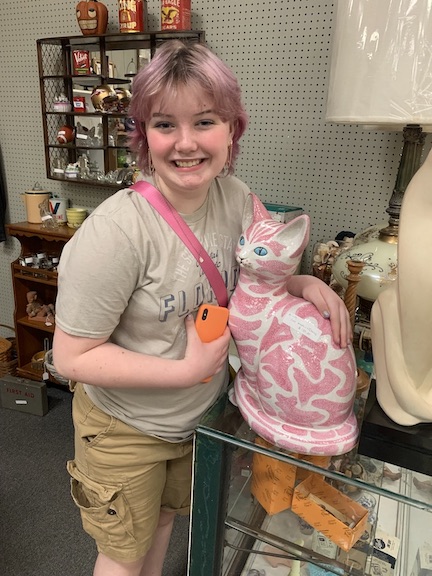 Have you ever gone antiquing?
It's not something I thought our family would enjoy – but turns out I was wrong. We absolutely loved it!
Going antiquing is a lot like going thrifting, except instead of sifting through old clothes, you are poring over vintage collectibles and other household items.
I can't tell you how many times I've driven along I-70 between Columbus and Dayton. Each time, we pass multiple highway billboards proclaiming Springfield a mecca for antiquing.
It never occurred to me that it might be fun to stop and visit Springfield's antique malls until a friend told me she loves going. I asked the fam if they'd be up for checking it out this past weekend, and they said yes.
Now we're hooked on the treasure-hunt known as antiquing!
Springfield is literally known as the Antique Capital of the Midwest due to the vast number of antique malls and shops in this little midwestern town. And these are not just small, cozy second-hand stores. I'm talking massive indoor malls featuring thousands of antiques and collectibles for sale by hundreds of dealers.
There are three huge, well-known antiquing destinations in Springfield which are worth a drive from just about anywhere. I'll review them in size order, from smallest to largest.
Building #2 of the Springfield Antique Center. This is the first antique mall we came to after exiting I-70 at exit 59, so we stopped here first. This is actually the smallest of the three huge antique malls but it is by no means small. This building is extremely well organized with many fragile collectibles and other items in nicely displayed cases behind glass. The staff is very friendly and they are happy to remove items from the cases so you can have a closer look. Then, they'll store items at the front desk for you until you are finished browsing and ready to check out. Z and I both got some glass items here as we both collect pretty glass pieces. The prices were extremely reasonable.
Building #1 of the Springfield Antique Center. We went here next and it is HUGE! Easily twice the size of building #2, you could spend all day here. It's 75,000 air-conditioned square feet and very comfortable inside. It's nicely organized and laid out in rooms or booths, and there are staff members roaming the building offering assistance. There is something for everyone and absolutely every budget here. It's a very fun place to explore and treasure hunt! From kids' toys to adult novelties, it's like going back in time and revisiting American pop culture history. I had so much fun goofing around with Z as we went through the aisles in search of the creepiest, most haunted and cursed doll in existence. Trust me, we found her – and all of her friends. Yikes!
Heart of Ohio Antique Center. This place boasts that it is America's biggest and best antiques destination, and I believe it. It's almost twice the size of the big malls I just told you about! Clocking in at 122,000 square feet, you could easily spend a whole day here exploring the thousands of booths, rooms and showcases filled with antiques and collectibles. It's open 362 days a year (the only exceptions are Christmas, Easter and Thanksgiving) and features friendly customer service staff to help you. This one is almost a little too overwhelming, but fortunately it has a cafe and lounge area so you can stop for a snack or a rest if you find yourself losing the will to live.
Are you ready to go antiquing yet? I think this is a fabulous multi-generational activity. Older folks will love reminiscing as they walk through the buildings and see items from their childhoods; I know my in-laws were big fans of the Springfield antique malls when they lived in Ohio.
Truly, anyone who likes thrifting or treasure-hunting will love antiquing here, too. Our tween is the perfect age and had a blast. My one caveat is that I think there's a lot of potential for smaller kids to get lost or bored, so I'm not sure it's the right venue for them – although we did see several families with kids while we were there.
Have you been antiquing in Springfield, and are there other fun places like this that I should know about? Let me know in the comments below or over on Instagram or Facebook.