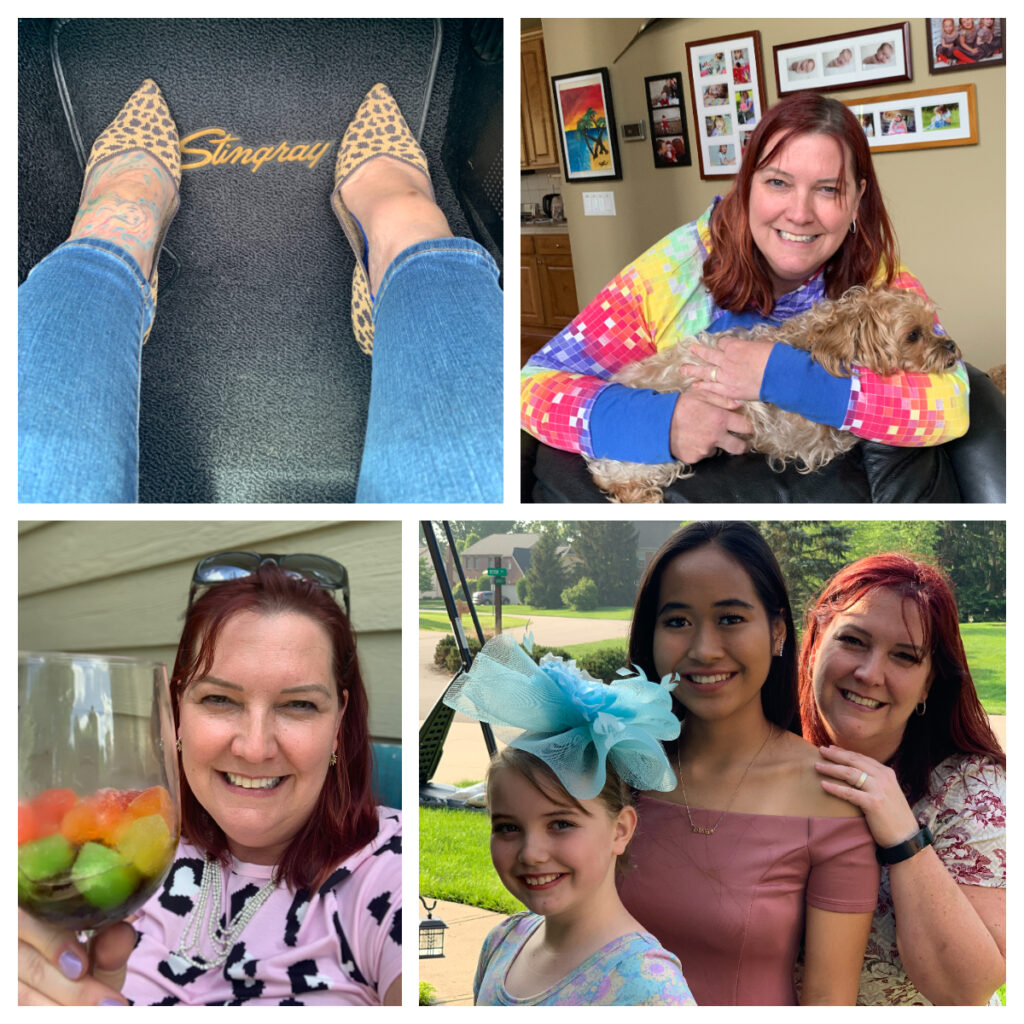 Eulogies and wakes for the Lularoe clothing brand were a tad premature. I'm here to tell you: Lularoe is not dead yet!
While the brightly-colored and patterned leggings that put this direct selling company on the map may be a bit outdated these days, the Lularoe brand is alive and well thanks to its ability to adapt and innovate.
I recently Marie Kondo'd my Lularoe leggings drawer and donated almost 50 pairs. Yes, I had a slight problem. What can I say, I'm a born collector – I get it from my Dad. There's a fine line between "collecting" and hoarding, but I try to stay *just* on this side of it.
Anyway, Lularoe continues to come out with great new trendy styles, as well as new ways to sell its products. No, I don't work for them – I'm just a fan of soft, comfortable clothes.
My 5 favorite Lularoe pieces for 2020:
Melissa tunic – this is a comfy, flattering tunic with a sharkbite, asymmetrical hem. It's great in solids or prints with jeans, shorts, skirts, and yes – even leggings. I don't care what anyone says, I still love a nice pair of basic black leggings, my faux leather Spanx or yes, even Lularoe leggings once in a while in the right print.
Amber hoodie – this is somewhere between a hooded, long-sleeved tshirt and a traditional hoodie. It's adorable, comfortable and perfect for cool summer evenings, spring mornings or just about anytime if you work in air conditioning. These come in solids, prints and a couple of different fabric weights. I absolutely love mine!
Lularoe denim – I've tried many, many premium denim brands and LLR jeans are, I kid you not, the best jeans I've ever owned or worn. They are SO comfortable, flattering and fit to perfection. I have both the regular length skinny jeans and the skinny ankle fit, and I adore them. I can't get these washed, dried and back in my closet fast enough. They are not cheap, but no good denim ever is. You will not regret these jeans!
Jessie dress – This is a cute, flattering tshirt dress similar to the older Carly, but without Carly's high-low hemline. Jessie's hem is straight across and – wait for the best part – it has pockets! Oy. A tshirt dress with pockets. Is there anything better in this world? Give me all the Jessies! I still have a ton of Carlys in my closet too, but I'll never buy one again when I can have Jessie's pockets.
Bermuda shorts – New for summer 2020, LLR debuted Bermuda shorts as part of their Americana release. Okay, yes these are mom shorts and also a total 90s flashback. But mom shorts and the 90s are both back in style! I've seen denim Bermuda shorts exactly like these at Nordstrom. And OMG, just like the LLR denim jeans, these shorts fit and feel like a dream. These are shorts for women who don't wear shorts, or don't think they can. Trust me, you can with these!
Now, as for how to find the best price on Lularoe: first, set up searches on eBay. I've gotten some incredible deals this way. Also, watch multi-consultant groups (there are a ton of them), wait for sales and never pay for shipping. But if you truly want to be able to try things on and see or feel them in person before you buy, then you need a local Lularoe consultant.
So there you have it – five reasons why Lularoe is alive, doing well and should be part of your wardrobe in 2020. Do you agree? Disagree? I'd love to hear from you in the comments below or over on Facebook.