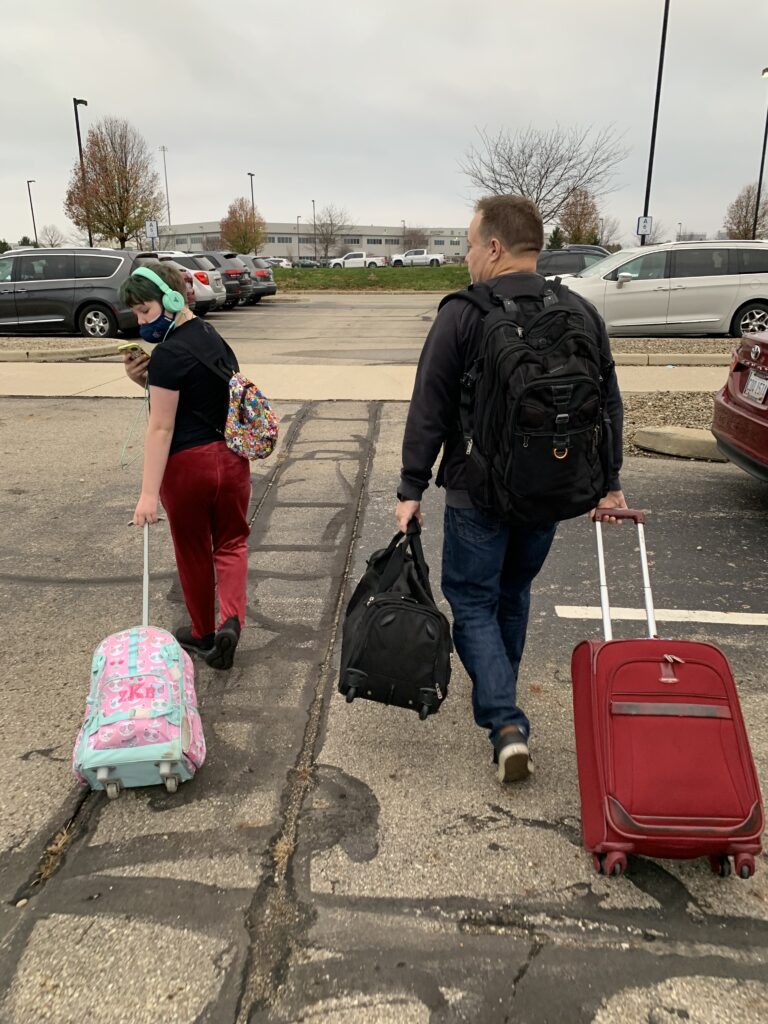 Do you love planning trips yourself – or would you rather have someone plan it for you?
I've always been a do-it-yourself traveler. I love the idea of scouting out and researching destinations, hotels, attractions and more.
I've planned most of our trips myself, from our weddingmoon in Turks and Caicos, to our fab getaways in Arizona, Kelley's Island, Maui and many more.
It's pretty rare for hubby to plan a trip for us. Although, he really outdid himself a few years back when he surprised us with a three-city tour of Europe!
E knows I love to plan travel almost as much as I love going on the trip itself, so for the most part he's content to sit back and let me do it.
Since we didn't travel much in 2020 (thanks, Covid) or this past year (thank you, unexpected health issues and ongoing Covid threats), we are planning a big return to travel in 2022. I can't wait!
Costa Rica has been on my personal travel wish list for years and I keep seeing it mentioned on lists of the best places to travel as a family. The country's unofficial slogan, Pura Vida or pure life, really resonates with me.
Costa Rica is known as the happiest country on earth. I'm so happy to share that 2022 is the year we finally visit this amazing country!
But boy, planning a trip to Costa Rica is not easy. The airfare part is simple enough – I just set up alerts on Kayak to watch for the best time to buy tickets. I ended up getting a pretty good deal.
The real challenge is planning which places to go and sights to see in Costa Rica. There is literally SO MUCH to do and see there! For example:
Do you want to stay in the rainforest near a volcano, or do you want to stay near the beach?
Do you want to visit national parks filled with sloths and monkeys and toucans, or do you want to visit the capital city packed with places of historic, artistic, development and cultural interest?
Do you want to adventure through hanging bridges in the tree tops of a cloud forest or soak and luxuriate in volcano-fed hot springs?
You see what I mean? The tricky part is knowing which of these incredible destinations to visit – and how to travel between and among them in a foreign country where you don't speak the language. I want to do it all, but I'm not sure if it's even possible within our 7 allotted days.
To be honest, I found it all quite daunting! And that's why, for the first time, I've decided to use a local tour guide company to take our family on our magical Costa Rican adventure.
I was thrilled when I found Il Viaggio Travel in Costa Rica. It's a family-owned travel company focused on providing amazing vacations for families. Il Viaggio takes care of absolutely everything!
Stephanie at Il Viaggio listened to what we wanted to do and see, and then planned a day by day itinerary that is going to make our Costa Rican adventure travel dreams come true.
I asked E and Xage if they would like to hear about our itinerary, or if they would prefer to be surprised. For now, they said they'd rather wait. I think it could be simply that they can't get too excited about travel that is so many months away. And honestly, after all the uncertainties of this global pandemic, I can't blame them.
But as for me, I am looking through our itinerary almost daily, obsessing over every detail and daydreaming about our getaway to the paradise known as Costa Rica!
What do you think – was I wise to use a travel service and arrange a guide for our entire trip, or am I "cheating" by not planning it all myself? I just figured since it's our first visit to a new country, and none of us speak Spanish, the guide and travel support makes sense.
And you bet I'll share all the details – including the pros and cons of using a tour guide – after our amazing spring break trip!
Are you planning anything fun for spring break 2022? I'd love to hear about your travel tales and daydreams in the comments below or over on Facebook or Instagram!