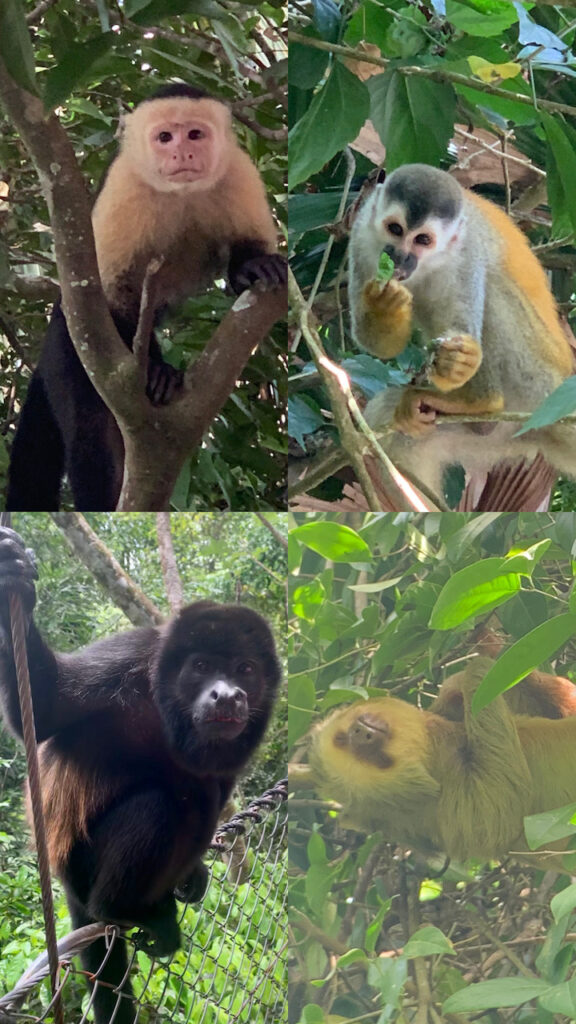 When you imagine the perfect family travel experience, what do you picture?
If you answered beautiful beaches, unforgettable wildlife, thrilling volcanos and spectacular rainforests, then Costa Rica should be on your bucket list!
The seeds for our Costa Rica spring break trip were planted two years ago during a whole lot of dreaming about travel while we were in a global Covid quarantine.
While the world was on lockdown, virtual experiences became a wonderful way to feel less isolated. Journey and I took an hour-long virtual tour of a Costa Rican animal rescue and rehabilitation ranch. We both fell in love with the wildlife and the spirit of this amazing Central American country.
I then dreamed about and planned our trip for almost two years, consulting with a travel firm on the ground in Costa Rica and ultimately booking everything through them.
Now that we have returned from that magical place, I am brimming with stories and blog posts to share with you about our unforgettable 8 days in paradise.
I want to tell you all about the incredible Costa Rican countryside, the unbelievable biodiversity and wildlife, the amazing food, the wonderful people and the unforgettable Costa Rican spirit and culture that is best summed up as Pura Vida or "pure life."
I have several Costa Rica posts planned, but the main purpose of today's is simply to give you an overview of our trip and convince you that you need to A) read the rest of my posts with all the details about our week and B) add Costa Rica to your own travel bucket list!
For our spring break adventure, we flew from Columbus to San Jose, which is one of two main airports in Costa Rica. We had to make a brief connection but all went well flying down there (flying back, however, is another story for another day).
We were met at the airport by our guide from Il Viaggio Travel, who then drove us about 3 hours to our hotel in the Arenal volcano area. The drive went by quickly as we ooohed and ahhed over the beautiful countryside and incredible sights of this new-to-us country.
Our guide, Juve, was wonderful and continually pointed out many sights we otherwise might have missed, like scarlet macaws flying overhead or sloths in the trees.
We spent three days in the shadow of the Arenal volcano at a small, charming resort called Paradise Hot Springs. It featured multiple pools and hot tubs filled with water that had been heated by the volcano underground.
In addition to ranging from warm to very hot, these soothing hot springs pools were full of minerals that left our skin feeling great! We also did several incredible excursions in the Arenal area, which I'll tell you all about in another post.
On day four, we had a long day of driving south to the beach area known as Manuel Antonio. It was a little over 6 hours of driving, but Juve stopped a couple of times to break up the day. Once we stopped to shop for souvenirs and snacks – another time we stopped to have lunch and take a crocodile and bird-watching boat tour along the Tarcoles River. I'll tell you all about that in another post!
Finally, we arrived at our ultimate destination: quirky and cool Costa Verde hotel. It was right near the little seaside town of Quepos and about five minutes from the incredible Manuel Antonio national park. Costa Verde is perched on a rainforested cliff high above the ocean. This hotel features incredible views, unique accommodations and "more monkeys than people" – a phrase it truly lived up to during our four days there.
On day eight, our final day in Costa Rica, we hopped in a small private Cessna plane to fly back up to the main airport in San Jose. This was a unique and much-appreciated mode of transportation, as it saved us a four-hour drive back up through the mountains and afforded us incredible aerial views we never could have seen otherwise.
It's hard to believe how much adventure and breathtaking beauty we fit into just over one week in Costa Rica. It was unforgettable and we made family memories that will last a lifetime!
Please come back to read our other posts about our fun family travels in Costa Rica. You won't believe all the animals and birds we met – or the exciting and thrilling adventures we had.
And if you love to travel as much as we do, you'll want to seriously think about taking a family trip to Costa Rica. I'll tell you all about how we found our local travel company, Il Viaggio, and why you might want to work with them for your first visit to this incredible country.
For now, I'll simply repeat the phrase that came to represent all that is wonderful, unique, natural and beautiful about Costa Rica during our spring break trip this year: Pura Vida! It really does capture the experience.