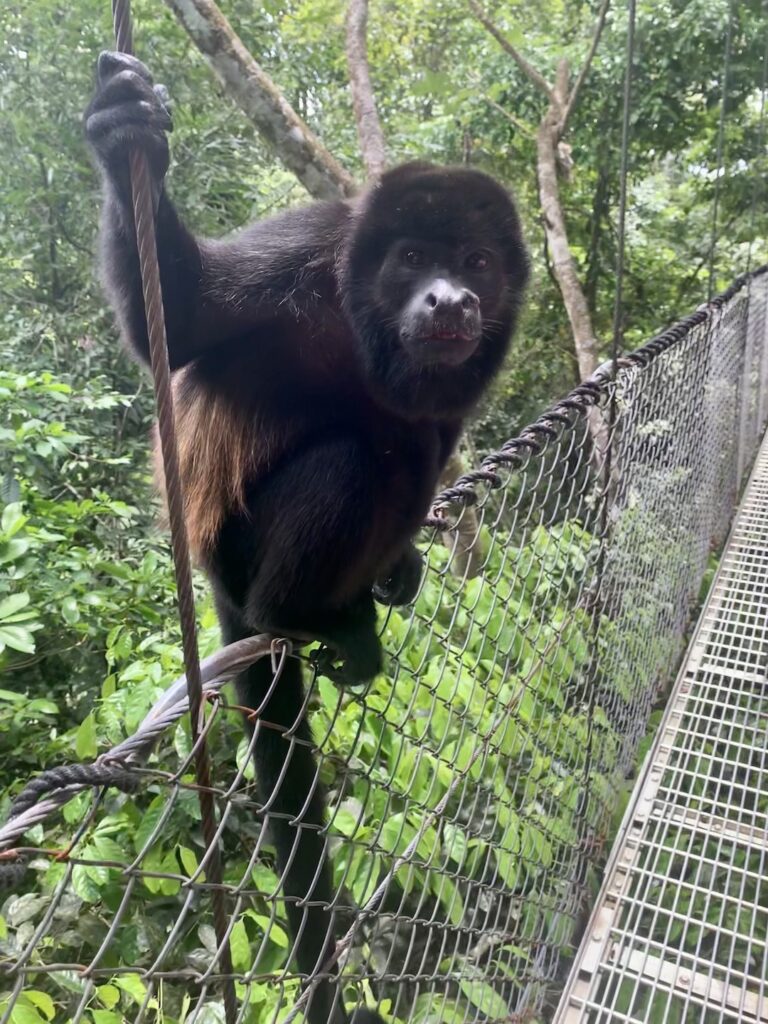 Costa Rica is a natural wonderland with everything you could ever want in a vacation destination.
Scenic views, beaches, waterfalls, volcanos and rainforests are all part of the Pura Vida experience.
But for our animal-loving family, the biodiversity and wildlife encounters were the absolute standout. Seeing so many amazing birds, animals and reptiles up close made our spring break in Costa Rica especially unforgettable and magical.
Practically everywhere you go in Costa Rica, there is unique, plentiful wildlife to see, hear and marvel over. If I'm being totally honest – I was there for the monkeys!
Here's a rundown of our ten favorite critter encounters in Costa Rica. See if you recognize all of these guys. Many of these animals and birds were new for us and it was so fun learning about them on our trip.
1. Howler monkeys. Nearly everywhere we went in this beautiful country, we saw big, beautiful howler monkeys high up in the treetops putting on acrobatic displays. They woke us every morning of our stay at hotel Costa Verde with their amazingly loud, low roars. I'm not sure why they're called howler monkeys, as they don't sound like they're howling at all – rather, they sound more like they are rumbling, growling or roaring. We met a howler monkey up close at the Mistico hanging bridges rainforest near Arenal volcano. He was likely a young adult and seemed sweet, a little shy and oh so curious. Howlers almost look like miniature gorillas except with long tails; like gorillas, they are vegetarians.
2. Squirrel monkeys. These adorable little guys were all over the place at hotel Costa Verde in the South Pacific area of Costa Rica. We loved seeing them scamper through the trees, sip water from our puddles beside the pool and hang out on the signs near our bungalow. The smallest of the three monkey species we saw in Costa Rica, squirrel monkeys travel in large troops; the moms with babies seem to stay together in a little cluster. They are omnivorous but we only ever saw them eating plants and fruits. Costa Ricans love these tiny monkeys and they have the affectionate nickname of "Titi" monkeys.
3. White-faced capuchins. We saw tons of these little white-faced mischief makers while staying at our beloved hotel Costa Verde. We heard about them before we saw these guys, because their reputation as troublemakers precedes them. They're only a little bigger than the squirrel monkeys, but they aren't as shy so they are known for stealing food and other items from humans. In fact, on our last night, a group of capuchines showed up at our restaurant and took over. One even hung out on top of the TV at the bar and tried to catch running footballers in his little hands!
4. Sloths. Nearly everywhere we went in Costa Rica, sleepy, slow-moving two-toed and three-toed sloths clung to the treetops. Our guide was wonderful about pointing them out in the first few days of our trip; by the end, we were spotting them on our own without any problem. These sweet, arboreal herbivores are so cool to observe in the wild and, if you look through binoculars, they always seem to be smiling. One of our sloth highlights was seeing a mama with a tiny baby clutched to her chest as she hung from a branch high above the beach-side path at Manuel Antonio national park. Another cool sloth sighting happened during one of our dinners at hotel Costa Verde – we could sloth-watch right from our table!
5. Toucans, Scarlet macaws, Motmots and Grey-necked wood rails. We saw and heard so many amazing birds on our trip! The earth has about 9500 bird species and more than ten percent of them live in Costa Rica. Seeing toucans and scarlet macaws flying free in the wild was incredible. My favorite toucan sighting was a complete surprise – a gorgeous rainbow-colored keel-billed toucan came and perched in a tree right by me while I was lounging in our hotel pool at Costa Verde. I don't have any good shots of the Scarlet macaws we saw because they prefer high-up treetops. The Grey-necked wood rail isn't much to look at, unlike the other two birds, but their call is loud and unmistakable. They almost sound like car alarms going off! As for the Broad-Billed Motmot, we got some gorgeous close-ups of him during our Mistico rainforest hike – he posed for Journey like a pro.
6. Iguanas, lizards and geckos. If you're a lizard-lover like we are, Costa Rica is sure to be your jam. There are tiny, medium-sized and large lizards everywhere you look – and listen. The house gecko's call sounds like a person making kissing sounds and you'll hear it often during your Costa Ricans travels. It actually took me a while to figure out who was making the kissy sounds! The other lizard we saw a lot of were iguanas, both the black and green variety. Last but not least, a cool new discovery for me was the Basilisk or Jesus lizard, who runs on his back feet and whom we saw at Manuel Antonio national park.
7. Agoutis. These shy little cuties could be seen foraging in wooded areas all around our hotel. They are a slightly larger cousin to the guinea pig – and a slightly smaller cousin to the capybara. When I walked around the hotel grounds every morning, I would see pairs of agoutis scavenging for seeds and nuts. One of my favorite agouti sightings was a mama and her wee baby. The mama was calmly munching on seeds while the baby ping-ponged around her at high speeds. When I spoke softly, the baby came quite close to me and boy, was he adorable! My family liked to annoy me by calling these guys oversized rats, but they are most definitely not.
8. Colorful poison dart frogs. There are many brightly-colored and unique frog species in Costa Rica, but they can be hard to spot as they are so tiny. We were fortunate to see a "blue jeans" poison dart frog hanging out in the rainforest at Mistico Hanging Bridges Park in Arenal. We neer would have found him without the assistance of our guide, who heard the soft call or chirp and then spotted the frog making the sounds. There are so many varied sounds in the rainforest that it can be hard to identify who or what is making each noise!
9. Crocodiles. We're very familiar with alligators, having family who live in Florida. This was our first time seeing the American Crocodile in the wild. Crocodiles are larger and have narrower V-shaped heads. We saw quite a few of them at Tarcoles River in Costa Rica – including one mammoth specimen known as Mike Tyson who is approximately 19 feet long and estimated to weigh about 900 pounds! Another difference is that crocodiles can be found in salt or brackish water, while alligators prefer freshwater. I can tell you that I wouldn't want to go swimming with either species.
10. Spotted dolphins were one of the highlights of our catamaran cruise during our stay in Manuel Antonio. They seemed slightly smaller than the Pacific dolphins we're used to seeing around California or Mexico. They traveled in a pod and looked like they were having fun racing our boat and riding in its wake. Our Journey has always been a dolphin magnet – wherever she sits on a boat, that's where the dolphins always show up!
Have you ever traveled to a place that had such incredible biodiversity? If you know of other vacations that come with animal encounters like these, let me know. I'm always looking for our next dream destination.