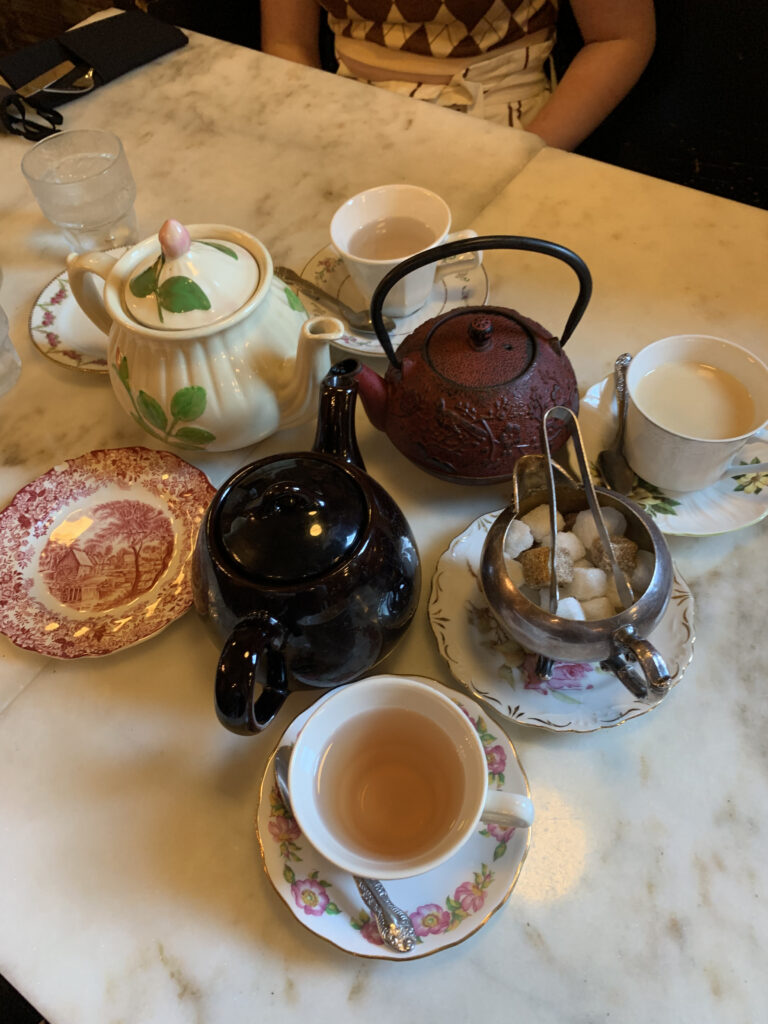 Did you know there's a place in Westerville where you can have a fancy afternoon tea reminiscent of those offered at fancy London hotels?
It's true. On a recent Sunday afternoon, I took Xage and a friend out to uptown Westerville. We were on a mission: to enjoy a fancy afternoon tea at Asterisk Supper Club.

Notice I didn't say "high tea."
Many people mistakenly believe that "high tea" is the fancy meal of delicate finger sandwiches and scones. Actually, that is known as low tea or simply afternoon tea. The meal of high tea was traditionally more of a working class meal full of hearty comfort foods.
Still, because so many people mistake "high tea" for the fancy, posh version, many businesses market a fancy "high tea" offering all the tiny, pricey items traditionally served at a low tea. Go figure, right? Now you're in the know.
Anyway, back to our fun tea party. Xage and I dressed up a little – and next time we go, I would dress up even more.
Asterisk is fabulous and understated in all the right ways. It's like a cross between a swanky bar, a gentlemen's library or study, and a lovely tea room.
The tweens and I loved the atmosphere and ambiance. The service was great and the menus are hidden in books, a touch I absolutely loved (and which our fancy London tea at Sanderson's had, also).
We opted for the full tea, which in addition to hot tea includes soup or salad, a nice selection of finger sandwiches (you get to choose which ones you want, unlike at our London tea party), a couple of scones and a couple of fancy tea cakes.
We also ordered three different pots of tea because we all wanted to try different flavors. I had the Rainbow Rose Hip, Xage had the Lemon Berry and our friend had the Vanilla Chai. All were delicious and there was plenty to share. We didn't leave any tea behind – we drank every last drop. Our server also brought us ice water, which was appreciated.
Xage tried one of the finger sandwiches but wasn't a fan, so we ended up getting them a grilled cheese and truffle fries off the regular menu. They raved about both, so it was a good move.
Our friend and I loved the finger sandwiches and salads. My favorite was either the heirloom tomato finger sammie or the ham and swiss. Xage and friend ate the sweets, but I did get to try Xage's scone with a little clotted cream.
The salad, surprisingly, was one of my favorite things we had. It was soft, sweet butter lettuce with a simple herb vinaigrette and green onions – really lovely and just the perfect touch. Between the salad and how great the rest of the food tasted – including kiddo's grilled cheese and truffle fries – I'm sold on coming back here for a regular, non-tea meal sometime, too.
If you love being surrounded by books and pretty things; if you've always longed to be Beauty, whiling away your day's in Beast's mansion; or if you're like us and simply adore tea parties, then you simply have to visit Asterisk Supper Club in Westerville.
When was the last time you experienced a fab tea party? I want to hear all about it in the comments below.