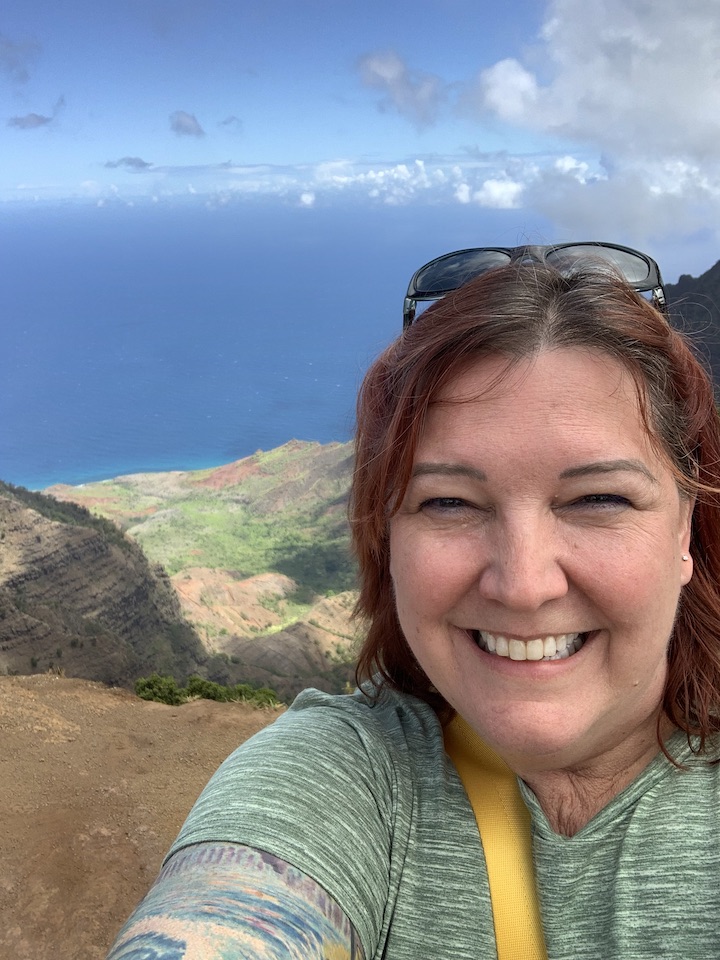 Kauai, Hawaii is known as the Garden Isle. To me, it is an island of beautiful contradictions.
Kauai has the most gorgeous beaches of any Hawaiian island, yet it also has so much beauty to see inland including mountains, gorges, rainforests and waterfalls.
It is the wettest place on earth, with 450 inches of rain annually on Mt. Waialeale, yet the rain in Kauai feels more like a gentle mist than an actual downpour. We only saw heavy rain once in two weeks.
And Kauai is a tiny island with just 111 miles of coastline – yet it's home to an absolutely enormous canyon dubbed the Grand Canyon of the Pacific by Mark Twain!
When I think of our time on the beautiful island of Kauai, I think of the most vivid colors:
The unbelievable blues of the ocean
The ubiquitous greens of the rainforests and flora
The unique red of that gorgeous Hawaiian soil (the name "Waimea" actually means reddish waters in Hawaiian, because the waterfalls and rain run-off are often tinted by the red dirt)
Nowhere are these colors more beautifully on display than at the scenic treasure known as Waimea Canyon State Park. Z and I had a wonderful day in Waimea Canyon early in our stay, and then we took E there on the last day of our Kauai trip so he could experience it for himself. Waimea definitely has to be seen to be believed.
It is high atop the Waimea Canyon, overlooking its incredible gorges, that Kauai's beautiful colors all come together:
views of the Pacific, aka Big Blue
views of the island's lush valleys in every shade of green
and of course, all around you is the incredible red hue of Kauai's unique soil, a trademark of all the Hawaiian islands but especially bright on Kauai.
There is so much to do in Waimea Canyon. First, a visit to this unique state park consists of an unforgettable scenic drive (pro tip: the drive out of the canyon is even more breathtaking because you're facing the ocean).
There are multiple spots up in the canyon to park and hike up steps to enjoy lookout views of the gorge, as well as the Pacific Ocean and Ni'ihau Island. There are places for wildland picnicking and many trails, as well as adjacent forest reserves with long, arduous hikes into and out of the canyon.
Although we didn't do any strenuous hikes during our visit, I definitely enjoyed stopping at the first and last lookouts (there are four total, plus the lodge) for a short climb up to the viewing point and some amazing photo opps at the top. Z also enjoyed our stop at the lodge for snacks, some souvenir shopping and – best of all – a chance to purchase feed for Kauai's many chickens.
If I haven't mentioned them yet, chickens are EVERYWHERE on Kauai! Local lore tells that the hurricanes of 1982 (Iwa) and 1992 (Iniki) destroyed domestic coops, releasing the chickens into the jungles. These domesticated birds then mated with the wild red fowl brought to the islands by the Polynesians, resulting in the wild Kauai chickens we see today.
Yes, we saw plenty of chickens up in Waimea canyon – along with a few stray dogs and even a couple of nene, Hawaii's native and endangered goose, which is actually a cuter cousin to our familiar Canadian goose.
Another highlight for us was lunch and shopping in the cute little town of Waimea at the foot of the canyon. There, we enjoyed delicious chips, salsa and tacos at Island Taco, a highly-reviewed local food stand that ended up being some of the best food of our entire trip. My brother and I will never forget their homemade garlic salsa!
Also in Waimea town, we found the best souvenir shop in all of Kauai – one we ended up coming back to multiple times during our trip because their selection and prices were the best on the island.
Paradise Shells & Souvenirs looks like a small t-shirt and souvenir stand from the outside, but once you enter it's huge inside and actually encompasses multiple shops with the same owner. They have an amazing selection of shells, shirts (including tourist favorite, the Hawaii red dirt shirts), gear, jewelry, hats and so much more.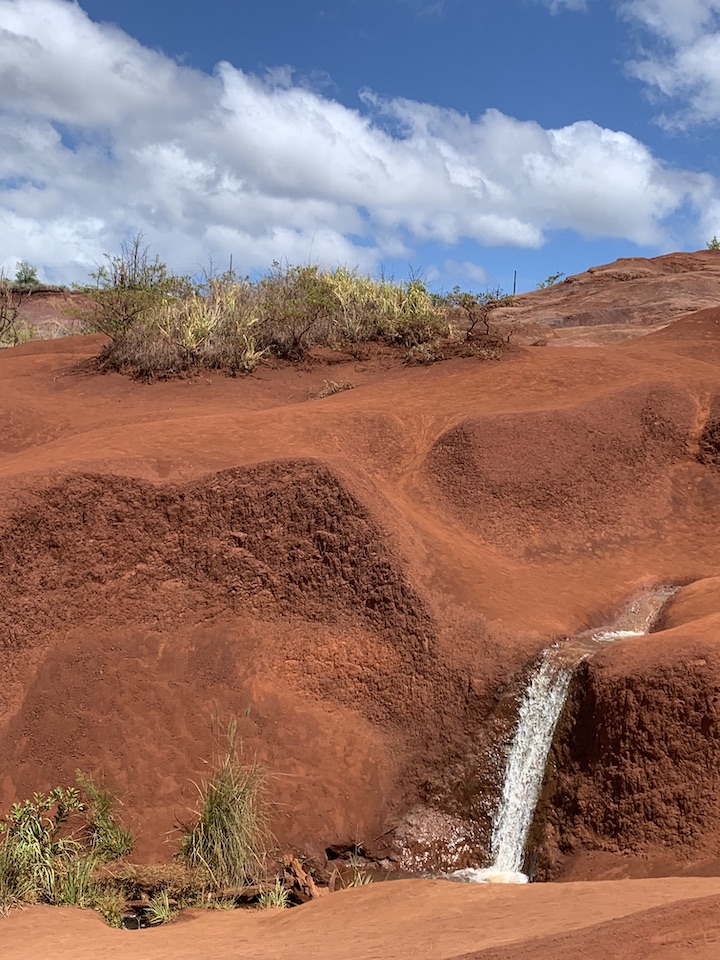 Perhaps my favorite part of our second Waimea canyon visit was a quick stop at the gorgeous Red Dirt Falls. About halfway up the steep canyon road on the left, Red Dirt Waterfall is pretty much exactly what it sounds like: a waterfall surrounded by Kauai's iconic red dirt. It's quite a lovely sight, though better early in the morning when there aren't as many tourists hiking all around and through the falls.
When you go to Kauai, you're likely dreaming of beaches and believe me, those are worth their own post. But be sure you make time for a visit to the island's gorgeous interior and especially the mile-deep, 14-mile-long sacred beauty that is colorful Waimea Canyon.