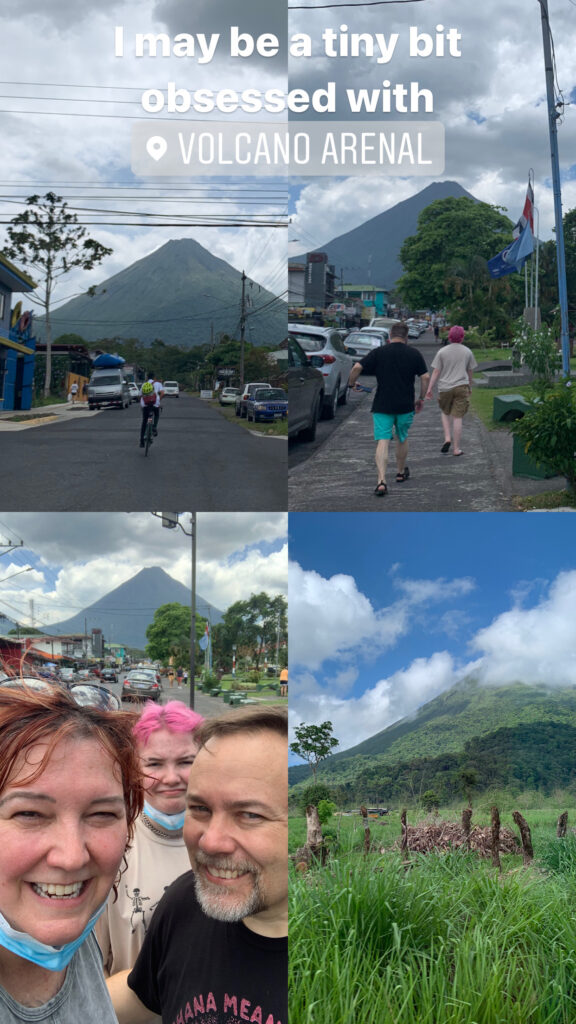 During our recent spring break trip to Costa Rica, I fell madly in love with the picturesque Arenal volcano.
I couldn't stop taking pictures of that volcano morning, noon and night!
We spent our first three days in the beautiful, verdant area surrounding the Arenal volcano and her charming little town of La Fortuna. It was the perfect start to our trip.
Three days was just enough time to explore the area, eat some great food and shop for adorable souvenirs.
We also got a couple of super fun excursions in – and, of course, relaxed in the thermal hot springs heated by Arenal herself.
La Fortuna waterfall
Our first activity in the Arenal area was to hike down to the famous La Fortuna waterfall. There are 500 steps down to the waterfall's beautiful clear pool. That may not sound like a lot, but it's the equivalent of 40 flights of stairs.
Going down was fine – coming back up was arduous. But it was so worth it! Fortuna is one of the most gorgeous waterfalls we've ever seen. Imagine a 200-foot waterfall nestled deep in a rainforest ravine. First, you get to see it from above, and then you laboriously climb down 500 steps to the waterfall's clear green pool.
Then, you can swim in two spots – the pool itself, which is deep and cold, or downstream from the falls in a shallow stream that is a bit warmer. We ended up swimming in both places and absolutely loved our time there. The water is so clean and pure it almost tastes a little bit sweet, like bottled Dasani.
Downtown La Fortuna
Another favorite activity in the Arenal area was shopping in the charming little town of La Fortuna. Everywhere you go in this small town, volcano Arenal towers in the background looking picturesque and powerful.
We found dozens of adorable little shops for souvenirs. Costa Rican money is so beautiful that it's hard to spend – we wanted to keep it all to bring home. Fortunately, most of the shops accepted US dollars or Costa Rican colones, and all took credit cards as well.
It's hard to imagine living in a little town literally in the shadow of a huge volcano. Our guide told us that when volcano Arenal used to put on fiery lava-spewing displays in the evenings, the townspeople and tourists would party in the streets in celebration of the awe-inspiring sight. Since about 2010, however, Arenal has been inactive other than the venting of hot steam which you can see on clear days.
Mistico Hanging Bridges Park
On our second full day in Costa Rica, our naturalist guide took us to Mistico for a walk through the rainforest and the famous hanging bridges. This was a gorgeous immersion in one of the most beautiful forests I've ever experienced.
The hanging bridges allow you to walk along at treetop height, which at times was dizzying. The scary heights were hard for me, as they always are, but it was totally worth my knees knocking together to see those incredible views.
We had many cool wildlife sightings in the Mistico park, including a blue-jeans frog, a broad-billed Motmot bird and a wonderful close encounter with a Howler monkey. This is also where I fell head over heels in love with the rainforest itself – the sights, sounds, scents and just the overpowering sensory experience of that much natural energy.
Paradise Hot Springs
That brings us to our final favorite way to spend a day in the Arenal area: soaking in the mineral-rich thermal waters of our hotel's hot spring-fed pools. Several hotels and resorts in the Arenal area feature hot springs; our hotel was Paradise Hot Springs, a boutique property with just 25 rooms in a gorgeously lush setting with volcano views.
We loved exploring the various hot spring pools, which vary in temperature from warm to very hot. There were a couple of cool pools, too, which are piped from the waterfall and therefore not warmed by the volcano underground.
I should also add that the restaurant at Paradise Hot Springs is wonderful and the chef is a true artist. We had breakfast included every morning and also enjoyed dinner there several of our evenings. The food was consistently excellent, gorgeously presented and super fresh.
Between the clean, comfortable room, the hot spring pools, the volcano views and the amazing food, we would definitely stay at Paradise Hot Springs again.
If you're imagining it would be hard to leave such a place after just three days, you are correct. Yet we knew that more adventures awaited us at our next stop, so we charged forward with excitement. Be sure to read part two of our Costa Rica travels!