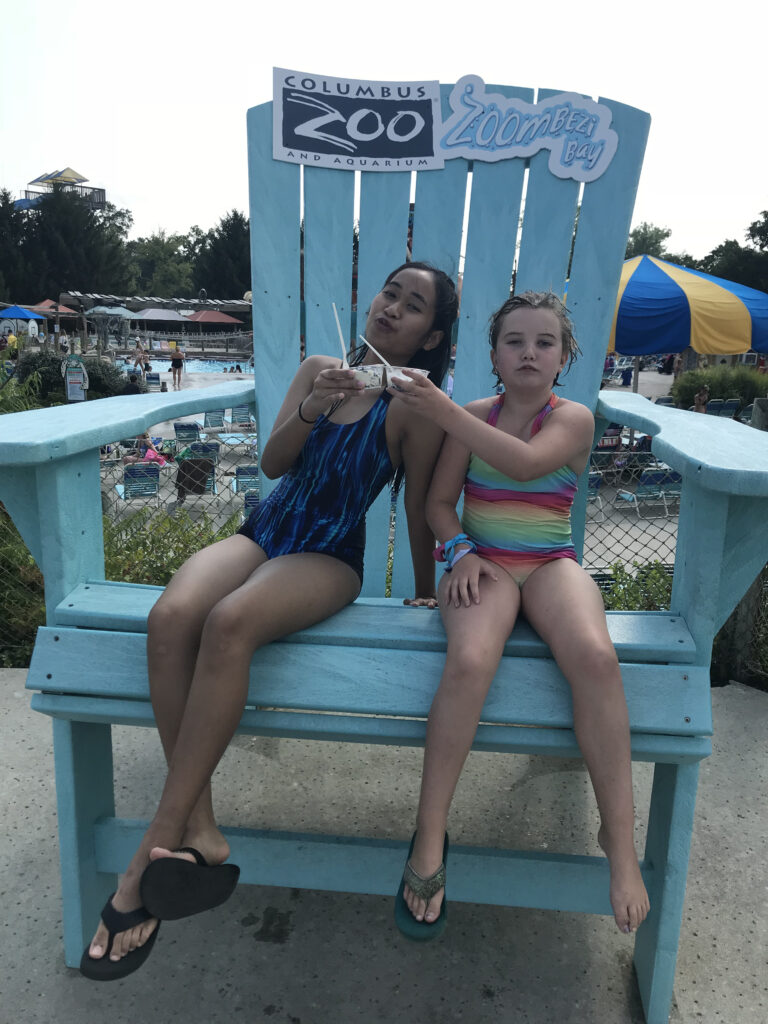 Winter might be an odd time to blog about an outdoor water park in Ohio, but the cold weather months are exactly when I start fantasizing about fun in the summer sun.
I also realized recently that although I rave about the Columbus Zoo & Aquarium fairly often on this blog, I've actually never written about its marvelous adjacent water park, Zoombezi Bay.
Honestly, I think we tend to forget about Zoombezi Bay sometimes – and that's a shame. It truly is a top-notch water park and we're lucky to have it so close to us.
The wave pool alone is an absolute delight, and in fact that's where we spend most of our time at Zoombezi.
Z and I both love everything about the wave pool: the anticipation of waiting for the waves to start, the excitement of hearing the loud tone that lets you know the waves are starting, and of course the fun of jumping and floating on the waves themselves.
Our other Zoombezi favorite is the Roaring Rapids Action River. I think they call it this to differentiate it from Croctail Creek, the adults-only lazy river. Zoombezi's action river is quite fun and Z and I have been known to go through it over and over again. It's not quite as adventurous and "raging" as the version of this attraction at Orlando's Volcano Bay, but it's still a good time.
Between Zoombezi's wave pool and the action river, that's my perfect summer afternoon.
Sadly, I'm not one for the tall slides at water parks. Z usually drags me on the raft slide about once a summer, but I hate heights. The long wait on the stairs, plus climbing ever higher every few minutes, makes me dizzy and sick with anxiety. I will brave it for Z once a summer if she makes me, but I'd really rather not.
Once in a while, Z will still go to the kids' play area at Zoombezi and enjoy the slides, shallow pools, bucket sprayers and shenanigans there. She especially likes the small obstacle course where you have to navigate floating rafts and ropes without falling into the pool. Zoombezi should really consider expanding this area, as it's always a popular attraction with older kiddos.
Although Zoombezi Bay admission is not cheap, there are ways to be smart about it. For our family, it makes sense to purchase Z a season pass to Zoombezi, and then she can get E and I in for $12.99 each on Mondays and Wednesdays. Another pro tip is to go in the late afternoon, after work, to avoid crowds and sunburns – and to get discounted admission.
Last year, of course, we didn't go because of the global health pandemic – but that was unusual for us. We are looking forward to our triumphant return to Zoombezi Bay this summer!
Are you a fan of Zoombezi Bay and other water parks, and do you have any good tips to share? I'd love to hear your thoughts in the comments below or over on Facebook.