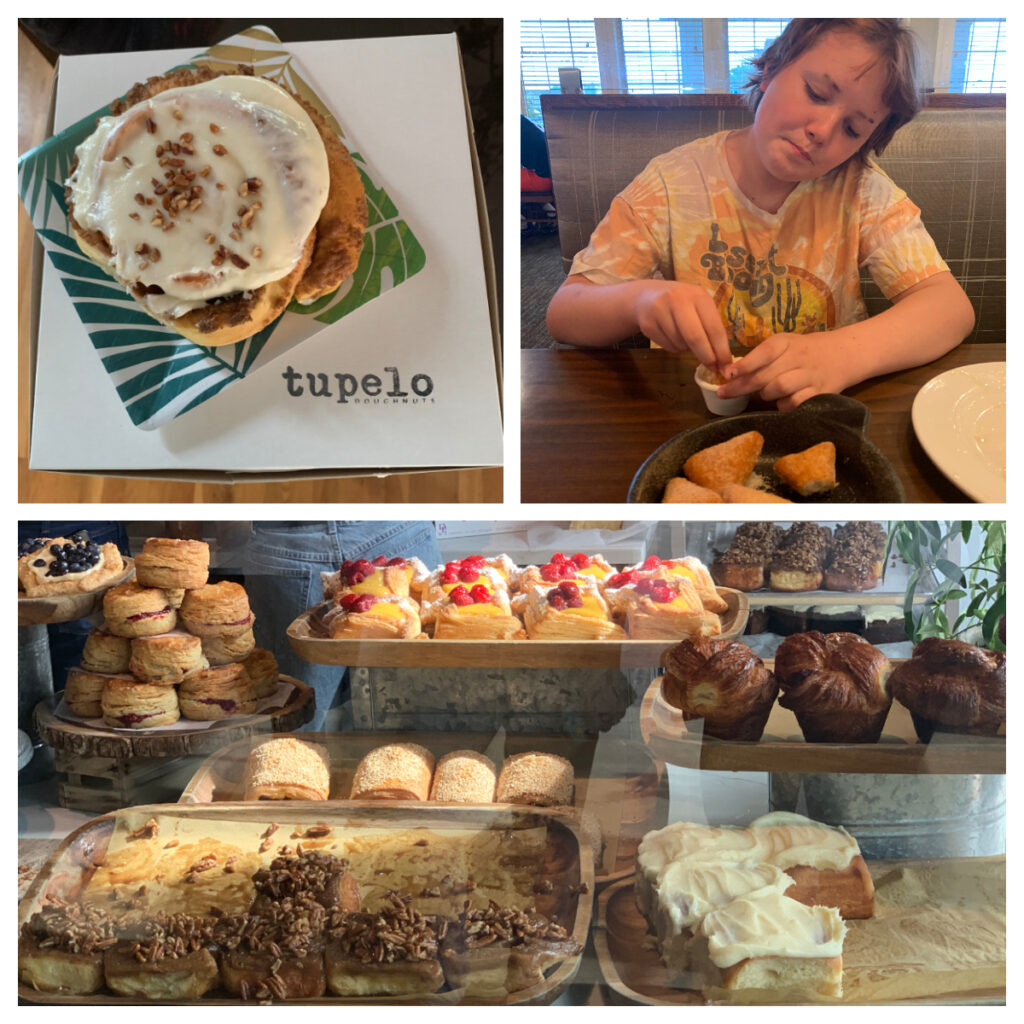 Who's hungry? It's time for the second installment of our epic cinnamon bun tour of Columbus and Delaware.

Our cinnamon bun tour was a pretty good idea – so much so that other entities have since started best Columbus cinnamon bun lists of their own.
To be fair, a few folks had done cinnamon bun round-ups before we did ours, too – it's not like we invented the idea. And it's all good – there are way more than enough cinnamon buns in this town to go around.
Since our first blog post about the tour was so popular, we figured we'd squeeze another in before the weather gets too warm to enjoy cinnamon buns.
Without further ado, here are the delights we enjoyed on round two of our 2021 Cinnamon Bun Tour:
Fox in the Snow – we visited the cafe's heralded New Albany location on a balmy April day. There was a short line outside, likely due to its popularity as well as new Covid-related restrictions on how many patrons can be inside at one time. The cafe was offering take-out service only as part of its Covid safety precautions. We waited a short while and then made our way to the bakery counter, where our eyes feasted on the sweet and savory treats before us.
Fox in the Snow reminded us of a Parisian cafe. The focus on high quality pastries can be seen, smelled and – once you get them to the car or home – ultimately tasted. We grabbed one of their large cinnamon buns along with several other pastries and one savory item. Everything from Fox in the Snow was delicious and fresh – but alas, the cinnamon bun was not quite up to par with others we've tried. We found ourselves really having to search for the cinnamon! The flavor was a bit too subtle and easily overpowered by the generous cream cheese frosting on top.
Our fam gave the Fox in the Snow cinnamon bun 3 out of 5 stars, but it's worth noting that if it had been billed simply as a sweet bun, we would have likely given it a 4.5 as it was truly delicious. It just didn't contain enough cinnamon to be a winning cinnamon bun.
Tupelo Doughnuts – this is another Central Ohio establishment with a great reputation and a ton of buzz. I ventured down to Tupelo at the crack of dawn on a weekend morning for a Yelp Elite promotion around Mother's Day. When I headed inside to pick out a few artisanal donuts for our family, I was delighted to see a whopping big cinnamon bun on display as well.
We loved our donuts from Tupelo – with flavors like orange cardamon, browned butter and violet, what's not to love? But the cinnamon roll was the surprise stand-out here. Just as in round one of our cinnamon bun tour, a donut shop grabbed first place on round two as well.
The cinnamon bun from Tupelo was huge, with generous, gooey cinnamon throughout and the perfect ratio of soft cream cheese frosting on top. It was so large that our family worked on this thing all day, coming back to the kitchen for a bite here and there in between other activities. It was big enough for a family of three to enjoy for hours. Definitely get one to share next time you're trying out their fabulous artisanal donuts!
Our fam gave the Tupelo Doughnuts cinnamon bun 4.5 out of 5 stars. It's a can't-miss cinnamon bun.
And now for a couple of stellar, yet nontraditional, cinnamon bun entries for the tour:
Bob Evans Cinna-Biscuits – okay, I know these aren't cinnamon buns, but they certainly bring that familiar warm, cinnamon-sweet flavor to the table. They come with dipping icing that tastes cream-cheese based. We definitely recommend them next time you're down on the farm! Fam score for this cinnamon bun-ish creation: 3.5 out of 5 stars.
Taco Bell's Cinnabon Delights – again, these are not true cinnamon buns but they have a similar taste, warmth, mouth feel and are utterly delightful. I didn't expect to like these as much as I did – and I was not the only one. These are a must-try next time you're at Taco Bell. Fam score for a handful of little cinnamon bun balls: 4 out of 5.
Jeni's Skillet Cinnamon Roll ice cream – this is the most nontraditional entry of all, but if you love cinnamon buns you may need to check out this unique flavor of Jeni's gourmet ice creams. It's sweet, full of cinnamon and just read this description from Jeni herself:
Jeni has been known to refer to Columbus as the cinnamon roll belt. Jeni's version captures all that is glorious about a cinnamon roll baked in a cast-iron skillet. With gooey, cinnamon-scented brown sugar caramel. Cream cheese ice cream that mimics the addicting sweet and salty frosting. Pastry flakes as soft and satisfying as the center bite of your favorite cinnamon roll. And so much cinnamon sprinkled throughout it'll make you weak in the knees.
Our fam gave Jeni's Skillet Cinnamon Roll ice cream a solid 3.5 out of 5, but we're guessing that would have been elevated to a perfect score if we had served it over a warm cinnamon roll straight out of the oven. Yum!
So there you have it – our latest round of local cinnamon buns and taste-alikes. I think that will do it until the weather gets cold again. In the meantime, if there's anywhere else we should add to our local cinnamon roll wish list for round 3 late this fall, let us know!