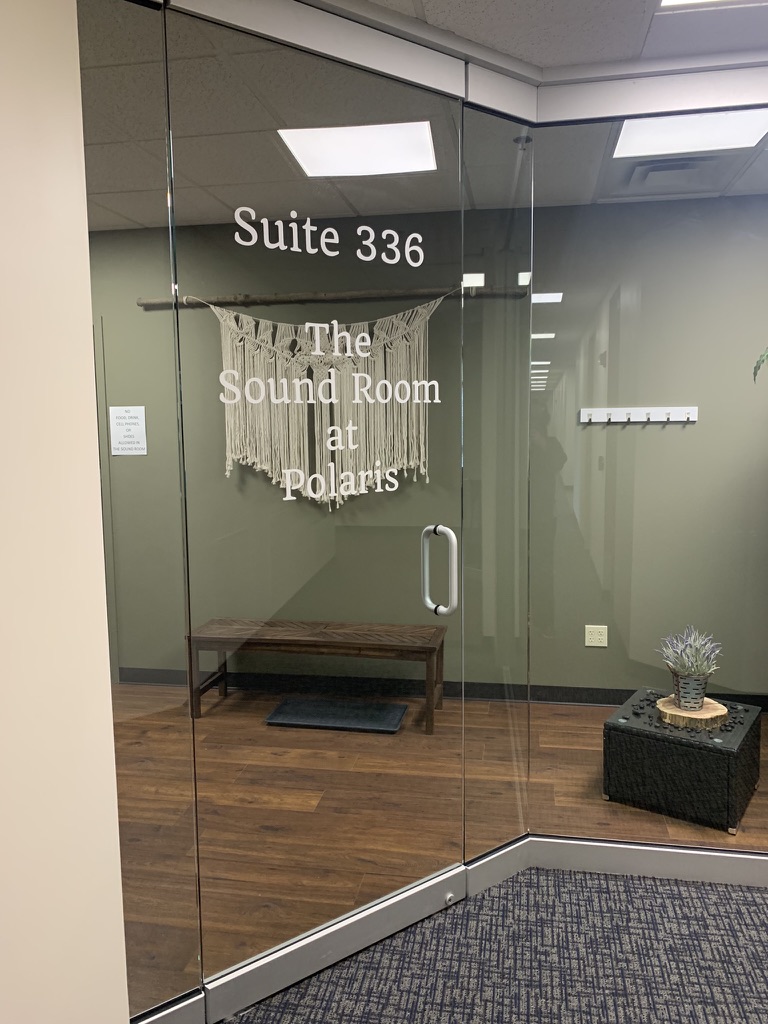 I got to experience my very first sound bath this week at The Sound Room at Polaris.
Tucked inside an ordinary-looking medical office building is a truly extraordinary adventure!
Sound therapy is the newest form of energy work to cross my path. The Sound Room – and owner and therapist Lisa Bushman – came very highly recommended by a friend, so I knew I had to try this new experience.
You already know I love salt therapy, assisted stretching, reiki and access bars. Now I can add sound therapy to my list of favorite self-care, energy work treatments in Columbus.
Sound therapy is often described as a relaxing, meditative and stress-reducing practice. It's basically immersing yourself in peaceful, zen-like sounds within a calm and tranquil environment. It's like assisted meditation – the sounds do all the work for you!
During your sound bath, you lie on a bed in a relaxing and serene environment while the practitioner uses a combination of sound therapy, meditation, vibration, and frequency to shift your energy to a higher plane.
While participants are relaxing in a deep state of consciousness, the practitioner plays instruments that create positive vibrations in the room to help improve physical and emotional well-being. The sounds range from chimes and gongs to bowls, drums and vocalizations.
I didn't know what to expect walking into the Sound Room, but I was so impressed with the set-up. Lisa has created a warm, attractive and professional environment. The entry room has cubbies for shoes and belongings (no phones are allowed in the Sound Room).
When you enter the Sound Room's inner sanctum, you first notice the many beds lining the walls. Then you notice the instrument station at the center of the room with many gongs, chimes, bowls, drums and other instruments.
Lisa told me my only job was to lie down and relax. I typically struggle with over-thinking during meditation, but she said not to worry about that – the sounds would take care of it. Sure enough, I was able to quiet my brain very quickly as I closed my eyes and followed her visualization cues.
What happened next, I can only describe as otherworldly. Lisa's amazing sound therapy took me to places I never could have imagined. I entered a meditative state that was almost like a trance; it felt warm, comfortable and dreamlike. I experienced multiple visions and emotions, yet remained totally relaxed. I almost felt that I had been transported to another time and space!
The sound therapy appointment was an hour long, yet it felt no time had passed. When Lisa ended the sound therapy and told me to begin coming back to myself, I truly felt that I had been on a journey. It was like nothing I'd ever experienced. My mind felt clear, open and at peace. Any stress or worry I had felt before was completely gone. It was a truly healing experience!
Another thing I noticed – there was something I had been puzzling over for some time, and during or just after my sound therapy experience, the answer simply popped into my head, easy as pie. Lisa said this is pretty common as humans often get "unstuck" due to the vibrations and positive energy infusion.
I literally cannot wait to go back for another sound bath. Lisa is incredible at what she does and having this experience available to us in Columbus is like a gift from the universe. If you have stress, worry or pain in your life, I humbly implore you to give sound therapy a chance! I truly think everyone could benefit from this experience.
Currently, Lisa is offering sound therapy for ages 16 and up, since it can be hard for younger minds to stay still and quiet for an entire hour. I think this would be a super fun experience for a date night or to do with a group of friends.
If you've tried sound therapy, I'd love to know what the experience was like for you. Drop me a note in the comments or over on Facebook or Instagram if you're a sound therapy fan, too!