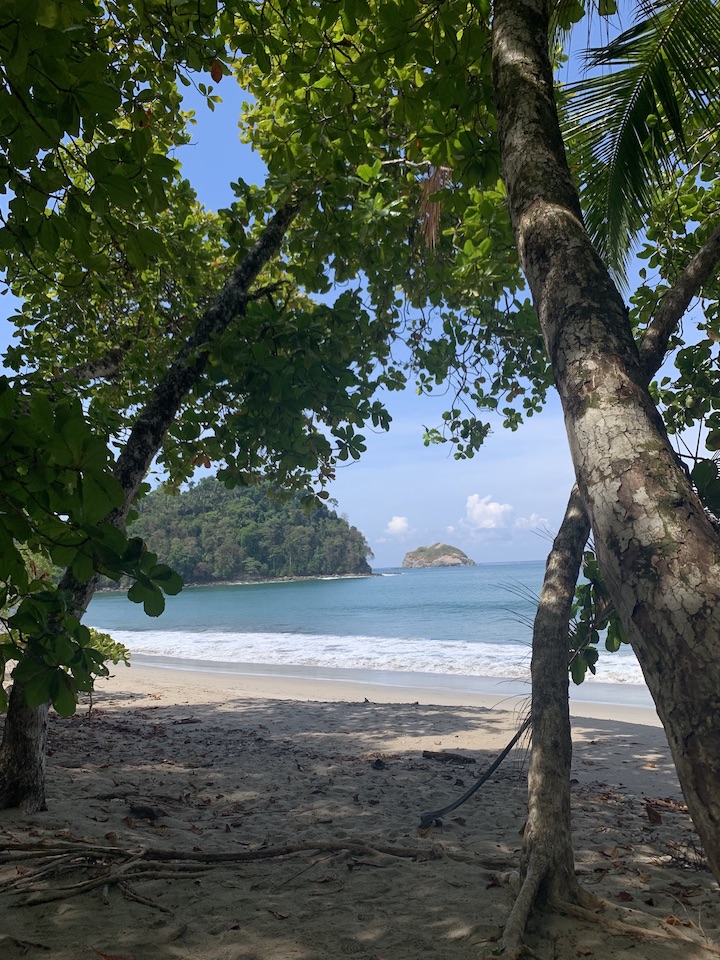 Did you get a chance to read part one of our Costa Rica travels? Great, then you're ready for part two. Here goes!
By day four of our Costa Rica trip, we knew the rainforests, waterfalls and volcanos of Costa Rica were beautiful; next, we couldn't wait to see the beaches.
With our wonderful guide, Juve from Il Viaggio Travel, we left the Arenal area and traveled south to Manuel Antonio by car.
The drive was scenic and Juve taught us about all the different biozones we were driving through. We broke up the 6-hour drive by stopping a few times for shopping, lunch and a boat ride.
The Jungle Crocodile Safari boat tour along the Tarcoles River enabled us to see enormous crocodiles and many species of birds up close. It was the best break imaginable during our drive to the coast!
Hotel Costa Verde
We arrived at our new hotel, Costa Verde, just before sunset. We were able to see enough of the hotel grounds to know it was quirky, cool and that we had some serious hill-climbing in our future!
Costa Verde is perched atop a lush, rainforested ravine overlooking Manuel Antonio national park's beautiful beaches. To get anywhere on the hotel grounds – or anywhere in the Manuel Antonio area, for that matter – you have to walk up and down very steep hills. It was a great lower body workout!
After we settled into our cozy, cottage-style accommodations, we walked across the street to El Cantina, our closest dinner option. Within minutes of being seated, we were watching a sloth maneuver around the tree right next to us. All of the restaurants at Costa Verde are open-air and often frequented by monkeys and other wildlife.
Costa Verde hotel is best known for its wonderful wildlife, stunning views and fascinating airplanes. Perched throughout the property are huge, vintage airplanes that have been converted into restaurants and even private suites. The owners of Costa Verde must be real aviation buffs. It's pretty wild to imagine how they got the huge aircraft up the steep hillsides and then secured them to the sides of cliffs in the middle of a thick rainforest!
Manuel Antonio national park
Our excursion the next morning was a walk through the one and only Manuel Antonio national park. It is the smallest national park in Costa Rica – and one of the smallest in the world – yet it is also the most visited. Manuel Antonio contains a breathtaking array of biodiversity including rainforest, beaches and coral reefs.
We started with a walk through the rainforest and mangroves, then ended up at a beautiful, wave-swept beach. We saw sloths and lizards, heard monkeys and got to try wild beach almonds, which were delicious. We spent some time enjoying the beach and finding shells. Then, we walked a bit further and visited another beach with fewer waves that looked like an amazing, calm spot for a swim.
While enjoying the park, our guide was sure to tell us to avoid touching or even standing near the deadly Manzanillo or manchineel tree. Its little green fruits are poisonous, but even the toxic sap of the tree can cause nasty skin inflammation, so it's best to avoid the tree altogether!
Catamaran snorkeling cruise
The next day, we had a relaxing morning and then headed to the Quepos marina to embark on our Planet Dolphin snorkeling and sunset cruise. It was another perfect Costa Rica day when we headed out on the catamaran to cruise the coastline and set sail for the open sea. We saw pods of wild dolphins, enjoyed snorkeling and seeing tons of colorful tropical fish, and most of all just enjoyed the relaxing experience of being out on beautiful Biesanz Bay.
One of my personal goals for our spring break vacation was zero sunburns for our family, and I'm happy to report I was successful – even during our afternoon on the water. We saw so many sunburned tourists on the boat and by the pools, but I was determined and diligent with the sunscreen. Mom mission accomplished!
Ocean-view pools
What can be more decadent than lounging in a pool while enjoying gorgeous views of the ocean? And that's exactly how I spent our last full day in Costa Rica. Coste Verde has two ocean-view pools and I spent time in both of them, serenaded by exotic bird calls and kept company by sun-basking iguanas. I visited the third hotel pool, too, but it didn't have ocean views so I didn't swim there.
The best part of hanging out at the Costa Verde pools is knowing you'll be visited by monkeys! The monkeys come to drink out of the pools in the afternoons. I also had a Toucan come by and hang out in a tree next to where I was lounging. There's simply nothing like being in a pool in a rainforest overlooking the ocean and having monkeys come by for a visit! That might have been my most perfect Costa Rica experience.
On our last night, the local wildlife really showed out and showed up. Walking to dinner we had multiple Howler monkey sightings and also spotted two sloths. Then during dinner, our restaurant was overtaken by white-faced capuchin monkeys who had come to steal all the sugar packets! What an unforgettable memory of Costa Rica.
One last adventure
We had seen Costa Rica by car and by boat, but on our final morning in the country, we got to see it from a magnificent bird's eye view. We had a tiny private plane transport us from Quepos back to the San Jose airport for our flight home. I've never flown in such a small plane before – it was literally only big enough for four people!
Once I got over the initial nerves, I was elated as our aerial views were out of this world. We flew lower than the clouds so we could see absolutely every bit of the gorgeous country spread out beneath us. I will never forget seeing the rainforests, royal palm plantations, volcanos and towns of Costa Rica from that little Cessna. What a great way to say farewell – and Pura Vida – to these sights one last time.
I hope you've enjoyed reading about our Costa Rica travels as much as I've enjoyed sharing them! Be sure to check out my other family travel posts while you're here.