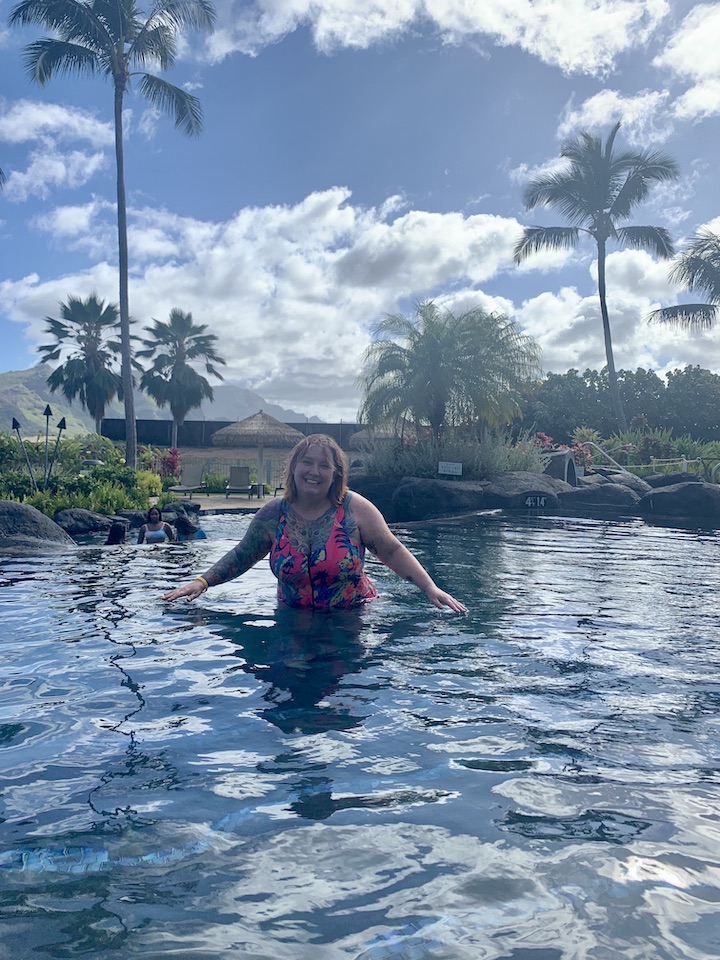 There's nothing like a near-death experience to make you reflect on your life and ponder lessons learned.
Okay, so my heart attack was a mini one and I was probably never actually near death. Still, it was a sobering and life-changing experience.
To be in the midst of a glorious tropical vacation one minute, and then suddenly airlifted by medical flight to a hospital on another island for an emergency procedure… let's just say it was utterly unfathomable and unforgettable.
I know that I am so, so lucky for everything that happened to me – and even more so for the things that DIDN'T happen.
While I lay there in my hospital bed far from family, friends and anything or anyone familiar, I took comfort in journaling things I was thinking about and lessons I learned. Here are a few of my cardiac floor insights:

1. Your emotions may not reside in your physical heart, but they are certainly connected to it. I've cried way more than usual since this all happened. I've also been near tears many times since my heart attack. And I don't see this as a bad thing! As I've shared before, I believe tears play a necessary role. If you see me crying, I may be happy or sad – but I'm alive and that's the most important thing!

2. Listen to your body. When I had my heart symptoms, I got mixed signals from my head. Part of me wanted to just go lie down in the room until I felt better. I kept telling myself that I'm probably fine and that I should just keep on keeping on because "moms don't have time to be sick." Thankfully, my gut and body were yelling "Danger. Warning!" and I listened to that inner alarm. Turns out, my gut was right.
3. Have a heart attack close to home if possible, but if not, then Hawaii isn't a bad place to do it. I received excellent medical care and even though tiny Kauai doesn't have a big hospital or specialists, they had a way to get me to where the cardiac experts were! It all added up to one huge medical adventure. (And in reading this back, I see nothing but extreme privilege. So I want to acknowledge that I am very fortunate to have had excellent medical care and while I'm dreading getting the bills, I don't have to worry super hard about paying them, and for that I'm so grateful)

4. Take good care of your heart! This includes eating lots of veggies, fruits, lean proteins and fiber. Plus moving our bodies and releasing stress daily in whatever way works best for us. My heart attack wasn't caused by heart disease, so I don't have specific restrictions or doctor's orders to follow. Still, I want to be sure I'm doing everything I can to reward and thank my heart and body for being so strong, healthy and resilient!

5. I thought I loved my body before, but now I absolutely ADORE it. I know I am immeasurably lucky to be alive in this healthy and strong body. My body and heart are strong, brave and even beautiful! I'll never forget the cardiologist telling me to look up at the monitor during my cath procedure to see my perfectly healthy heart beating and the blood flowing in all the ways it should. I am so very thankful.

6. My family is my rock! My brother stepped up and helped me so much during our Kauai trip and my hospital adventure, plus took care of our sweet Zoe while I was away on another island getting cardiac care. E took two long, dreaded flights to Kauai (and two more back home!) just to take care of us and help us get home safely. And Z was a tough little champ through it all. I'm so lucky to have family and friends who love me and care about me. Thank you!

7. This might sound hard to believe, but I actually felt pretty young and hot during this experience. If you want to feel young and healthy, spend time on a hospital cardiac ward. The nurses kept telling me how young, strong, healthy and lucky I am! They hyped me up and made me feel like a million bucks.

8. We can do hard things. I never dreamed I'd ever have to leave my daughter and family and be MedFlighted in the middle of the night to a strange hospital/city/island by myself to have a scary and risky surgical procedure. Let alone spend 36 hours in hospital getting blood draws every two hours around the clock! But I did all that, changed our flights and then figured out how to get myself back to Kauai to meet up with my family again. I really channeled my inner #GirlPower on this trip.

9. My tattoos help differentiate me, humanize me and make me memorable. I got so much positive attention from the nurses over my artwork, especially since my arm sleeve is a beautiful representation of their lovely islands. Being a tattooed person can absolutely help out in medical situations. Who could forget or neglect such a colorful canvas?

10. I need to relax and release stress! There's no way for any mom to not have worry, anxiety and stress BUT I must do a better job with mindful and intentional self-care and coping strategies to help me process my emotions and let go of as much as I can. I'll never forget my brother standing beside my bed in the ER telling me to quit worrying about Zoe and just focus on getting well. I thought he was crazy for saying such a thing – what mom can ever quit worrying about their baby?! – but at the same time, he had a good point. I do worry unnecessarily sometimes and I need to just let go and have faith in Z and those around me. I don't have to carry ALL the burdens just because I'm the mom. Elsa was right – there is magic and power in letting go.
Those are my top 10 insights from my heart attack in Hawaii. I also feel less of an intense drive to travel now. There's something about having something so scary happen so far from home that makes you want to stay closer to hearth and home for a while! But, who knows how long my wanderlust will remain on mute?
For now, I'm going to enjoy the heck out of spending this back-to-school season, fall, and even winter at home. There's no place like home – especially after what we've all been through.