I'm pleased to partner with Girls Rugby Ohio on this sponsored post. I'm all about #GIRLPOWER and so are they – it's a match made in heaven!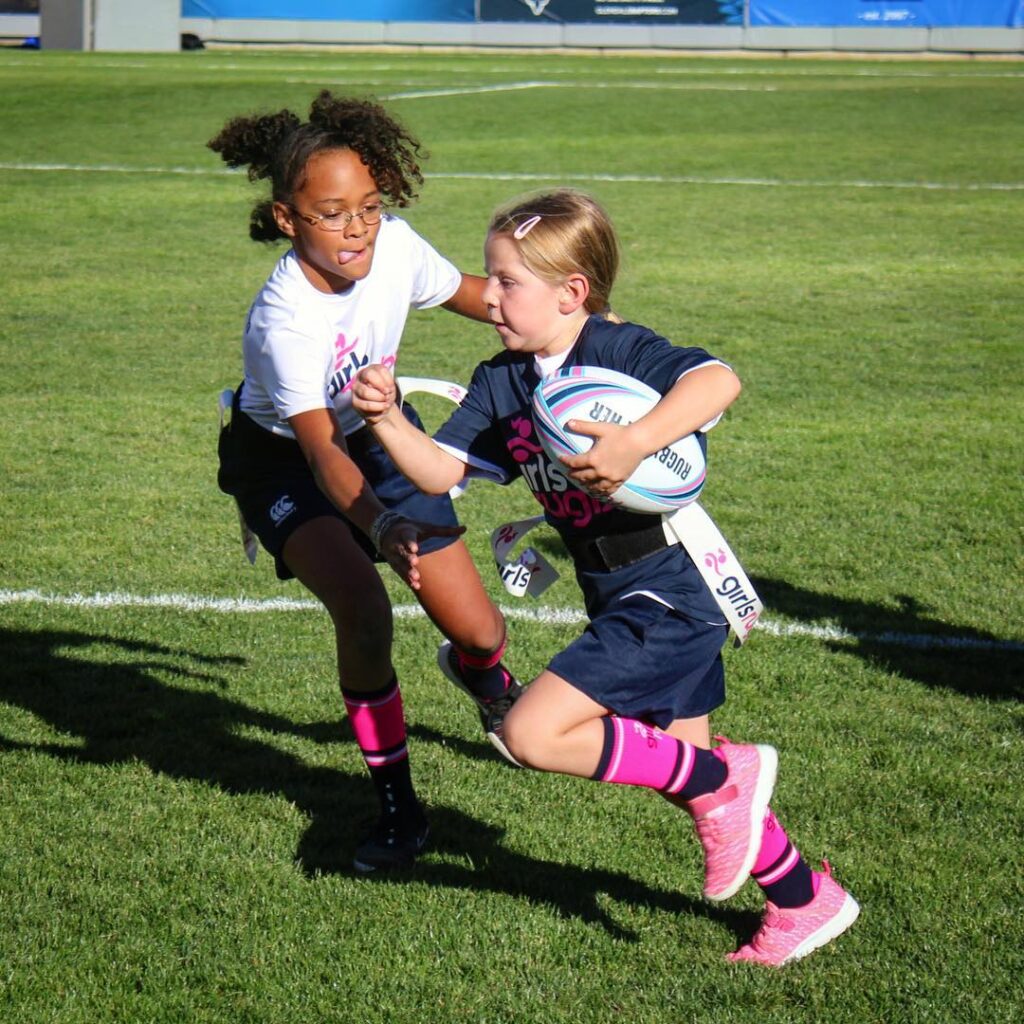 When we were pregnant with Z all those years ago, I remember wishing and hoping that they would be born athletic and love sports. I know how important athletics are and what a big difference they can make in the life of a child – especially girls.
The data is clear: girls who participate in sports have higher self-esteem and confidence than girls who don't. Yet there are 4 million fewer girls participating in sports compared to boys in the United States.

Women's Sports Foundation
As a kid, I was so insecure about my body and abilities that I avoided sports and gym class like the plague – yet I always envied the girls who felt confident running, catching, kicking and throwing balls. I wished I could be more like them.
Thankfully, our child didn't take after me in this area. Z loves to tackle new physical challenges and through the years has tried gymnastics, soccer, running with Girls on the Run and of course swim team. Z also danced for several years and even tried Tae Kwon Do but "didn't like all the yelling."
We've landed on diving as Z's preferred sport – and I absolutely adore watching them dive, so it's a win-win. Now, I'm hearing a lot of buzz about Girls Rugby Ohio and I am just so excited that there's another sports team option for girls – one that has a rich legacy, yet feels super fresh and exciting.
Girls can play rugby now!
Rugby is a football-esque, social game that originated in 1823 on the playing fields of Rugby, England. Girls Rugby, specifically, is an all-girls sport for grades 2 through 8 that builds teamwork and leadership skills in its players. Whereas traditional rugby involves tackling and has a rough-and-tumble reputation, the flag rugby played by Girls Rugby Ohio is a safer, non-contact game. And it looks like so much fun!
When I talked with Callie Pace, program coordinator for Girls Rugby Ohio, I was blown away by her enthusiasm for the sport of girls rugby, the positive culture and values it teaches, and the benefits girls gain from participating. Callie emphasized that girls rugby is for every girl regardless of athletic ability, size and fitness or experience level. I love the idea of a sport that is so welcoming and inclusive – maybe even ball-shy little me would have been into it if girls rugby had been a thing back then!
Girls Rugby Ohio has been active in the Columbus area for several years, but they had to put their 2020 season on hold last year due to Covid. Now, they are actively recruiting girls for the 2021 teams and ready to kick off playing in April. There's still plenty of time to sign up for the teams in Dublin, New Albany and Bexley – and you can find all the information you need at the Girls Rugby Columbus, Ohio site.
Just listen to these awesome testimonials from moms of kiddos playing on the Girls Rugby Ohio teams:
Girls rugby is amazing! It has a curriculum that is unique among all the sports our daughter has tried, with an emphasis on inclusion and leadership skills. It's well coached and very organized, and there is a place for girls of every size, shape, and ability level. We love it!

Karen, Girls Rugby mom, New Albany location
I am so glad we found Girls Rugby, Angel has had so much fun during 3 seasons so far and has learned a lot. The coaches have been absolutely fantastic and we appreciate everything everyone involved has done to create this amazing program.

Tia, Girls Rugby mom, Bexley location
I don't know that Z will ever feel comfortable again in a specifically all-girls setting or team, since they identify as nonbinary now. Part of me wishes we could have found out about Girls Rugby Ohio a few years ago – which is why I wanted to write about it now. I see this as a terrific new option for parents with daughters they want to get into sports, but for whom traditional sports options just haven't been a good fit.
Have you heard about Girls Rugby Ohio before now, and does it sound like something your kiddo would enjoy? Let me know in the comments if you have any questions or stories to share about girls rugby! And be sure to reach out to my friends at Girls Rugby Ohio if you're interested in signing your daughter to play this season.