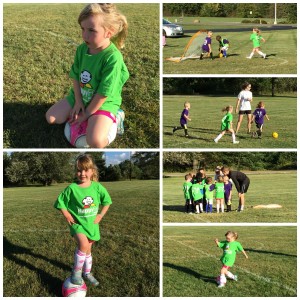 This fall, I am not just enjoying my newfound identity as a soccer mom – I'm reveling in it! When I signed Zoe up for her first-ever team sports experience, I did not know what to expect. She's a very active, physical girl who loves to run and play – but would she like soccer? I felt like I was taking a bit of a risk signing her up for a team and getting her equipment – would the money be wasted?
I hated soccer as a kid – heck, I hated all sports. I was afraid of the ball. I was a flincher and a ducker – if I'm being honest, I still am to this day. I also hated to run and get out of breath, or gods forbid: sweaty. I was picked closer to last than first in gym class not because I was unliked or unpopular, but because I sucked and didn't make any attempt to try at sports. The only time I liked gym was the one or two times each year when they had the "obstacle course" set up – does anyone else remember that? I thought it was fun to go through that course, partially because we weren't timed or pushed to go through super fast (then I would have hated it). It felt more like creative fun to me than forced athletic activity.
Zoe on the other hand – she loves to run. She loves to be challenged physically. And she is NOT afraid of the ball! One of her favorite games as a young toddler was to be bopped in the face with a ball. She still laughs hysterically if she gets hit in the face with a ball – she thinks it's hilarious. I wish I had her fearlessness and joie de vivre when it comes to sports! One of my dearest wishes is that she'll grow up sporty and athletic like her super cool Aunt Bren – not fearful and permanently self-sidelined like her mom.
Zoe's first experience with any kind of team sport was this summer, when we signed up for a kickball game to support our friends at Team Alex, a kick@ss fundraising team for the Columbus Buddy Walk and Down Syndrome Association of Central Ohio (DSACO). We arrived late to the Team Alex kickball game – Zoe's first. I had hoped she could get some helpful instruction and coaching before venturing out on the field – but instead we arrived in the middle and she was hustled out to play in the kids game before I could even tell anyone she had never done it before. Did Zoe panic or get upset or come running back to me? Heck no – she kicked that ball, ran to the bases and had an absolute blast! She LOVED every second of that game.
That's what gave me the confidence to sign her up for the Happy Feet soccer league this fall. She's four and a half now and I figured she's ready to give team sports a shot. I didn't try soccer myself until 4th grade, so maybe that's why I hated it – I had already solidified my identity as a bookworm and sports-avoider by that time. Zoe's young and full of energy and still figuring out what she wants to do and who she wants to be – I thought it was worth a shot. I wanted it to be a super positive, fun and thrilling experience for her. We suited her up for her first game this past Sunday. I got her pink trimmed athletic socks, shinguards and pink soccer shorts. She put on her uniform and happily trilled "I love it!" She looked like such a little sporto – absolutely adorable.
We headed to the field and wouldn't you know it, once again we were running late. What is it with this mom being unable to get to sporting events on time – is it that deep-seated childhood hatred and fear of sports rearing its ugly head?! Anyway, once again she was hustled out onto the field by the coaches and jumped right into a game in progress. And once again she didn't even look back – she was 100% engaged in the soccer game from the second we arrived at the field! Zoe was an absolute natural – she charged after that ball, drove down the field and ran her little tush off. We discovered there are no other girls on her team, but that didn't phase her. There was a very good, very aggressive girl on the other team who kept control of the ball for most of the game. Zoe set her sights on that player and stayed right in the mix with her much of the time. Zoe even got to kick her first goal!
The other team won, but that doesn't matter. She had an absolute blast. She can't wait for her next soccer game. She'll get better and learn the techniques – and consistently remember which goal she's supposed to kick toward – over time. What made me the proudest is how she went for it with 100% gungho attitude and enthusiasm – something I have NEVER been able (or willing?) to do with sports. I loved seeing how sweaty and pink-cheeked and winded she got. I loved it every time she ran back to us for a quick drink from her water bottle. And I loved seeing her high-five her coaches and team members and the other players. My little soccer star!
I've never been into sports – not watching, not playing, not at all. They have always been my own personal, lifelong green eggs and ham. But thanks to Zoe and her new soccer team, all that is about to change. I have never been so excited about sports in my life!
How about you – are your little ones into sports, and were you athletic as a child? As always, I'd love to hear your stories below.