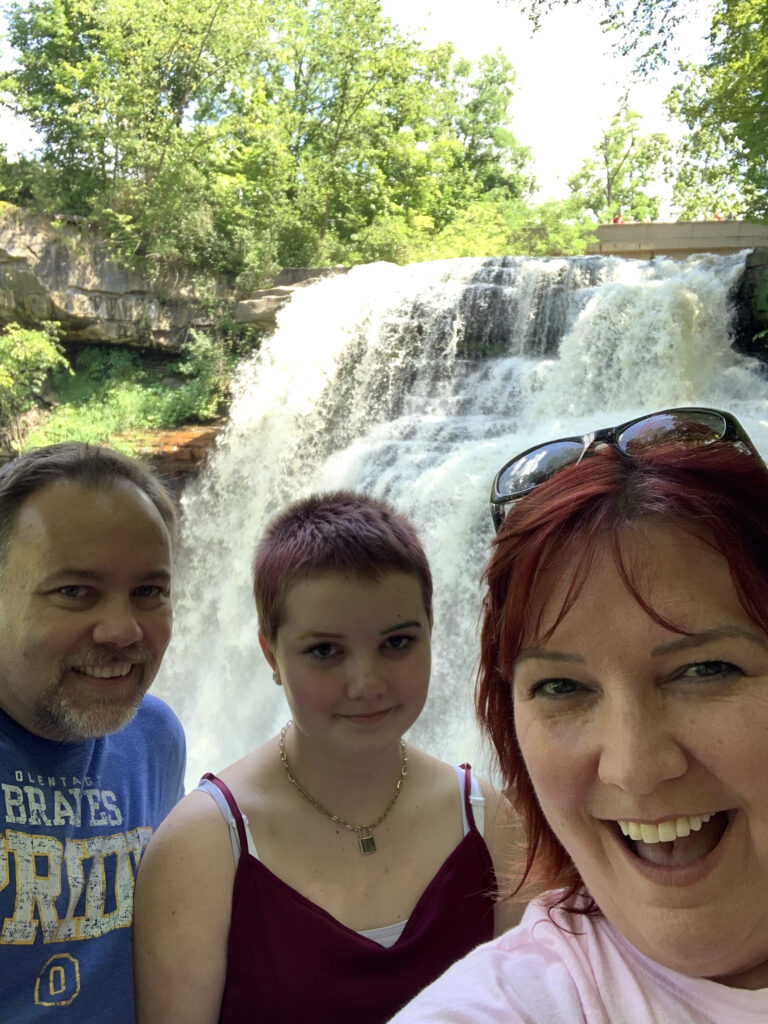 Would you believe I've lived in Ohio for more than 20 years but had never been to our state's beautiful national park until this summer?

That's even crazier when you think that A) I love national parks and have been to them all over the country in that time, and B) waterfall chasing and forest bathing are two of my favorite pastimes.

Cuyahoga Valley National Park in northern Ohio is absolutely beautiful and chock full of waterfalls, gorges and caves. This national park should be on every nature lover's bucket list.
Before driving about two hours from our house to visit the park, I asked friends what they recommended for our first time there. Both Brandywine Falls and Ledges trail got high marks and we were told we could do them both in one day.
Brandywine Falls
When I tell you that Brandywine Falls at CVNP is the waterfall of my dreams, I am not exaggerating. This waterfall is big, beautiful and badass – honestly, the only one I've seen that can compare to it is Niagara Falls herself.
Brandywine is not one of those Ohio waterfalls that looks great in late spring but dwindles to a trickle at other times (I'm looking at you, Cedar Falls in Hocking Hills!).
No, trust me when I say that Brandywine is worth a drive, walk and several flights of stairs at any time of the year. She's stunningly gorgeous!
We visited the national park on a gorgeous, sunny Saturday, which is pretty much what everyone tells you not to do. Sure enough, it was crowded – so packed, in fact, that the parking lot for Brandywine Falls was full and had a sign saying "check back at 5 pm."
We didn't want to wait until three hours, so we pulled into the lot anyway, hoping for someone to leave right as we needed their spot. Wouldn't you know that's exactly what happened?
There are several hikes accessible from the Brandywine Falls parking lot, but we decided to just take the most direct route down to the falls. That's a series of wooden staircases connected by boardwalks and it's a pleasant climb down – and mostly shaded. There were other people moving in both directions, but it never felt overly crowded or unsafe.
You could hear the sound of the falls from the parking lot and as we climbed lower, it got louder and louder. When we finally got down to where we had an amazing, full view of the falls, the roaring of the water was deafening! I got some good photos and video, but the splendor of Brandywine falls has to be seen in person.
There was another boardwalk and set of stairs over to a vantage point above the falls, but at that point we felt we'd seen Brandywine and were ready to go on a more traditional trail hike. Next time, I'd love to go during a different season and check out both viewpoints. Although I will say that a friend told me the Brandywine boardwalk and steps can be very icy and treacherous during winter, so maybe we won't check it out then!
Hiking the Ledges
Our next destination within Cuyahoga Valley national park was the Ledges area. CNVP is unique in that it is spread out over miles, between Cleveland and Akron, with many businesses and even small towns within its borders.
Our drive from Brandywine over to the Ledges didn't take long, and was pretty scenic – and it also helped us to understand just how big the national park area is.
The Ledges Trail starts out in a cool, dense forest and then heads down into a gorge, circling a plateau of striking rock formations, mossy cliff walls and stunning views. There's also the very cool Ice Box Cave, but it's closed right now to protect the bats. Bats in the park have been really hit hard by white-nose syndrome, unfortunately. Poor little guys!
We enjoyed our hike along his popular trail, much of which is shaded and peaceful, and it reminded us a lot of our beloved Hocking Hills. I definitely thinking we'll be heading north to hike, instead of south, for the our next few family nature outings. We're truly fortunate to have such abundant natural resources within driving distance of our home.
I'm so glad to have finally seen CVNP in person – it's a perfect day trip from Columbus. Next on my bucket list is to see it by train, via the CVNP scenic railroad. After we finished hiking for the day, we had lunch at a cute little grill pub in downtown Peninsula, an adorable little town. The Cuyahoga Valley railroad went right through town and it really made me want to look into a ride for our family this fall. And you know me – if we do it, of course I'll blog about it!
The other thing I'm longing to do is rent a cabin or AirBnB near Cleveland or Akron so we can spend more time in the park and see more of its natural beauty.
Have you spent much time at Cuyahoga Valley national park, and do you have any other recommendations for us? I'm all in ears in the comments below – and thanks!