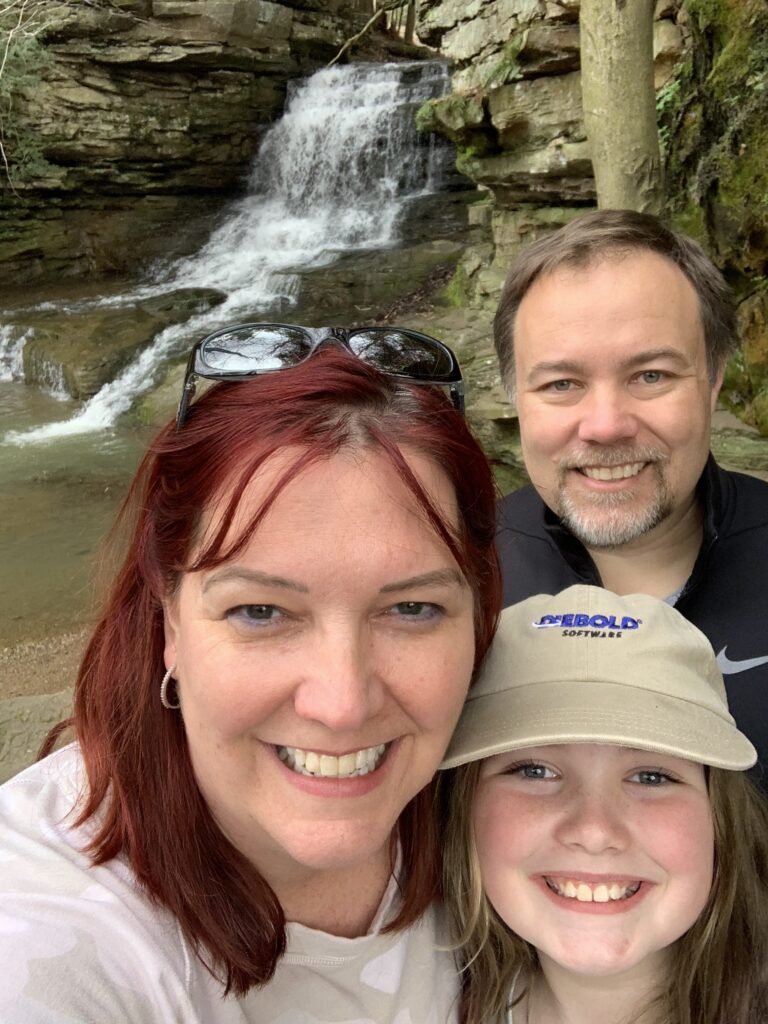 I haven't blogged about energy healing in a little while, but I still think about it all the time. I've been feeling pretty good, so I haven't done another remote energy session yet; I will when I need to.
For now, I've been focusing on free and budget-friendly ways to heal my energy, practice self-care and feel good during this crazy Coronavirus lockdown season.
My favorite way to cleanse my energy and feel amazing? Forest bathing.
You can call it a nature walk, a hike in the woods, waterfall chasing, beach bumming or adventuring, but it all adds up to the same thing: peaceful, zen time out in nature – ideally with water features but not mandatory. The only mandatory part is to be mindful and fully immersed in the sights, sounds, scents and feeling of nature all around you.
Recently on a rare and special quarantine outing, our little family returned to Honey Run Falls in Knox County, one of my favorite forest bathing spots that hubby and I discovered in the fall. It's truly gorgeous – a wooded ravine with giant moss-covered rocks, tall pines, a bubbling creek and the main event: an exquisite 25-foot waterfall set into rock cliffs.
Z hadn't been there before – she's not always keen on road trips – and she absolutely fell in love. She and E climbed up around the back of the waterfall and took some incredible photos from the top. Of course, I was a nervous wreck the whole time because it looked like they were getting way too close to the edge. I can be a bit of a worry-wart sometimes with those two daredevils!
But that momentary anxiety aside, I luxuriated in a peaceful and enjoyable hour of forest bathing. I sat on some big mossy rocks and soaked in the woods, the waterfall sounds and the peace. I felt my energy rising and lifting until I literally felt effervescent, as if bubbles were pouring up out of me and uniting with the ultimate energy source, nature.
Driving home, I felt so grateful, happy and appreciative – I couldn't stop thanking my hubby and daughter for agreeing to the outing. Finally they were like "Okay, we get it, you loved it, we did too – no need to keep thanking us!" But that's how amazing my energy felt. I just couldn't believe the difference!
I'm fortunate because I've been getting time outside in nature almost every single day of this quarantine. Unless it's rainy, we go bike riding every morning and often end up at Alum Creek State Park on the beach path, the forest trails or the dam. I get a wonderful dose of sunshine, fresh air and nature's energy on these morning rides, and that's what is keeping me sane and happy.
The hour at the waterfall park, though, was on another level entirely because of its remote location and true immersion in nature. Knox County is well worth the drive from Lewis Center – it's about 45 minutes to the waterfall from our house. And, as an added bonus, you can get Amish fry pies from the gas stations and small shops near the waterfall park. Score!
Have you enjoyed any particularly spectacular nature outings since our Coronavirus quarantine began? I'd love to hear your best forest bathing or hiking spots in the comments below or over on Facebook.