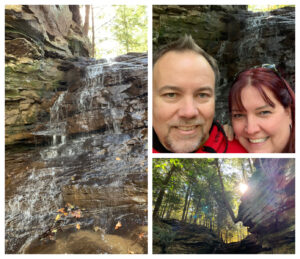 Y'all, I love natural waterfalls SO MUCH.
I love to hunt for them, hike to them and take pictures with them. I love to splash in them, listen to them and take videos of them. You would not be wrong in assuming that waterfalls are one of my very favorite things.
And guess what? On our date day recently, hubby and I found THE prettiest natural waterfall in all of Ohio. And you don't even have to hike for miles to find it, or risk your life getting to it (except possibly at one slippery spot – but if I could do it, you can definitely do it).
I'm talking about the sweetly named Honey Run Falls located in Knox County, Ohio – just over an hour from Lewis Center, right in the midst of Ohio's Amish country. So while you're up there, stop at any gas station and pick up a couple of delicious and amazing Amish fry pies. Because if you haven't eaten a fry pie, you haven't been to Amish country!
Seriously though, Honey Run Falls is the best. We visited on a sunny fall day and it hadn't rained recently, so I wasn't expecting much in the way of falling water. It wasn't exactly rushing, but it was still the most delicious little waterfall nestled in the side of a rock cliff with really cool tree and moss formations all around and enough fall leaves to paint a gorgeous fall photo.
Opposite the waterfall is a pretty little bridge surrounded by forest, also making for a perfect portrait spot. I guess what I'm saying is – bring the good camera! And think about going after a big rain or in the spring, because I have to believe the falls would be even more glorious then.
Honey Run Falls is located at 10855 Hazel Dell Road in Howard, Ohio 43028. It's not far from the adorable towns of Mt Vernon and Danville, plus chances are you may pass through Johnstown and Utica on your way up – all with cute offerings in the area of food and shops.
Highlights from our drive to Honey Run included leaf-peeping (hubby even pulled over a few times so I could grab some good shots), the afore-mentioned Amish fry pies and a stop at Branstool Orchards in Utica for some creamed honey, fresh cider and other farm-fresh goodies. It's an adorable place to stop, shop, pick some apples or pumpkins and grab a few photos!
We absolutely adore long, scenic drives in the Ohio countryside and our date day was the perfect chance to do just that without hearing a single "are we there yet?" from the back seat.
What's your favorite way to spend a date day – or your favorite place to go for a scenic drive? I'd love to hear in the comments below or over on Facebook.