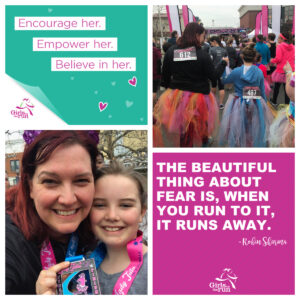 Several years ago, I joined a local moms running group and met my running soulmates – two wonderful women who have since walked, run, talked and laughed by my side for countless sunrises. Yes, our little trio became the #SunriseRunCrew I'm always posting about on Instagram and Facebook.
Perhaps inspired by the success of my own run club friendships, Z joined the Girls on the Run (GOTR) program when it came to her elementary school. GOTR is a national program and I had heard great things about it, so when I saw the flyer I was excited Z would have the opportunity to participate.
GOTR is so popular that at many schools, including ours, girls can only sign up through a lottery. Fortunately, Z was chosen in the lottery and received a spot on the team. All this fall, every Monday and Wednesday she's been running and participating in the GOTR activities. I have been so impressed with the program.
GOTR is about so much more than just running. It's a self-empowerment group for girls, building their confidence and inner strength as much as it builds their fitness through runs and other exercises. I love this holistic approach to taking care of and supporting our girls!
As part of learning to set goals and work toward them, the GOTR program culminates with the girls and their coaches running the GOTR 5K in downtown Columbus. Parents are welcome to join, so you'd better believe I'll be right there next weekend, jogging along at my slow but steady pace. I can't wait! And I already know Z can run the heck out of a 5K, because she rocked the Lady Tutu 5K at Easton this past spring.
I almost didn't sign Z up for GOTR this fall, because she already had so many activities – basketball on Saturdays, dive lessons on Sundays plus choir through school AND Girl Scouts. But I am so glad we signed her up! She comes home pink-cheeked and excited about everything they did in GOTR.
It's been an opportunity to get to know new friends and solidify relationships with the teachers who are involved in the program – including Z's 2nd grade teacher whom she adores. And, learning the discipline of running – and how to keep running even when our bodies want to stop – will take her far in life.
If you're thinking about putting your 3rd through 8th grade girl in the GOTR program, I highly recommend it! I wish they'd offered a program like it when I was a kid. Have you had a good experience with GOTR, too? I'd love to hear about it in the comments below or over on Facebook.