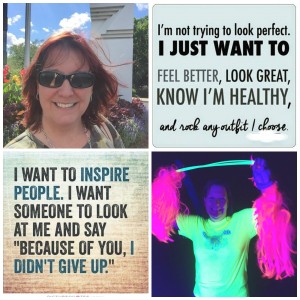 Friends and longtime readers know that I've struggled with my weight, nutrition and fitness program for years. And when I say "struggled," what I really mean is that I love to work out and focus on fitness, but I'm never willing to stop eating carbs and sweets long enough to actually lose weight, get healthy and be fit. If we're being honest.
Well, all that nonsense is about to change and my #Fitin2016 journey is about to get REAL up in here. I am thrilled to share that I've been selected by Rock N Shock Fitness to be their ambassador for the next 12 months. I will be following their nutritional plans, working out three times a week at the Rock N Shock facility and basically living according to the guidance of their head trainer/coach, Danielle, who is known as the Master Breaker. (That title is not scary at all to me. 😛 )
I'd be lying if I said I wasn't nervous, but more than anything I'm excited. I've needed something external for a while now to pull me out of myself – my ruts, my bad habits, my vices and my excuses – and push me to a higher level of living and achieving.
Two things make me absolutely certain that I will be able to follow this new lifestyle and program to the fullest. First, my beloved hubby has gone through a massive lifestyle change of his own this year, losing 80 lbs in a jaw-dropping display of discipline, determination and hard work. He's my hero and I can't wait to make him as proud as he has made me this year! I know I have his support 100% and that means the world to me.
Second, over the summer, I had the great experience joining a moms running group and going through the Couch to 5K program with other out-of-shape moms. Together, a small group of us slowly worked our way through the C25K program and even ran the awesome Glo Run 5K at the end of summer. It was a wonderful experience made possible by the friendship and camaraderie and support of my fantastic new friends, aka the Sunrise Run Crew. I did things I never thought possible – taught myself to run again and STUCK WITH IT even though I'm significantly overweight – thanks to the power of accountability, friendship and partnership.
Now, with the help of Danielle and the other ladies at Rock N Shock, I'm looking forward to more of that awesome group strength, camaraderie, accountability and support in order to help me reach the next level in my fitness program and truly get my nutrition back on track. No more loading up on sweets and carbs for me – I'm going to be eating clean so that my workouts will really SHOW and I'll finally see the results I've been craving for so long!
I hope you'll follow along as I embark on this new life journey. I'm 98% excited and 2% scared, but above all I know this is absolutely where I'm meant to be. It's going to be an amazing 12 months as I head into my 47th year strengthened by the best nutrition and fitness program I've found to date! I am thrilled and proud to become a RockNShocker and look forward to being an inspirational and motivational ambassador to anyone who reads my story.
Got any tips as I bid my bad habits farewell and start on a new health and fitness journey? I'd love to hear them in the comments below or over on Facebook!