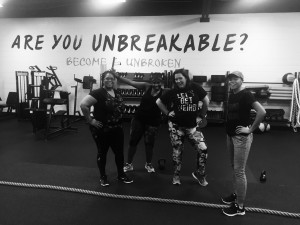 I'm going to be totally up front – this blog post is mainly for me. I am obsessive about documenting milestones and progress, especially in my fitness program – so I'm curious to track how many workouts I've done at Rock N Shock Fitness (I've committed to doing three per week), how many times I've blogged about RNS (I've promised to do it weekly) and how long it takes me to see results!
So, without further ado, here's my timeline thus far at Rock N Shock (and I may come back and update this post from time to time as I progress):
2016: getting started
October 18, 2016 – my first blog post about RNS when I was selected as their contest winner!
October 28, 2016 – testing day at RNS, when I had my first-ever RMR and VO2 Max tests
November 6, 2016 – my tryout day at RNS, when I first set foot in the gym with Master Breaker Danielle to be fitness tested and evaluated for the right class
Week of 11/6/16 – Started classes at RNS! Attended two workout classes and blogged about them
Week of 11/13/16 – attended two workout classes
Week of 11/20/16 – did not attend any classes due to Thanksgiving holiday and having my parents in town
Week of 11/27/16 – jumped back in and attended three classes! Also got my intolerance test/hair analysis results on 11/28, but didn't blog about it until here.
Week of 12/4/16 – attended three classes and blogged about hitting 100%; also blogged about my dawning realization that my eating was holding me back from getting results
Week of 12/11/16 – did not attend any classes due to illness
Week of 12/18/16 – attended two classes (went out of town for Christmas)
Week of 12/25/16 – attended three classes
(Total of 15 RNS classes and 7 blog posts in 2016)
2017: the fun continues
Week of 1/1/17 – attended two classes and blogged about my progress; also included RNS and my renewed fitness focus in my "5 things I'm excited about for 2017" post
Week of 1/8/17 – attended three classes and somehow lost my Mio – still haven't found it. Met with Master Breaker that Saturday for a heart-to-heart coaching session and resolved to get my eating under control! Blogged about that here.
Week of 1/15/17 – attended two classes (with E out of town, it's all I could manage) and blogged about an upcoming RNS info session
Week of 1/22/17 – I'm signed up for three classes this week! And I posted what you're reading right now.
Upcoming milestones
I should get my customized meal plan from the RNS dietician sometime in February – then I'll have a roadmap for success with my eating that I can replicate and re-use.
When I hit my three-month mark in the first week of February, it will be time for my re-testing: another round of weight, measurements, progress photos, RMR and VO2 Max testing!
We have a very special family vacation coming up in mid March – a return to the beach where E and I got married in 2005. I am psyched to be feeling a bit more swimsuit-ready by then!
I'm seeing progress. I can't wait to see more. How's your fitness journey coming along? I'd love to hear from you!