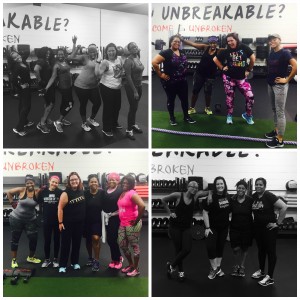 It's January – new month, new year! So many people are starting health and fitness programs right now. There's a lot of muscle soreness going around. I'm personally very happy to be past that early phase of my program. I remember that soreness all too well – I ached everywhere!
These days, after my Rock N Shock workout classes, I still get muscle soreness but not that overwhelming, all-over achiness and pain. I'm getting stronger and my body is responding well to the workouts. Now, I can even work out at RNS two days in a row – that would have been unthinkable in the early days/weeks. I'm feeling great!
But all is not perfect. I want to be sure I'm giving a realistic picture of my progress. And progress… well, it's slow.
1. The numbers can get me down. Numbers never have been my favorite thing. When it comes to my health and fitness program, I'm obsessed with two numbers: my weight (ughh) and my performance numbers during class at RNS. The latter get me really excited when I hit that 100%, but for me that has been elusive lately. I am still working hard – still sweating a ton, getting red-faced and out of breath – but my Mio is not reporting that level of intense effort that I feel I'm putting out. My numbers on the screen are staying low. It's been very frustrating, even discouraging.
BUT, Master Breaker keeps telling me not to lose hope – that I just need to work harder. And so, I keep on working harder and voila, the other night I did get to 100% again finally. It had been a while though! I want to see that number every single class! I just need to keep working harder. That seems to be a good motto for me in general, across my whole life. KEEP WORKING HARDER!
2. My knee hurts a LOT. For several weeks now, I've been struggling with intermittent knee pain and instability on my right side. Master Breaker recommended a knee support brace and I've been wearing that but I just want my knee to get better right now. I hate wearing the brace but not wearing it feels even worse. My knee hurts in bed at night, it feels weird and wiggly when I walk, and it hurts A LOT when I get up after sitting for a while – or in the morning when I get up after sleeping all night.
I know I need to get it looked at. I haven't been to the doctor because I'm afraid the doctor will tell me to stop working out so hard. I don't want to stop! I want to keep working out this hard AND I want my knee to get better! It's discouraging. I know part of the issue with my knee is that I am overweight. And that brings me to the last thing I'm bummed about…
3. My eating has not changed enough yet. I seem to be having trouble letting go of old habits. I wanted to instantly, effortlessly shift into a clean eating, no junk, "no intolerances" mode but it's been a lot harder than that. I have seen small decreases on the scale but I need to see bigger numbers. I know about the 80/20 thing and I know what I need to do – but it's hard to actually do it. I still find myself reaching for sweets.
Master Breaker has asked me to sit down with her this week and talk about my goals and what I'm doing to reach them. It's time to face the music. I have to give it 100% outside of the gym just like I'm giving it 100% in the gym (no matter what that darn Mio says, lol). I'm ready to get this done. We have a beach vacation coming up in March and I am committed to getting some serious pounds off by then!
So, that's my update – great progress on the workout front, but some challenges and obstacles too. I am not giving up by a long shot, though – on the contrary, I'm recommitting myself. If it was easy, everyone would be doing it! I know that I can push through and persevere and reach my goals. I'm getting stronger and fitter every week – I just need to ramp up my eating to match my efforts in the gym. And get this darn knee looked at finally.
I'm ready to take it to the next level! Who's with me?