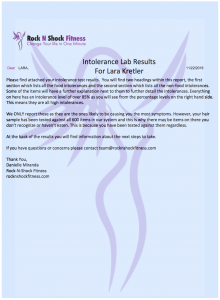 One of the reasons I was most excited to sign on with Rock N Shock Fitness was the promise of an intriguing DNA hair test that would bring back customized results telling me how I stand against 600 food and nonfood items, 80 nutritional deficiencies and 24 metals.
My hair sample was taken as part of my RNS testing day on 10/28 and my results were emailed to me exactly one month later, on 11/28, in the form of a gigantic 90-page document.
To be honest, it was a little overwhelming – and I think that's why I didn't blog about it here for so long. There was a lot to take in!
The nutritional deficiencies weren't all that surprising. It honestly seems like I'm deficient in practically everything – and since I don't eat the healthiest diet in the world, I'm not super shocked.
The food and non-food items that I'm intolerant to are interesting. Some are things I don't eat anyway, because I'm allergic to them – like shellfish. Some are things I've never eaten because they're unusual items – like kamut wheat or eucalyptus.
But also on the list were things that I've enjoyed all my life like black tea, red tea, cow's milk, blueberries, coriander (aka cilantro!), egg whites, pineapple, peaches, vanilla and more. Things that will be really hard to give up!
It was a lot to take in. I'm supposed to eat a basically vegan diet? But I love cheese and eggs! And yogurt. And things cooked or baked with cheese and eggs. Oy. My head was spinning.
Fortunately, Master Breaker Danielle sat down with me for a personal coaching session (available to all RNS members, anytime) and helped me make sense of things. She suggested that I try cutting out as many intolerances as possible for a month to see how I feel – and to see if it makes a difference in my weight loss efforts.
I've always felt "stopped" by something in my weight loss – so maybe all these intolerances are adding up to cause inflammation and prevent me from losing weight?
I'm willing to try anything – and especially anything that Master Breaker Danielle recommends. She stressed several times that this is about adopting a healthier lifestyle and being fit and healthy from the inside out. Here are some of the tips she gave me during our coaching session, in case they may help others out there!
Veggies are great. Many fruits are fine (only a few came up as intolerances for me)
Dried fruits are a good snack
Honey is okay as a sweetener
Coconut milk and almond milk are good substitutes for cow's milk
She recommends no processed sugar, wheat, gluten, soy or rice
No eating after 8 pm
Start each day with a VERY light breakfast – warm lemon water with fresh fruit only
Noon to 2 pm, eat the heaviest meal of the day – something like a salad with chick peas or other lean protein
Keep eating lighter in the evenings – think veggies and hummus, a veggie stirfry or veggie soup
For snacks, she recommends almond butter with apple slices or plaintain chips and also suggested making cucumber chips – something I haven't tried yet but want to!
I have no doubt that if I can follow Master Breaker's advice, I will lose weight. The workouts are going great – now to add this all-important nutritional component! It may be the hardest thing I've ever done, but I've got to give it a shot. For one month at least. I can do anything for a month, right?!
I'd love to hear your weight loss success tips in the comments below or over on Facebook!