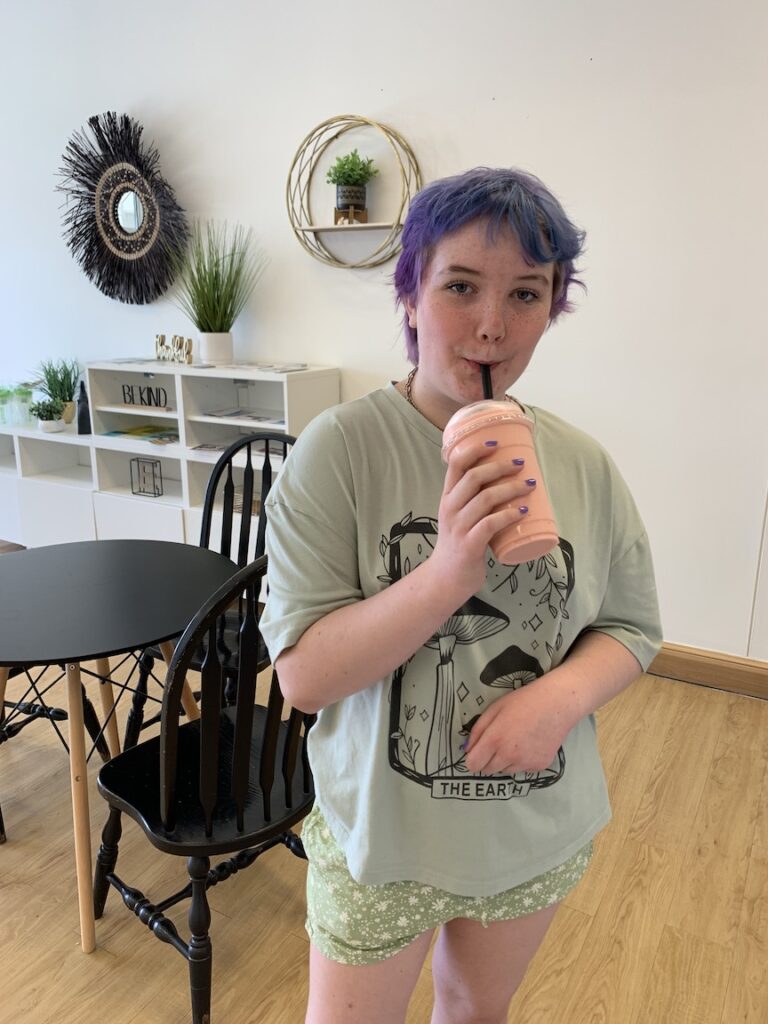 Are you a smoothie person?
I sure am. I love fancy drinks.
Then again, if you have a tween or teen, you know that going out for boba, tea or smoothies is not just about the beverage itself; it's also a great opportunity to talk and listen.
Z and I have had a boba habit for years. We also like Starbucks. But we really love going out for smoothies.
That's why I was so excited when I saw that not one but TWO new smoothie and juice bars had opened up right here in Lewis Center. We decided to try and review them both!
1. First, we tried Elevate Nutrition in the Kroger shopping center on 23 in Lewis Center. Elevate is located right between the nail salon and Mutts & Co.
Elevate Lewis Center has a clean, bright and welcoming shop with multiple areas to sit. We met Adam, one of the owners, and he was super friendly and helpful.
Adam explained that their shop is built around Herbalife products and even shared some of the controversy involved with Herbalife being a multi-level marketing company or MLM. Adam and his wife are not pushy about joining Herbalife; they are just there to serve a good smoothie.
Z tried the Raspberry Cheesecake smoothie and I tried the PB&J smoothie. Both tasted pretty good for a drink that is billed as protein-packed and "healthy." One downside to Elevate is that they don't use fresh fruit; their smoothies are all made from Herbalife powders. One upside is that they are sweetened with stevia so if you want to avoid sugar, you can.
Honestly, if you're in the market for a quick meal replacement or protein shake, I think Elevate is a great option. I would definitely come here again if I'm ever looking for something like that. We don't have a ton of non-burger fast food options up here in the LC unless you head down to Polaris, so this is a possible alternative to a burger and fries.
That said, Elevate and other smoothie places can be deeply entrenched in diet culture and use lots of potential trigger words like calories, low-fat, post-workout, healthy, etc. I am not usually someone who seeks out meal replacements – I'd rather eat actual food and, you know, meals. So this may not be the smoothie shop for me personally, but again it could be an alternative to fast food in a pinch.
2. Next, we visited Pulp Juice and Smoothie Bar in the shopping center on the corner of Polaris Parkway and E. Powell Rd between Taranto's Pizza and Aspen Ski and Board. It's a cute little cafe with room to sit while you're waiting for your drink – or while you sip it.
Pulp is more of a traditional fresh fruit and veggies smoothie place. They also offer fresh-squeezed fruit and veggie juices as well as blended bowls and wraps, making it a nice addition to the Lewis Center lunch scene.
Z tried the Raspberry Harmony smoothie and I tried the Pink Dragon smoothie. Both were delicious! They do add sherbet or sorbet to many of the smoothies so they are quite sweet and tasty.
We were also offered a free "enhancer" shot added to our smoothies. Options included stress relief, relaxation, energy, fiber, etc. We both chose the fiber shot and I am not going to say any more about that except that we both felt it did the trick!
I really liked the wide range of fresh fruit smoothies available here. Next time I go, I'd like to try the Kale Ka-Pow smoothie as I love getting some "hidden" veggies in a smoothie. I'm also interested in trying some of the fresh-squeezed veggie and fruit juices.
Both of these smoothie shops are cute places to go on a date, for a quick pick-me-up or anytime you're looking for something fun to do with friends. I am delighted that Lewis Center has these new offerings.
There are other smoothie places further south in the Polaris area, like Tropical Smoothie Cafe on Lyra and Smoothie King near Orion just east of 71, but I'm glad to have two new options further north where we live.
Are there other places in Lewis Center you'd like us to visit and review? Let us know in the comments below or over on Facebook or Instagram!