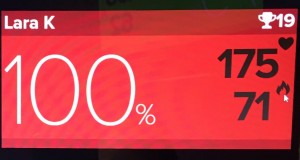 At RNS, I am working out harder and more intensely than I EVER have before, putting in way more effort and truly giving it my all like I never have with other personal trainers at past gyms. During every workout at Rock N Shock Fitness, my goal is 100%. This isn't just words.
This is what Rock N Shock means to me: 100% effort. Giving it my absolute all. Putting in everything I've got and then a little bit more.
But you don't have to take my word for it that I'm working this hard: there's proof. The red numbers on the big screen on the wall say it all. From the moment we enter the gym, we are striving to see that red "100%" and hear Master Breaker Danielle say, "Great job, you did it! Now keep it up! PUSH!"
I've never had a trainer push me this hard. I've also never had a fitness program that is this science-based. The Master Breaker knows exactly how hard she can push me because, way back in October when I took that VO2 Max test, it gave her the numbers she needs. Those numbers are programmed into the Mio tracker I wear on my wrist while working out at RNS.
That 100% isn't just an arbitrary number – it shows that I'm working at my maximum capacity and ability. I'll go through that VO2 Max test again after three months and we'll see how my numbers have changed and what I'm now capable of – and then my new numbers will be factored in and that 100% will mean something else. Even more intensity and effort will be required of me as I grow in fitness and ability.
It's so amazing having a trainer who KNOWS me this well – knows what I am capable of and what I can do – and pushes me to do my absolute best each and every workout. There are NO excuses. There is NO getting lazy or "cheating" on reps. If she doesn't see that red 100%, the workout won't end with stretching – it will end with more cardio.
Each time, I leave absolutely drenched with sweat, red-faced and shaking with exertion – but what a rush. The harder you push during a workout, the better it feels afterward! I've never felt such an exercise-induced high. Even my awesome sunrise runs at the dam all summer can't hold a candle to this intensity and rush.
In the past, when my workouts got super hard I would let up. When my breathing got too labored during a run, I would slow down. When my chest and legs were burning, I would stop. I have NEVER pushed myself past these pain points before – and I know that's why this time, I will see results like I've never seen before.
Even better – being pushed to give 100% at Rock N Shock Fitness is trickling into other areas of my life. I find myself wondering, where else have I not been giving 100%? Where else have I been letting myself ease up just when things are getting hard or just at the point when I'd start to see results if I kept going even though it's hard?
I am excited to have this opportunity to learn, grow and become the warrior and athlete I know I can be. I'm grateful to Rock N Shock and Master Breaker Danielle for this amazing health and fitness journey I'm on!
When was the last time you gave 100% at the gym or during a workout – and how do you know when you've reached that point? I'd love to hear about it in the comments below or over on Facebook!