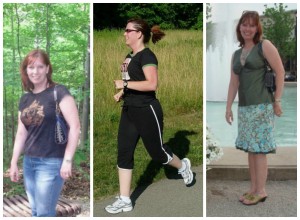 My eating is holding me back. There, I said it.
My workouts this year have been terrific. I did 21 Day Fix for a while with Autumn Calabrese and then P90X3 with Tony Horton. I switched over to running, rocked the Couch to 5K program and made some dear friends in the process. I have perfected the art of the early morning, pre-dawn, pre-work workout. I've kept myself feeling fitter and younger than I EVER would have without all these workouts. I have a lot to be proud of!
But it wasn't enough. My new (and hopefully forever!) coach and trainer, Master Breaker Danielle Miranda of Rock N Shock Fitness, says that fitness and health results are comprised of 20% gym time and 80% real life time – all the time when we eat (well or poorly), sleep (well or not enough) and manage a whole host of other behaviors and issues that can impact our weight and health.
Put simply, my eating is holding me back from seeing the performance and results that I'm working so hard for in the gym, on my runs or with my various workout DVDs.
So 2017 is the year I kick my old, familiar, comfortable eating habits to the curb and develop new, sustainable, lifelong, healthy nutrition habits that will see me through the next 40+ years. And then some, hopefully.
I'm old enough. I'm wise enough. I've worked hard enough to get back into some semblance of shape after having a baby at almost 40 and then being sedentary for far too many years. It's TIME to get serious and make the changes I've known I need to make for years.
The good news: I've got the physical exertion and early morning workouts down by now – I can keep that going no problem. I'm lucky in that way! I don't have to "start over" from the bottom again with my fitness. I'm getting strong! I've developed endurance. I can run, lift weights, do push-ups and handle just about anything Master Breaker throws our way (and trust me, she comes up with some creative beatings!)
The bad news: kicking my sugar habit to the curb and giving up things I love to eat but now know I'm intolerant to and quieting the "hunger beast" inside will be tough. It may be the hardest thing I'll ever conquer, because there are some serious addictions at work. I'll struggle with feelings of deprivation. I'll want to rely on old, comforting habits like hoarding candy, overeating on starchy foods and treating myself with restaurant meals.
But enough is enough. 2017 is the year. It's also symbolic because exactly ten years ago, I got down to my goal weight on Weight Watchers; I felt amazing and looked great, as you can see in these pics. WW was a good program while I was on it but totally unsustainable, which is why I ultimately put all the weight back on.
In 2017, at the age of 47, I'll get down to my goal weight through permanent lifestyle changes I can keep up for the rest of my life. I'll develop NEW habits and ways of comforting and treating myself. I'm sure I will be mightily comforted and treated when I look in the mirror and see a total rock-solid fitness beast and hottie on my 47th birthday! 🙂
I'm not waiting until the new year – I've already begun, thanks to the incredible team at RNS Fitness. I'm on this journey and I'm 110% committed. I won't be giving up. Are you with me – are you facing your own health, nutrition and fitness struggles? I'd love to hear your story in the comments below or over on Facebook. We've got this – we can do this. Let's get there together.