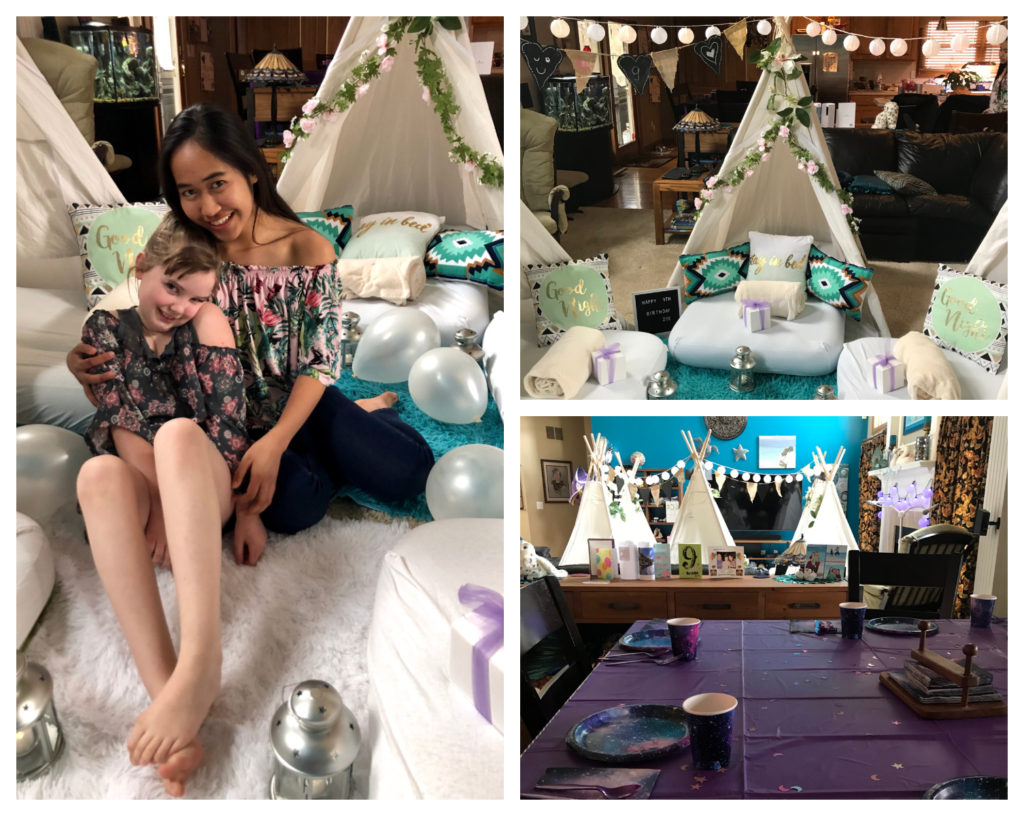 We've had some pretty great parties for Z's birthday celebrations over the years. We've bounced (several times), played, danced, gone swimming, been sung to by princesses, participated in makeovers and fashion shows, and so much more.
This year, for the first time ever, we opted to host a sleepover party at our home and enlisted the help of Perfect Events to make it a night to remember.
You may remember I won a package from Perfect Events at the end of last year. We looked over their themes, chose the perfect one for Z's party – Dreamland! – and then I upgraded to allow for the number of guests Z chose (5 plus her, so 6 girls total). We put down a deposit to hold our date, and then all I had to do to prepare for the party was prep some fruits and veggies, order pizzas and a cake (and cookies and balloons, because I'm always a little "extra" when it comes to birthdays), and figure out breakfast options for the girls!
When party day arrived, the Perfect Events party planner showed up on schedule. We moved our furniture back to allow room and she began to build a small, exquisite and uber-Instagrammable "tent city" in my living room complete with teepees, decorations, pillows, blankets and mini lanterns. I also opted for their cute favors (a sleep mask, toothbrush and toothpaste and mini flashlight for each girl) so those were also set up at each girl's spot.
It took about an hour and a half for all the set-up, and then we brought Z in for the big reveal. She LOVED it! She immediately decided the only thing missing were some balloons casually scattered about, so she and her dad blew some up. You know what? She was right – balloons were the perfect touch. Then Z sat down in the center of the tents to admire her Dreamland and, whether she liked it or not, it was photo shoot time. I got some incredible shots of Z and Napa goofing around in the center of the party set-up. Some of my favorite shots of them ever!
Before long, it was time for our guests to arrive. Although Z struggled through some pre-party nerves and worried that no one would come, all of her guests but one (stricken with flu, poor girl!) came and had an AMAZING time. Z had developed an agenda for the party and they followed it closely, while also allowing for some flexibility and spontaneous fun to arise. We've never had a better party – Z said it was her favorite, and all of her friends said so too.
I don't know if it's their ages (mostly 9-10 with one 8 year old) or the amazing decor, but this party required almost zero parental supervision or guidance. I was always there if they needed me, but they never did. Napa helped out and even slept down in the tent area with the girls, but they never came to get me for any reason – not even at bedtime. That was a pleasant surprise! After the girls left late-morning, Perfect Events staff came back to the house to tear down the decor and pack it up.
Overall, it was a dream of a party – literally. The Dreamland set-up, and the teepee tents in general, lent themselves to some really wonderful imaginative play. The girls pretended they were lost in a forest camping out, and at one point they all put their little lanterns in the center and pretended it was a campfire – then told ghost stories with their flashlights under their chins! Truly a memorable evening for all.
I'm delighted with the service and attention to detail that Perfect Events brought to our party – Larissa and her team were absolutely wonderful to work with. It was easy for me, unforgettable for my daughter and a fantastic party for all of her friends. Total win-win for everyone!
What has been your favorite party for your kiddos – and would you ever host a sleepover in your home? This was our first but I would definitely do it again, especially with Perfect Events' help! I'd love to hear your stories in the comments below – and I do have some flyers good for $20 off your first party with Perfect Events, so let me know if you'd like one!