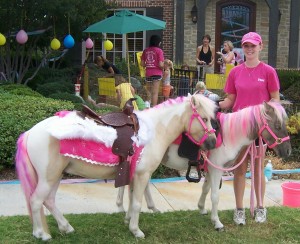 At what age do you start doing something really fun and out there for your little one's birthday celebration? Is two too young? We're coming up fast on birthday number two and I am so ready to plan a dream birthday party for Zoe and her little friends.
For Zoe's first birthday, we had a family-only affair at home. It was awesome, but pretty low-key – a cute invitation, some decorations, presents and a cake. The highlight (aside from having family members there who had traveled a long way to celebrate with us) was the Balloon Time party pack which filled our home with helium balloons. Zoe loved the balloons, I loved how easy they were to blow up and decorate with, and all our party guests loved playing with them. In fact, I swore I'd never have a party at home again without a balloon kit. (Disclaimer – Balloon Time is a client at my agency and I did receive a voucher to try the party pack. That said, my love for these balloon kits is real and true, and I'll be buying the party packs on my own from here on out!)
I'd really love to do a fairytale pony party in our back yard (the ponies are magic and come to your house. Then you can ride them, pet them, and decorate them with stickers and glitter. GLITTER!). Unfortunately, Zoe's birthday is at the tail end of winter and the weather's usually pretty reliably unreliable in Ohio. We definitely have to do something indoors, and the idea of opening my house up to a bunch of two year olds for pizza and cake sounds like a serious mess in the making. So what to do? I have a few ideas.
This past weekend, our family attended a friend's 2nd birthday party at Gymboree Play & Music in Gahanna and absolutely loved it. Zoe had a blast for two hours and played so hard that she crashed early that evening and then slept straight through for 12 hours. Needless to say, Mama liked that. So, Gymboree is a definite contender. The price isn't bad for what you get and the kids all had a thoroughly awesome time wearing themselves out. There was a great mix of free play, music (including singing and dancing) and some super-fun planned activities as well. Everyone had a fantastic time and it was easy on the parents – a serious bonus.
There are several of these fun bounce house places around Columbus. Anyone have experience with these? They look like a lot of fun but I wonder if the novelty wears off after a while and the kids get bored?
COSI is another good option for kids parties. Zoe absolutely loves their little kidspace and we've had a blast at their infant and toddler workshops. I know they would do a great job.
I'm definitely open to other ideas, but I need to move fast. What are some other fun options for toddler birthday parties? I'd love your ideas in the comments!