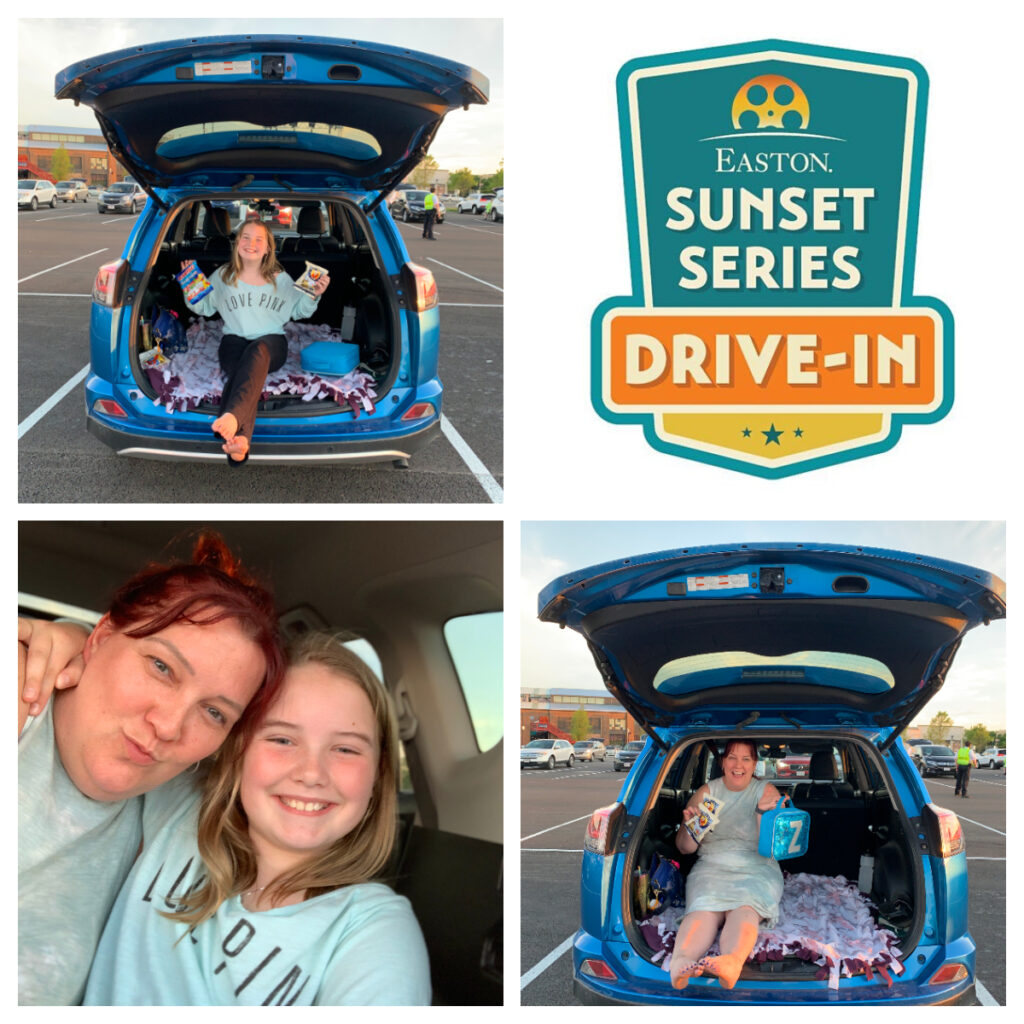 I have heard about drive-in movies all my life, but I never got to experience one until this week with my darling daughter. It was a first for both of us!

We love going to the movies. We love watching movies at home, too, but there's just something about the shared, collective experience at the movie theatre that takes things up a notch and makes it more fun and exciting. Maybe this is an extrovert thing?

Anyway, when I read that drive-in movies are having a resurgence here in Columbus (and maybe all over), I knew we had to jump on the trend and check it out.
I'm so glad we did – we had an incredible mother/daughter date night at Easton's Sunset Series Drive-in!
Pretty much every night this summer, you can find a drive-in movie here in Columbus. The newest venue, Easton's Sunset Series Drive-in, is just $10 per car (tickets/registration required in advance) and is set up to allow for safe social distancing.
Located behind the newest district at Easton Town Center, the new drive-in lot is easy to find. Just set your GPS for Forty Deuce and then follow the drive around until you see the entrance for the drive-in lot.
We went to see the Greatest Showman, a movie we know by heart but have never seen on the big screen. We stocked our car with blankets, snacks and drinks, and timed our arrival for about 35 minutes before show time to ensure we got a good spot. The movie is shown on two huge screens at either end of the lot, so you have a good shot at a good view.
The movie sound system broadcast throughout the lot is adequate, so we didn't need to listen on our car radio – we could hear it just fine. At the start of the movie, I promised my daughter I would try not to sing along… but by the end of Greatest Showman, everyone was singing along and it made the experience all the more fun!
This was our first real night out since the Coronavirus lockdown began, and we had an amazing time. We enjoyed chatting and laughing with the family parked next to us – from a safe distance – and it felt like a social occasion. We also had fun taking selfies while tailgating before the movie started.
From the Easton drive-in movie lot, you've got a great view of sunset behind the big "Columbus" sign that sits up on a hillside behind Easton. We took a bunch of photos, watched the sun go down and enjoyed our snacks.
This would be even more fun with a caravan of friends, each of whom would have to park one space away to allow for social distancing. This would still facilitate a good time and plenty of interactions – I plan to invite friends to come along next time we go!
You can view the movie line-up at Easton here, or check out this list of other drive-in options in Columbus.
Have you been to a drive-in movie with your family, and if so, what did you think? I'd love to hear your tips and tricks in the comments below or over on Facebook.