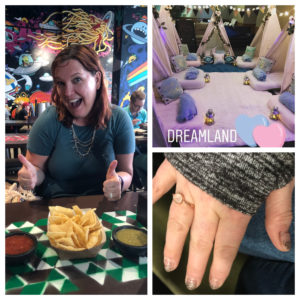 For our family, 2018 was a mixed bag – some bad, some good.
But one stand out for me personally was that I entered a few contests and giveaways online and in real life – and actually WON three truly cool prizes!
So, without further ado, here's the scoop about what I won last year.
The takeaway for you, hopefully, is to inspire you to enter more contests. You've gotta be in it to win it, after all!
Little Sky Stone. In April, I liked and commented on a post on Instagram in the hopes of winning a beautiful rose gold and druzy ring. Wouldn't you know, soon I got a direct message that I had won! Although it took me some time to collect my prize, I do now have my lovely ring and it's one of my favorites. I'm also very much a fan of this small, artisan jeweler and their site is a great place to look for gifts!
Condado Tacos. I've already blogged about our big Condado win, as it truly was epic. But it's a great reminder to go to grand openings, take lots of pics and post them, and use the official hashtag whenever possible! You never know when a lifetime supply of tacos may be coming your way. We've become forever fans of Condado from this experience and we are still working our way through our winnings!
Perfect Parties. Right at the end of the year, Goldfish Swim Club had some partner giveaways on their Facebook page. I commented and liked a few of them, never imagining we'd win. But lo and behold, I was notified by email that we won a dream sleepover party for two. I could not believe it! Since Z has a big birthday coming up, I opted to upgrade the package we won into a full slumber party. So I'll have a house full of happy, dreamy girls in a few months – and I can't wait! This may be my favorite win of all because I just know E never would have gone for one of these over-the-top, Instagram-worthy sleepover parties if I hadn't won. I don't know who's more excited – Z or me!
So, there you have it – our three big wins of 2018. You'd better believe I am entering every social media contest I see in 2019 – and hopefully going to a grand opening or two, as well. Why not!?
What's the best thing you've won in a contest or giveaway, and do you enter more contests now as a result? I'd love to hear your stories in the comments below or over on Faceook.