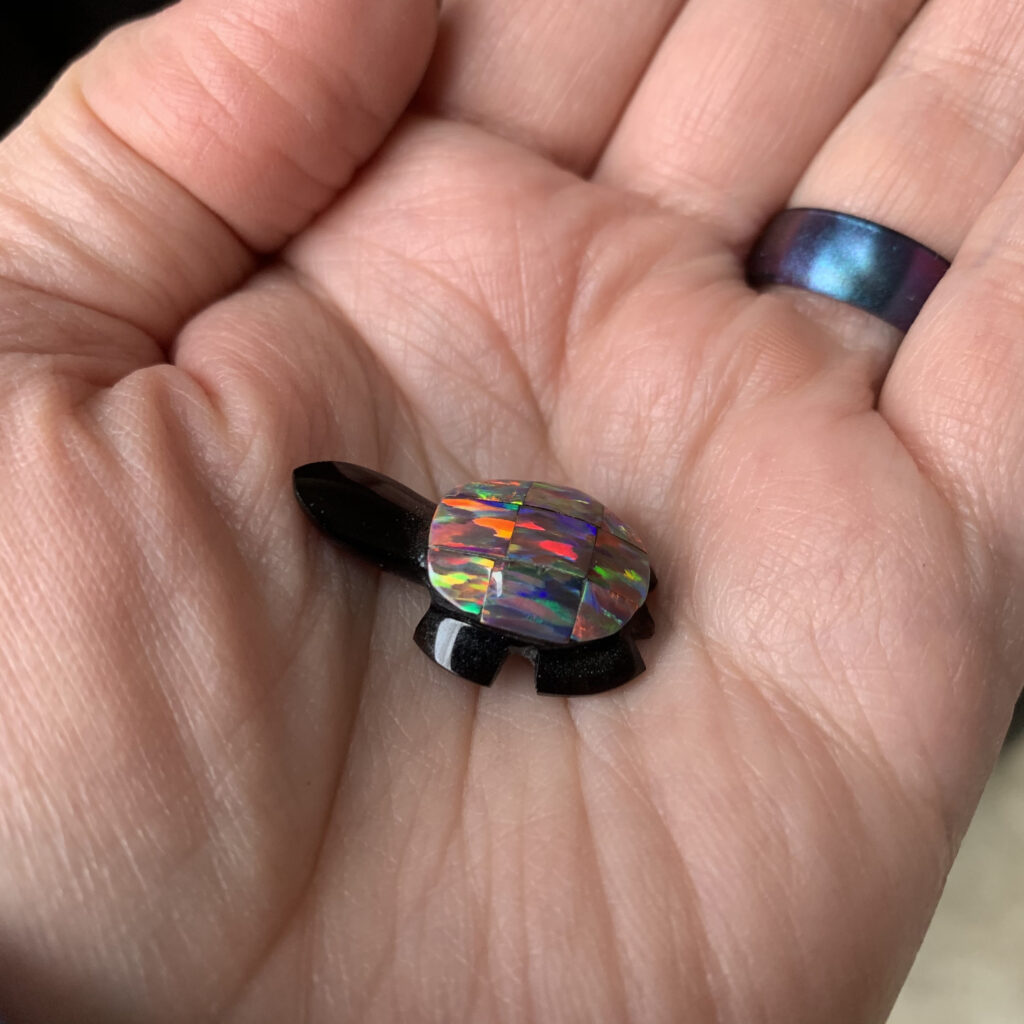 Sometimes I write about things I'm proud of. Other times, I blog about things I am not proud of.
This post falls into the latter category. One might even call it a year-long parenting fail.
You all know that I love to travel. You may also know that I love to find small, meaningful souvenirs in faraway places and bring them home. I love to fill our home with tangible reminders and memories of this big, beautiful planet of ours.
Sometimes it's the perfect shell plucked from a farway beach. Other times it's a hard-won purchase over which I haggled with vendors in Mexico until finally walking away with my prize.
I tend to get too attached to these tiny treasures and my Mexican opal turtle is the perfect example. I love it way too much. I got it from a vendor on the docks in Puerto Vallarta. It was the last port of call during our 2017 Mexico cruise. I didn't know when, if ever, I'd return to those shores.
I wanted that tiny little opal turtle. Unfortunately, the vendor knew I wanted it. We went back and forth, with me saying "no, thank you, it's too much" and taking a few steps away, then the vendor calling me back and making me hold it in my hand for a while and then trying to get me to pay more than I wanted.
Ultimately, I got it for a price I was very happy with – and I'm sure the vendor was happy, too. And the tiny turtle became my precious, not unlike Gollum in the LOTR movies.
I used to let Z play with the turtle because she's always been a very careful and responsible kind of kid. Even as a toddler, we never had to put the good stuff away out of her reach; she has always been gentle and respectful towards animals, people and property.
But once, I let her play with my gorgeous little opal turtles – a mama and baby – while she had a friend over. It was my mistake; I knew they were playing with them. I remember thinking, "I wonder if I should ask them to put the opal turtles back on the shelf," and still I let them continue.
Later, while calling the girls for dinner, I asked them what they did with my turtle. I looked at the shelf, expecting to see it, but only saw the bigger mama turtle. The tiny baby was nowhere to be seen – and I didn't see it again for about a year.
To say I was upset and almost crushed over the loss is not an overstatement. I was dismayed that Z had let something happen to it. I was angry with myself for letting two 7-year-olds play with something tiny, precious and irreplaceable.
I alternated between being sweet and compassionate with them, asking them what happened to it… and being angry, accusatory and resentful when they said they didn't know. I felt they had to know what happened to it. I believed they were pretending they didn't know because something truly awful had happened, and they were afraid to tell me the truth.
I thought I would never see my tiny opal turtle again – but that wasn't the worst part. The worst part was not knowing what had happened!
For months afterward, every time Z and her friend got together, I would quiz them about it separately and together. I would ask so nonchalantly, "Are you girls finally ready to tell me the story of what happened to my little opal turtle?"
When Z was alone, I would urge her "You can tell me anything. I just want to know the truth. I won't be mad!"
In hindsight, I am not proud of how I treated them. Their initial answer, "I don't know," was the truth and I should have believed them. But it was so unlike Z to not know where something was – especially something she knew was a particularly special treasure of mine.
I imagined all sorts of possible scenarios, the most likely being that they were playing with it and the turtle broke, so they threw out the pieces to avoid getting in trouble.
One time, months after it went missing, I said "Zoe, I just want to know the story of what happened! I would rather know than not know, even if I'll never see it again!" I was exasperated. She wanted to soothe me.
So she made up an unbelievably credible story. She said they were playing with it and it got broken so they threw it in the garbage disposal. I believed her! I was sad, but that was the end of it. I quit bugging her about it.
Fast forward about a year. We were cleaning out old toys and games to donate them. We started going through two big wicker bins that sit just off our kitchen. They are handy places to toss things when you don't know where else to put them. It took a while to sift through everything.
And wouldn't you know – when we got to the bottom of one of the bins (which hadn't been emptied out or cleaned in literally years), there was my tiny, sparkly, shiny little opal turtle. My missing turtle baby from Mexico!
I was overjoyed but also chagrined. I had given Z and A the riot act for months over that little thing. I had stressed poor, sensitive Z out to the point where she made up a detailed story about the garbage disposal just to get me to stop asking!
I laughed, I rejoiced and I apologized profusely to Z – and the next time I saw our neighbor friend, I apologized to her as well. I asked if either of them remembered tossing it in that bin, but of course, neither of them did.
I put my little opal turtle baby up on a higher shelf, where little hands are far less likely to see and be tempted to touch it.
And I learned some valuable lessons. Lost items will turn up eventually, or they won't – but either way, life is too short to harp on about material things. Learn to let it go, as Elsa said. And most of all, don't badger a witness or you may end up with a fabricated story!
Have you ever lost something small but precious, and did you end up finding it somewhere in your house? I'd love to hear your lost and found tales in the comments below or over on Facebook.